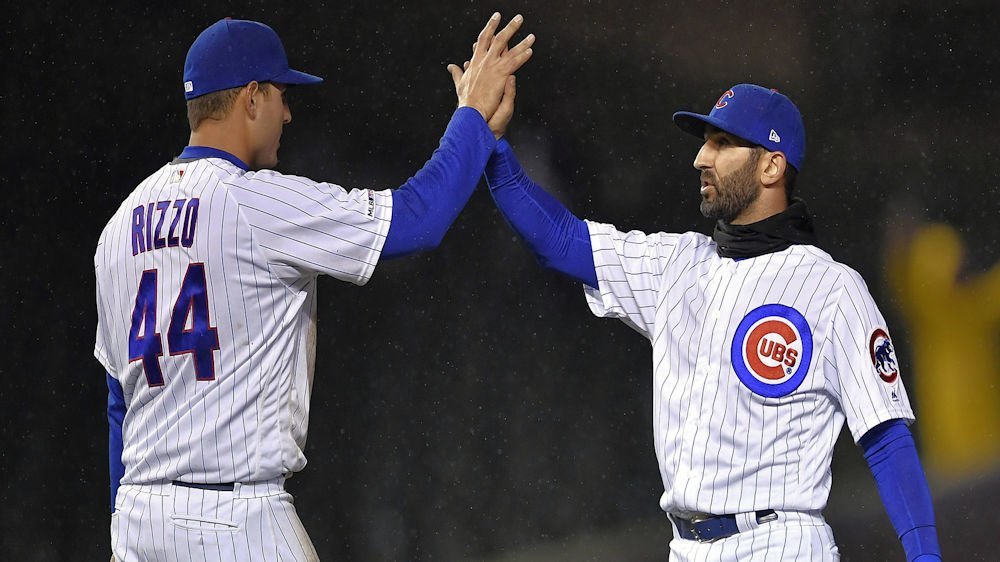 | | |
| --- | --- |
| Cubs vs. Dodgers Series Preview: TV times, Starting pitchers, more | |
---
Coming off a huge walk-off win on Sunday, the Cubs rested up yesterday before getting ready to host the Dodgers for a three-game set, which starts tonight. The Cubs (10-10) still find themselves trying to claw their way out of fourth place (2.0 games back in the NL Central, while the Dodgers (15-9) currently ruling the west, have a somewhat cushy, 2.5 game lead over both the Diamondbacks (12-11) and Padres (12-11).
Despite the difference in win/loss records, this series will see two very evenly matched teams. Dating back to the time that the Dodgers played in Brooklyn, and the Cubs were called the White Stockings, the all-time series record between the teams is 1052-1040 in favor of the Dodgers.
Pitching
In the pitching department, the Dodgers' team ERA stands at 4.10 (6th in the NL), having given up a total of 107 runs this season (98 earned runs), with the starting rotation on the hook for 52 of them. Overall the team ranks 11th in the NL for runs allowed, and their opponents are batting just .208 against them.
It's no secret that the Cubs' pitching started very slow and ineffective start this season, but they've rebounded nicely over the last 11 games. Currently, the team boasts a collective ERA of 4.21, placing them 7th in the National League. Chicago fares better in terms of runs allowed, giving up a total of 93 so far this season, 81 of which were earned, placing them 4th in the NL. Having given up a total of 170 hits to the 756 batters they've
faced, the Cubs are holding their opponents to a batting average of .225.
Mound Matchups
Tonight: RHP Kenta Maeda (3-1, 3.80 ERA) vs LHP Jose Quintana (2-1, 3.43 ERA) at 7:05 p.m. CDT on NBC Sports Chicago and MLB Network (out-of-market only)
Kenta Maeda isn't an easy man to beat, and the Cubs have had very limited exposure to him and minimal success against him. In fourteen at-bats, Daniel Descalso has managed just a .167 BA against Maeda, while David Bote, Willson Contreras, Taylor Davis, and Mark Zagunis have never faced him. Of the eight Cubs who have faced Maeda, the right-hander has been able to hold them to just a .216 batting average in 41 at-bats, and no one has homered off of him. Kyle Schwarber has been the most successful, going 3 for 4 (.750) against him.
I won't mince words, Jose Quintana has been knocked around by LA, something fierce in the past. Of the 12 position and bench players that the Dodgers carry, eight have faced Q and have batted .400 against him. Ironically, the one Dodger who's has no success against Quintana is red-hot, Cody Bellinger, who has gone hitless in three at-bats.
Maeda is pitching on 6-days rest and is 10-4 when he's done so in the past. The Cubs managed to get to him in his only other start at Wrigley, as Maeda gave up a total of five walks in just 3-2/3 innings.
Quintana has a lot of momentum in his favor, throwing a total of 14+ shutout innings in his last two starts, walking only one while striking out 18. The Cubs will need to provide on a ton of run support to get past Maeda and the Dodgers, and this theme will carry on through the series.
Wednesday: RHP Walker Buehler (2-0, 5.40 ERA) vs LHP Cole Hamels (3-0, 2.77 ERA) at 7:05 p.m. CDT on NBC Sports Chicago and MLB Network (out-of-market only)
Walker Buehler is coming off a solid start against the Reds, in which he allowed just one unearned run in 6-1/3 innings while fanning eight. As indicated by his 5.40 ERA, Buehler tends to get erratic, which may provide the Cubs a window to thump him. Much like Maeda, only a handful of Cubs have faced Buehler, and except for Descalso's four at-bats against him (resulting in a .000 BA), no Cub has faced him for more than one at-bat. Jason Heyward, Albert Almora, Jr., Willson Contreras, and Anthony Rizzo have all gone 1 for 1 (1.000) against Buehler.
Cole Hamels has gone 3-0 over his last three starts, posting a 1.29 ERA with 19 strikeouts and no walks, over 21 innings. Hollywood has previously faced seven of this year's Dodger lineup, and he's done well against them. While Bellinger is 1 for one against Hamels, the remainder has batted just .172 in 30 total at-bats. As the bulk of the Cubs rotation, Hamels has been a beast this season and with some help from his offense, there's no reason he can't expand his record to 4-0.
Thursday: RHP Ross Stripling (1-1, 3.07 ERA) vs. Cubs at 1:20 p.m. CDT on NBC Sports Chicago and MLB Network (out-of-market only)
(NOTE: Kyle Hendricks was listed as the probable starter for Chicago, but his name no longer appears. MLB.com is listing "TBD" for the Cubs, while other sites are now listing Lester. Joe Maddon has made no official announcement at this time.)
With Rich Hill preparing to make his return to the rotation, Stripling's days as a starter are limited, with this likely being his last start. The Cubs have had mixed success against him, and Javy and Rizzo have both taken him long. Bote, Davis, and Zagunis are the only Cubs who have never seen Stripling, while the remainder of the club has posted a .305 batting average against him in 57 at-bats. Stripling has managed to completely silence Contreras (0 for 6) and Almora (0 for 5).
The Offense
Los Angeles and St. Louis share the bragging rights for the most significant run differential in the NL (+29 each), while the Cubs have the second place spot in that category with +17. As a team (including pitchers) the Dodgers are slashing .264/.357/.489, allowing them to rank third, second and first, respectively in the NL in BA/OBP/SLG. The Cubs (collectively) are slashing .260/.354/.433, placing them fifth, third and eighth, respectively in the NL.
Chicago has cranked out 177 hits this season (9th in the NL), of which 36 were doubles (9th in the NL), 2 were triples (8th in the NL), and 26 went bye-bye (11th in the NL). For Los Angeles, their 211 hits rank first in the National League, and they also lead the league in homers with an astonishing 44 in just 24 games. Their 38 doubles rank sixth, and their five triples rank second.
While the Brewers and Cards are beating up on each other in St. Louis, this series provides an excellent opportunity for the Cubs to climb further up the standings. Pittsburgh is hot, but Arizona took them out last night, and the D-Backs are hungry for more. Sit back, grab a beverage, and let's watch the Cubs take another series. My prediction: Cubs win the series two games to one.

Upgrade Your Account
Unlock premium boards and exclusive features (e.g. ad-free) by upgrading your account today.
Upgrade Now

Tags: Cubs Baseball
,
Jose Quintana
,
Daniel Descalso
,
David Bote
,
Willson Contreras
,
Taylor Davis
,
Mark Zagunis
,
Kyle Schwarber
,
Cole Hamels
,
Jason Heyward
,
Anthony Rizzo
,
Kyle Hendricks
,
Joe Maddon