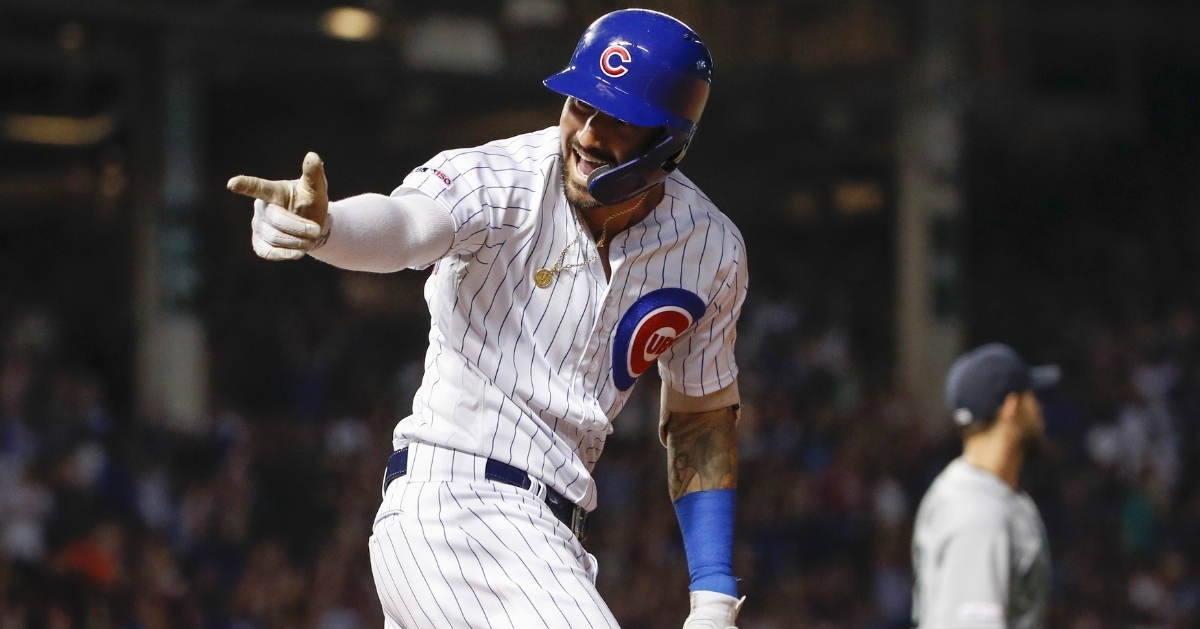 | | |
| --- | --- |
| CubsHQ Mailbag: Nick Castellanos is a keeper, Please not El Mago | |
---
Check out the latest edition of the CubsHQ mailbag:
Katrina Walker asks: "Why do you think Castellanos will be re-signed?"
First and foremost, I think there's a very well documented desire (on behalf of both parties) to re-sign Nicholas Castellanos, with only Scott Boras standing in the way.
Despite the short amount of time that he spent with the Cubs in 2019, Castellanos brought not only an insanely hot bat but perhaps even more importantly, he brought with him the desire to play for a winning team. Collectively, his passion, energy, confidence, and attitude levels for the game were unrivaled by mostly anyone in that clubhouse, and his demeanor is exactly what the Cubs need.
Unfortunately, the spark from that energy failed to ignite several of the slumping players last year. Still, I think with a younger manager in place and roster changes coming, Castellanos would have the chance to reenergize many players in the clubhouse, emerging as one of the Cub' cornerstones as they move forward into the 2020s.
MLB Trade Rumors is projecting a salary for Castellanos of somewhere in the neighborhood of $56M over four years (AAV $14M per year), which is surprisingly very modest compared to the original projections I saw, which suggested somewhere around $18M - $20M per year over 5-7 years. While the Cubs have what seems like 100 holes to fill, I honestly think they could afford to make a solidly attractive offer to Boras, but they'd better start negotiating, as that $14M figure is bound to rise if there are many interested teams.
I think the Cubs would be wise to lock both Castellanos and Javier Baez into long-term (as in career-long) deals, and with the right contracts, they could feasibly do both this year, while patching other damaged areas. Guys like Daniel Murphy or Daniel Descalso are going to be hit or miss (pun slightly intended) due to age, but Castellanos is the youngest free agent out there this year, and his offensive consistency is very well established.
The defense is what will weigh down his going price, but if you leave him in the outfield, that can easily be circumvented, as the lion share of his errors were committed while playing third base.
The Cubs need Castellanos and, in more ways than one, he needs the Cubs and Wrigley Field, as they suit his aggressive style. Few and far between is the player who'll forego money to stay where he wants to be, and Scott Boras won't help that any.
Terre asks: "Do you think Javy will stay? I've been reading different articles, and his name comes up a lot on trade talk?"
Not in a million years on the trade front … well, at least not for another seven to ten years. The three names that continually pop up for trade candidates this year are Kris Bryant, Willson Contreras, and Javier Baez, though I honestly think Javy's and Willy's names are in there, to not draw sole focus on KB potential to be traded.
I'm not saying that anyone is 100% safe. Still, everything I've read and analyzed has pointed to the Cubs wanting to extend Javy long-term, then focusing on building the next wave of talent around him – something that's going to be awfully hard to do if he's traded.
I think Willson Contreras may be slightly more tradeable that KB at this point, due to Bryant's grievance, but I'd also be hard-pressed to see them dealing Willy away. Contreras has a rocket for an arm, he swings a good bat, and his attitude is what the Cubs need. Although his pitch framing still needs a little work (OK, a lot of work), he's improved dramatically over the last year and stands to improve even more with David Ross now becoming an integral part of the dugout.
When you combine Bryant's knee and shoulder issues with the uncertainty surrounding his free agency status, you get a diminished trade value, something that could be absolutely propped up by adding Contreras to a package deal for a high-end starter or two; but when's the last time you saw a trade like that? KB and someone like Albert Almora Jr.? Maybe. KB and a prospect? Better yet, but you don't see the Brewers offering up Yelich and Pina, nor do you see the Astros contemplating trading Bregman with Altuve. If the Cubs can't ship Bryant out, then they may try to auction Contreras off, but in no way do the two of them go – especially not in the same deal – but in no way, shape or form do I see Javy going no matter who does or doesn't get dealt.