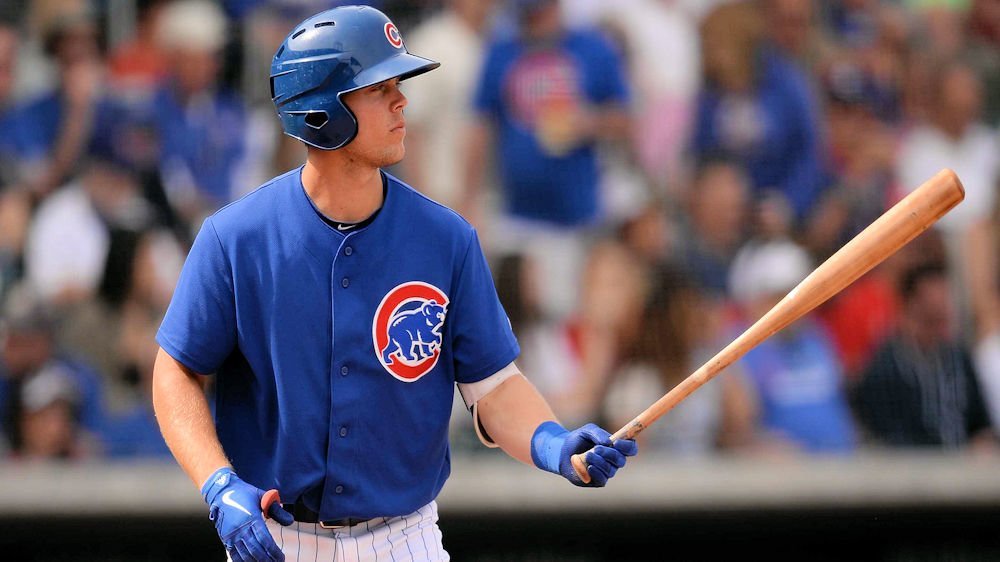 | | |
| --- | --- |
| Down on Cubs Farm: Evans with walk-off, Nico Hoerner returns, Amaya carries Pelicans, more | |
---
| | | |
| --- | --- | --- |
| Friday, July 5, 2019, 1:01 PM | | |
As the second half has gotten underway, we have seen plenty of player movement throughout the Cubs system which has impacted the way several teams have looked. Despite that, the farmhands continue to go about their business as they battled for a 2-3 record on an action-packed fourth of July evening on the diamond.
IOWA CUBS 5- Memphis Red Birds 4: In a key series for Memphis if they want any shot at a division title, the Cubs returned to Principle park for their final series before the all-star break. With Trevor Clifton on the mound tossing six innings in a no-decision effort, the Cubs continue to do what they do, extending their division lead with a 5-4 walk-off win.
Iowa wasted no time grabbing the lead in the second inning as Dixon Machado picked up his first triple of the season scoring a pair of runners for a 2-0 Iowa lead. That lead continued to grow in the third inning as Phillip Evans picked up an RBI single of this own giving the Cubs a comfortable 3-0 lead. After cruising along through three innings, Clifton ran into some trouble in the fourth as Memphis began to claw back.
With one swing of the bat, we had a one-run ball game when Justin Williams went deep for his first of the season to make things a 3-2 game. Williams was just getting warmed up, however, and on his very next at-bat took Clifton deep once again for his second of the game and season to put the Red Birds in front 4-3 heading to the bottom of the sixth.
The Cubs bullpen did their jobs from the seventh inning on as they managed to keep the score 4-3, but it was now time for the offense to come through and pick up a nice comeback win. An error to lead off the inning allowed Jacob Hannemann to reach as the Cubs were now in business. With another error allowing Hannemann to reach third, Mark Zagunis came through with a fielder's choice to get Clifton off the hook 4-4.
With the winning run now on first, Zagunis knew he needed to get into scoring position, so he took it upon himself to steal second for his first of the season. That proved to be the key play of the inning as Evans connected for a single two pitchers later to deliver the walk-off 5-4 win for Iowa.
With the win, the Cubs have now tied for a season-best 13 games above 500 as they 50-37 for the year. Both Machado and Evans were huge in this win, collecting a pair of hits and two RBIs apiece in the victory. Five other Cubs added one hit with Zagunis, Jim Adduci and Ian Happ as three of those five players. Carl Edwards Jr. worked a scoreless inning of relief as his ERA fell to 1.86 at the AAA level.
Jacob Hannemann willed in the game-tying run to earn @EMCInsurance Player of the Game honors! pic.twitter.com/I8NCkRgs7w

— Iowa Cubs (@IowaCubs) July 5, 2019
It's a walk off winner after some late-inning fireworks! pic.twitter.com/q2MpDOSM00

— IowaCubsGameDay (@IowaCubsGameDay) July 5, 2019
TENNESSEE SMOKIES 0 – Montgomery Biscuits 3: Taking on one of the best teams in AA, the Smokies knew they had to be at their best if this is a series they want to win. With the return of Nico Hoerner to the lineup, Tennessee was hoping his presence could get them back to playing the way they did in April when they were one of the top teams in the league.
The Smokies got a terrific start from Cory Abbott who did his part in this one going six strong innings and allowing 3ER in the process. Unfortunately for him, the Smokies offense was nowhere to be found as the Biscuits picked up the 3-0 shutout win.
Early on, things were moving along quickly as we had a 0-0 game heading into the bottom of the third. That is when the Biscuits awoke from an early game coma and started putting the lumber on the ball. Brett Sullivan continues to use the Smokies like batting practice as he led things off with a double. A few pitches later it was Vidal Brujan going deep for his first of the season to give Montgomery the 2-0 lead.
The Hit parade continued with Taylor Walls who doubled shortly after as the first three hitters of the inning reached against Abbott, A Jesus Sanchez later that inning pushed across another run as the Biscuits now led 3-0 after three. Not only was that the final run of the game for Montgomery, but the final hits also as the Smokies had every chance to steal this win.
Despite out-hitting Montgomery 4-3 in the game, the Smokies never really threatened to score at any point as they were held in check 3-0 to suffer another loss. Tennessee is now 39-45 on the season which marks a season-worst for games under 500.
Nico Hoerner returned to the lineup and picked up just where he left off going 1-4 on the night. P.J. Higgins, Connor Myers, and Charcer Burks all had one hit in the game, but none were for extra-base hits as the Smokies settled for four singles. Oscar De La Cruz continues to rectify his season in relief going two perfect innings of relief with 0BB and 3k to bring his ERA to 3.71 but under 2.60 in relief.
MYRTLE BEACH PELICANS 6 – Lynchburg Hillcats 0: Don't look now, but the Pelicans are starting to play some exciting baseball as they suddenly look like a contending team. With Erick Leal spinning what may have been his best game of the season, the Pelicans bats broke out for 13 hits as they cruised to a 6-0 win.
Leal certainly had a say in the success in this one, as he tossed seven shutout innings allowing just three hits with 2BB and 8K. His ERA is still 4.31 but has gone down nearly two runs as of late. Miguel Amaya gave Myrtle Beach a 1-0 lead in the third with a single, but it was in the fifth inning where the Pelicans took control courtesy of a huge frame.
Jimmy Herron couldn't have asked for a better start to that inning as he got things going with a triple. Delvin Zinn continued to keep the line moving picking up an RBI single for the 2-0 lead. With two on and still nobody out, Amaya picked up his second RBI single of the game ahead of a Cam Balego single and just like that we had a 4-0 ball game.
Wladimir Galindo capped off the four-run fifth inning with an RBI single of his own as Myrtle Beach was in full command 5-0. With Leal doing his thing on the mound, the Pelicans felt confident that they did enough offensively to get the win, but for good measure, Amaya capped off his huge night with his seventh homer of the season in the seventh to put an exclamation point on a 6-0 shutout win.
The Pelicans finally reached the 30-win mark on the season as they sit 30-52 and have now won 4-straight and 8 of their last 9 to start the second half. Both Herron and Amaya had four-hit nights, but it was Amaya making the most of that picking up 3 RBI's in the process. Zinn picked up his first multi-hit game with his new team while Galindo added a pair of his own. Tyler Durna was out of the lineup.
In the Birds win, @mamaya_9 had a monster night! He tied a career high with four hits while homering and knocking in three!

He is our @Panerabread Bread Winner of the Game! pic.twitter.com/6LcgPH0Yub

— Myrtle Beach Pelicans (@Pelicanbaseball) July 5, 2019
WIN WIN WIN WIN!!! (That's four in a row)

Pelicans keep rolling with a 6-0 win over Lynchburg on July 4th!! pic.twitter.com/s5fLGfX4rH

— Myrtle Beach Pelicans (@Pelicanbaseball) July 5, 2019
Bat Doggo Slider was Victory Lap Slider x3 with the sweep over the @CarolinaMudcats ??#GoBirds | #MBPelicans pic.twitter.com/wo9SEMS6UJ

— Myrtle Beach Pelicans (@Pelicanbaseball) July 5, 2019
SOUTH BEND CUBS 4 – West Michigan White Caps 6: The Cubs are running into some trouble lately, which is surprising given the teams they have been facing. Looking to improve on their road record, Derek Casey took the mound and did his part to record the victory. In 5 2/3 innings, Casey allowed four runs on 7H. However, only 2 of those runs were earned with bullpen giving up a pair of runs late giving West Michigan the 6-4 win.
It didn't take South Bend long to grab the early lead as Christopher Morel continued his excellent series with an RBI groundout in the first for a 1-0 lead. The Cubs doubled their lead in the top of the second off a Jonathan Sierra single as South Bend was in control early 2-0.
West Michigan managed to cut the lead in half in the third off an Andre Lipcius single, but once again the Cubs were on the board in the fifth when Sierra connected for his third homer of the season to make it a 3-1 game. After rolling along smoothly through five, Casey ran into some trouble in the sixth which the White Caps made him pay for in a big way.
Already with a man on base, Nick Quintana made things a one-run game as his double made it 3-2 in favor of South Bend. Nick Malis capped off that inning with another double, this time bringing home a pair of runners to give West Michigan their first lead of the night 4-3.
Looking for a late-game rally, the Cubs managed to tie things up in the eighth on a wild pitch, but it was the White Caps getting the last laugh. Malis added to his already solid night with a game-winning sacrifice fly in the eighth to put West Michigan back on top 5-4. Add in a wild pitch a few batters later to bring home an insurance run, and the Cubs were down 6-4 with three outs to go.
That is what the final score would end up as the Cubs went down to fall on the road once again 6-4. South Bend is not playing their best baseball to start the second half but still sit at 44-38 for the season. Sierra had a monster night at the plate, collecting a team-high three hits to go with his two RBI's.
Cole Roederer finally got the bat working again as he picked up two hits in the loss. Five other players, including Brennen Davis, picked up one hit. Sean Barry tossed a scoreless inning of relief. His ERA is now 0.87 as promotion talks have got to be coming soon.
The Whitecaps come back to win the road trip opener here on the 4th of July. We'll give it another go tomorrow night at 7:05! pic.twitter.com/IrhfJg5owT

— South Bend Cubs (@SBCubs) July 5, 2019
EUGENE EMERALDS 4 – Everett Aqua Sox 13: After getting back on the winning track last time out, the Emeralds opened their new series on a sour note as they were pummeled by the Aqua Sox 13-4. Pitching was undoubtedly an issue in this one as all four pitchers allowed at least one run in their outing with Everett scoring nine runs over two frames to seal the deal.
Already up 1-0 in the second, Everett busted things open with a three-run inning to take command 4-0. Cesar Izturis Jr (son of former Chicago Cub Cesar Izturis) opened that inning up with an RBI single, ahead of the two-run Austin Shenton single and 4-0 lead. It was in the fourth when things got out of hand as the Aqua Sox sent 11 men to the plate to score six runs, highlighted by a Cash Gladfelter bases-loaded triple to put Everett up 10-0.
Down 11-0 in the sixth, the Emeralds were finally able to get on the board as they needed runs in a hurry. With a pair of runners on base, 2019 second round pick Chase Strumpf picked up his first double of the year to get Eugene on the board 11-1. Jake Slaughter followed that up with an RBI groundout to bring things to single digits 11-2, but a two-run homer off the bat of DeAires Moses made it 13-2 with just three outs to go.
Down to their final three outs, the Emeralds refused to go quietly as they managed to put a runner on base to keep the pressure on. With one swing, Jose Gutierrez made it a 13-4 game with his first homer of the season, but it was nowhere near enough as the Emeralds were down and out early falling 13-4.
Eugene continues to search for their groove that led them to the championship last season as they are 9-12 to start 2019. Both Edmond Americaan and Gutierrez picked up a pair of hits in the game with Gutierrez adding those two 9th inning RBI'. Strumpf picked up his first hit of the year for Eugene while driving in a run as Fernando Kelli added a hit of his own in the loss. Raidel Orta had the best outing of the day for the Emeralds, as he went 4 2/3 innings allowing just 1ER on 4H to bring his ERA to 0.87.
Not enough tonight as the Emeralds drop the series opener against Everett. #GoEms pic.twitter.com/C7r5WCegmO

— Eugene Emeralds (@EugeneEmeralds) July 5, 2019

Tags: Cubs Baseball
,
Trevor Clifton
,
Dixon Machado
,
Phillip Evans
,
Jacob Hannemann
,
Mark Zagunis
,
Jim Adduci
,
,
Cory Abbott
,
Connor Myers
,
Charcer Burks
,
Oscar De La Cruz
,
Miguel Amaya
,
Delvin Zinn
,
Cam Balego
,
Wladimir Galindo
,
Tyler Durna
,
Derek Casey
,
Christopher Morel
,
Jonathan Sierra
,
Cole Roederer
,
Sean Barry
,
Fernando Kelli