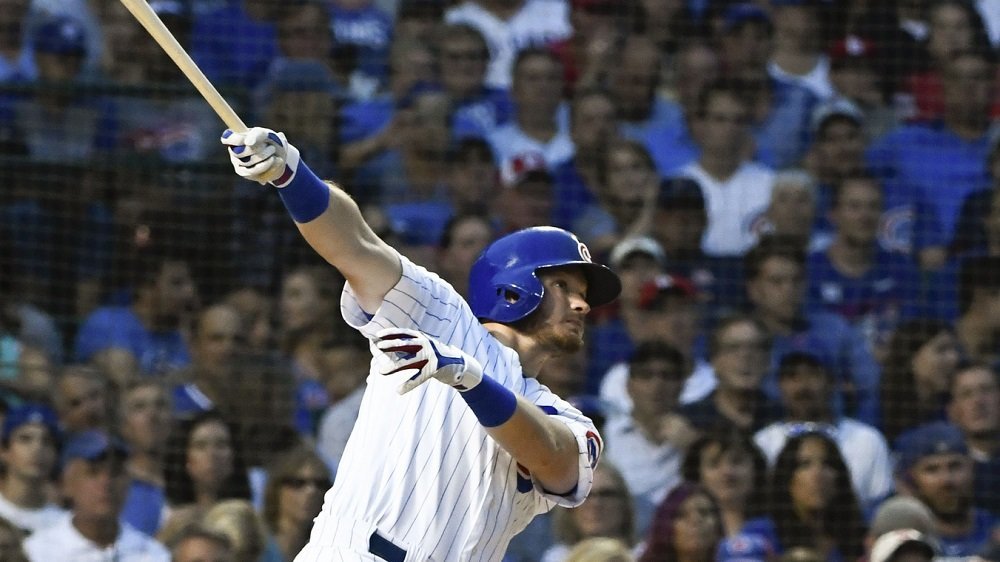 | | |
| --- | --- |
| Down on Cubs Farm: Ian Happ heating up, Abbott shines, Pelicans stomp Hillcats, more | |
---
| | | |
| --- | --- | --- |
| Tuesday, July 16, 2019, 1:01 PM | | |
The Cubs continue to do work down on the farm as one team continues to separate themselves from the back. With so much movement continuing at all five levels, it sometimes is hard to maintain consistency. The Cubs continue to battle at all levels as they finished the night with a 2-3 record.
IOWA CUBS 5 – Oklahoma City Dodgers 2: The beat goes on for Iowa all-star Colin Rea as he once again delivered another fantastic outing for the Cubs. Not only did Rea improve to 11-2 with the win but lasted his longest outing of the season tossing eight marvelous innings of 2ER 4H ball. Rowan Wick slammed the door shut in the ninth for his fifth save and 5-2 Iowa win.
Iowa kept the pressure on early taking the lead immediately in the first inning. Following an Ian Happ single and Mark Zagunis walk, the Dodgers uncorked two straight wild pitches to push the first run across for the 1-0 lead. Jim Adduci added a single later in the inning to double the lead 2-0 as Iowa never trailed in this one.
A Zach Reks second inning homer got the Dodgers on the board, but it was in the fifth when Happ provided the game-winning RBI. Happ appears to finally be finding his groove in AAA this season as he lined one over the left-field fence for his 14th homer of the season and 3-1 Cubs lead. Happ was not finished in this one as he added another solo shot in the seventh along with Dixon Machado and just like that it was a 5-1 game.
Ian Happ homered twice last night. We're sure Twitter has no thoughts about it. pic.twitter.com/Zx9fjoDntM

— Iowa Cubs (@IowaCubs) July 16, 2019
The homer continued to produce at a high rate in the eighth inning when Gavin Lux touched up Rea for his third homer of the season and second Dodger homer of the game to make things 5-2 as it was now up to Wick to finish things off. Wick did just that, retiring the Dodgers in order with a pair of strikeouts to lift Iowa to the 5-2 win.
The Cubs continue their stranglehold on the division as they sit at 54-41 this season. Happ certainly was feeling it in this one, picking up three hits with two homers to lead the way. Happ is suddenly hitting .240 for the season, and it may be time shortly for the Cubs to think about calling him up. Adduci added a pair of hits to keep his hot hitting alive with Zagunis adding one hit in the win. Wick lowered his ERA to 1.91 with the save.
Ian Happ is batting .395 (17-for-43) with 7XBH, 9RBI 10BB and 13K through his last 11 games. pic.twitter.com/Eha8BOUwx5

— Iowa Cubs (@IowaCubs) July 16, 2019
Ian Happ homered twice and Colin Rea spun a brilliant 8.0 innings to secure the win for Iowa. pic.twitter.com/4zJmtqCeXw

— IowaCubsGameDay (@IowaCubsGameDay) July 16, 2019
TENNESSEE SMOKIES 3 – Mobile Bay Bears 6: The back and forth series with Mobile continued on Monday with the Smokies getting the short end of the stick 6-3. However, sometimes numbers don't tell the story as Cory Abbott gave Tennessee his best outing in quite some time allowing just 1ER in seven innings of no decision work before Allen Webster and the bullpen let things slip away late.
It took four innings for someone to breakthrough, but it was Mobile striking first as Brandon Marsh went deep for his second homer of the season and a quick 1-0 lead. Both of Marsh's homers have come in this series. Two innings later the Smokies were finally able to draw even as Connor Myers ended a long homerless drought with his third of the year to make things a 1-1 game through six.
I meeaaannn... ???????

Maybe don't pitch so close to Connor's head..? pic.twitter.com/stSZWP8dVq

— Tennessee Smokies (@smokiesbaseball) July 16, 2019
After Abbott departed after seven with 1BB and 6K, Webster took over as his rehab assignment continues. This was not the outing he was hoping for as he not only gave up the lead but put Tennessee in a huge hole in the process. With two men on, Roberto Baldoquin put the Bay Bears in front 2-1 with a single. Marsh followed that up later in the inning with the game-winning double as Mobile plated three runs to take a 4-1 lead.
The Smokies refused to go down without a fight as Vimael Machin ripped his team-high 20th double of the season to cut things to 4-2 in the eighth. Now down 6-2 after Mobile pushed across two more runs in the ninth the Smokies were down to their final outs as they needed offense in a hurry. A one-out triple from Charcer Burks was undoubtedly a good start as he was later knocked home on an Ian Rice sacrifice fly. However, that would be all Tennessee could do falling to Mobile 6-3.
Tennessee continues their free fall in the standings as they are now 42-52 for the year. Burks stayed hot at the plate collecting two more hits as he was the lone Smokie with more than one in the game. Nico Hoerner, Machin, and Myers were among the players who picked up other hits in the losing effort.
MYRTLE BEACH PELICANS 10 – Lynchburg Hillcats 0: Led by Erich Uelmen on the mound, the Pelicans could do no wrong Monday night as they blasted Lynchburg 10-0 to take the series. It was Uelmen setting the tone early, as he improved to 4-2 on the season with five innings of three-hit ball to bring his ERA to 2.88 for the season. The offense took care of the rest as the Pelicans continue to play inspired ball throughout the second half.
It didn't take long for Myrtle Beach to take the lead as Tyler Durna put them on top for good 1-0 in the first with an RBI single. Despite scoring in just one more inning the rest of the game, you can do the math to see that the other inning provided the Pels with more than enough offense to cruise to the victory.
Up 1-0 in the third, Myrtle Beach began not only to show signs of life offensively but looking as if they were going to go through the entire Lynchburg staff in the process. Cam Balego opened the scoring in that frame with an RBI single before Durna added another RBI single to make it 3-0. A few batters later it was time for Aramis Ademan to get in on the fun as his RBI triple made it 5-0 Myrtle Beach as there was only one out.
Now with two outs, Jose Gutierrez got in on the fun with a single of his own as the lead grew to 6-0 with a pair of runners on base. Three straight walks followed that single including bases-loaded walks by Delvin Zinn, and Balego pushed the lead to 8-0 before a wild pitch made it 9-0. The Pelicans nine-run frame finally came to an end after the Miguel Amaya RBI single, but the damage was done in the process with the Pelicans up 10-0 through three.
That would be all the offense they needed as five pitchers combined to allow 6H with ten strikeouts through nine innings handing the Pelicans a dominating 10-0. Myrtle Beach improves to 35-58 and has 15 wins so far in the second half.
Durna had a coming-out party in this one, leading the team with three hits to go with his two RBIs. Both Balego and Amaya each added multi-hit efforts as Amaya has risen his average 23 points in the last month to bring him to 230. Chad Hockin made his season debut in the sixth, tossing a scoreless inning of relief with a pair of K's.
Good Morning, Twitter ??

Wake up with @CBalego95 and @aramis_ademan driving in just a few of the 10 runs scored last night against the Hillcats.#MBPelicans | ??? @noahcloonan pic.twitter.com/BtqmHFb3gw

— Myrtle Beach Pelicans (@Pelicanbaseball) July 16, 2019
3 hits and a couple steaks will get you some bread!@tylerdurna is tonight's @panerabread Bread Winner of the Game ???? pic.twitter.com/YGsIXIrNX8

— Myrtle Beach Pelicans (@Pelicanbaseball) July 16, 2019
South Bend Cubs 3 – Quad City River Bandits 4 (10-innings): Looking to end the homestand on a positive note, the Cubs turned to Brendon Little on the hill as he is still looking to find his groove. If this start was any indication of things to come, Little will undoubtedly be in for a great rest of the season as he tossed five shutout innings of 2H ball to go with 0BB and 8K in a no-decision effort before the pen allowed four runs to hand the River Bandits a 4-3 win. Little continues to get better with each start as his ERA is down to 2.08.
With both pitchers on top of their games early, it was a matter who would blink first in this one. Fortunately for South Bend, it was Quad City who blinked as Andy Weber put South Bend on top 1-0 in the fourth with his third homer of the season. With a pair of runners in scoring position later in the inning, Cole Roederer gave himself up with a grounder to first, but it also brought home the games second run for the 2-0 Cubs lead.
With that score still intact in the seventh, Quad City was finally able to break through as they began to touch up the Cubs pen. Carlos Machado put an end to the shutout bid in the seventh as his single made things a 2-1 game. David Hensley was thrown out at third on the same play as the inning ended without any further damage. Ramiro Rodriguez made up for that mistake in the eighth as his second homer of the season made things a 2-2 game with nine innings of baseball not enough.
With South Bend wiggling their ways out of a 10th inning jam, the Cubs found themselves in another jam in the 10th as the River Bandits had something cooking. An Oscar Campos single to center broke the tie to give the River Bandits their first lead before a throwing error pushed the score to 4-2 with South Bend coming to bat. Needing a pair of runs to extend the game, South Bend inched a bit closer as Clayton Daniel made it a 4-3 game with a sacrifice fly. A two-out Weber walk would be the final base runner for the Cubs as they dropped a tight one 4-3 in extras.
South Bend is struggling a little lately as they have fell to 49-43 for the year. South Bend mustered just four hits in the contest with Weber, Brennan Davis, Jonathan Sierra, and Fidel Mejia each collecting one for the day. Both Roederer and Daniel went 0-4 but managed to pick up RBI's in the loss. Sean Barry was the lone reliever not to allow a run tossing a scoreless ninth despite loading the bases to drop his ERA to 2.13.
Cubs drop the finale to Quad Cities 4-3 in extras. With an off day tomorrow, we'll head to Wisconsin on Wednesday. pic.twitter.com/kd4KiJ9SCi

— South Bend Cubs (@SBCubs) July 15, 2019
EUGENE EMERALDS 2 – Boise Hawks 4: Aiming to push their winning streak to three, the Emeralds turned to Zach Mort who was looking for his first win in nearly a month. Despite giving the bullpen a breather and tossing seven innings, Mort fell to 1-3 on the season as he allowed 4R (3ER) on 6H as the offense managed just two runs of their own in a 4-2 defeat. Mort did strike out six with no walks as his command continues to be a bright spot.
Eugene got off to a great start as they broke through first in the second. Already with a pair of runners on base, Jonathan Soto squared one up to left as his liner fell for a single to bring home the games first run for the 1-0 lead. That lead was short-lived as Boise responded with a pair of runs in the bottom of the second on a Trevor Boone sacrifice fly followed by a throwing error later and just like that, we had a 2-1 Hawks lead.
That score would stand pat until the seventh when Eugene was finally able to find the plate again. Once again, Soto found himself in the middle of the action, this time on the bases as he was in scoring position. Edmond Americaan made sure that Soto would be able to trot home connecting for his fifth double of the season to bring things even once again 2-2.
However, like in the second inning when the Emeralds scored the Hawks responded by posting another two spot on the scoreboard. This time it was the long ball that provided the offense as Zach Hall took Mort deep for his second of the season and 4-2 Boise lead. That homer proved to be the difference as the Emeralds two-out rally in the ninth fizzled out when Americaan ended the game with a groundout.
Eugene remains in last place in the standings as they sit with a 13-18 mark. Soto was a key piece offensively in this one, collecting a team-best three hits to go with his RBI. Both Americaan and Zac Taylor added two-hit games with Americaan responsible for the team's other RBI. Both Jake Slaughter and Fernando Kelli added one hit each while Chase Strumpf was given the night off.
Tough loss in Boise, 4-2.

Rubber match tomorrow night at Memorial Stadium! #GoEms

— Eugene Emeralds (@EugeneEmeralds) July 16, 2019

Tags: Cubs Baseball
,
Colin Rea
,
Rowan Wick
,
,
Mark Zagunis
,
Jim Adduci
,
Dixon Machado
,
Cory Abbott
,
Connor Myers
,
Vimael Machin
,
Charcer Burks
,
Ian Rice
,
Tyler Durna
,
Cam Balego
,
Aramis Ademan
,
Delvin Zinn
,
Miguel Amaya
,
Andy Weber
,
Cole Roederer
,
Clayton Daniel
,
Jonathan Sierra
,
Fidel Mejia
,
Sean Barry
,
Fernando Kelli