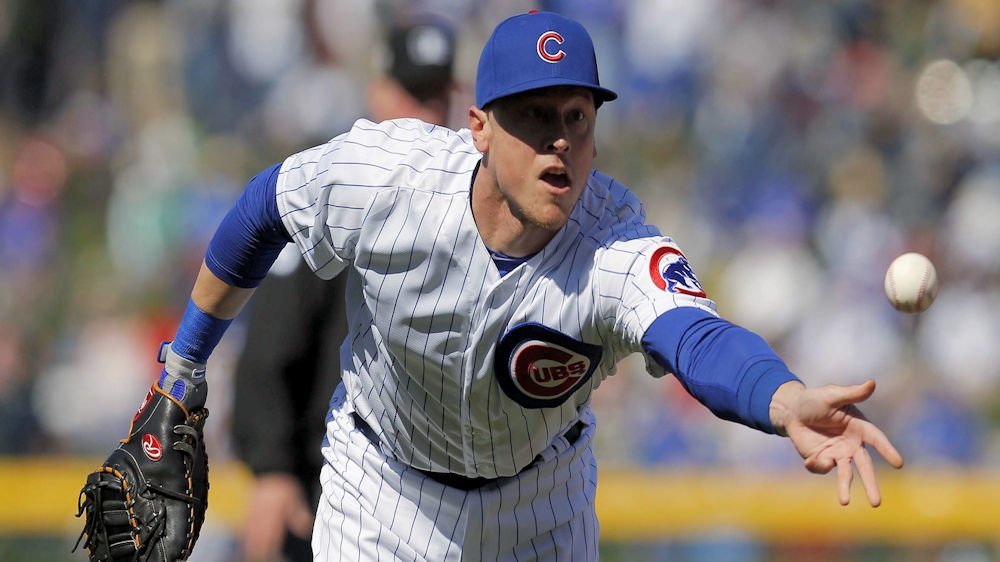 | | |
| --- | --- |
| Down on the Cubs Farm: Adduci extends hitting streak, Young delivers, Marquez impressive | |
---
The farm system finally gave fans a good night to cheer as they combined to go 3-1 in what was an exciting overall night.
IOWA CUBS 3 – Fresno Grizzlies 2: With surprising ace Colin Rea on the hill, Iowa looked to get back on the winning track as they met up with the Grizzlies in game two of the five-gamer. Rea continued to do what he has done all season, tossing great innings of 2R 4H ball (1ER) helping Iowa to the 3-2 victory. Rea is now 7-1 on the season and is sporting a solid 3.20 ERA.
It didn't take long for the Iowa offense to get going as they surged in front immediately in the first inning despite battling with the sweltering 95-degree heat. Singles from Donnie Dewees and Jim Adduci led things off as the Cubs had a pair of runners on with no outs. Adduci is now on an 11-game hitting streak. Two batters later it was Ian Happ giving the Cubs a 1-0 lead with an infield single as runners were on the corners once again. Robel Garcia added a sacrifice fly immediately after to give Iowa the 2-0 lead.
Fresno responded with a run of their own in the bottom of the first showing they were not going to crack trailing Rea by two. With one out, Carter Kieboom picked up a single for the Grizzlies first baserunner. Now with two outs, Kieboom was able to advance to second as Rea uncorked an error on an attempted pickoff throw. That error proved to be costly as Jose Marmolejos singled home the Grizzlies first to make it a 2-1 game.
Things remained 2-1 until the bottom of the fourth when a familiar face tied the game. It was former Cubs farmhand and Iowa player Brandon Snyder launching his 13th homer of the season to bring the game even 2-2. That would be the final run of the game for Fresno as the Iowa pitching was solid all game long.
The very next inning saw Dixon Machado lead things off with a single as Iowa was looking to strike back. Standing on second with two outs, Machado was able to come home to score as Adduci broke the tie with a single to the right giving Iowa the lead once again 3-2. That would be all the runs the Cubs would as an excellent bullpen combination of Tony Barnette, Dillon Maples, Randy Rosario, and Rowan Wick tossed four scoreless innings allowing just two baserunners in the process to preserve the win.
Iowa improves to 35-30 on the season as they still occupy first place in their division. Both Adduci and Happ had good nights collecting four of the teams six hits to go with 2 RBI's. Taylor Davis was 0-4 with 2k, while Mark Zagunis had the night off.
Extend a 11-game hitting streak ??
Knock in the game-winning run ??
That's good enough for @EMCInsurance Player of the Game honors! pic.twitter.com/FhKuSM2kUY

— Iowa Cubs (@IowaCubs) June 14, 2019
The I-Cubs hang on to win in California! Get some rest: same time and place for the rubber game tomorrow ?? pic.twitter.com/bXGvsZxtnB

— IowaCubsGameDay (@IowaCubsGameDay) June 14, 2019
TENNESSEE SMOKIES 4 – Pensacola Blue Wahoos 3 (10 innings): One of the most underrated pitching prospects in the Cubs system has been Tyson Miller. Not only has been on an incredible run the first half of the season but has turned into the ace of the staff as the stopper they have needed. Miller was at it again on Thursday, tossing 6 2/3 innings of work to allow just 2ER on 6H with 2BB and 6K in a no-decision effort. His ERA now sits at 2.51 as the Smokies needed some late-inning magic to deliver a 4-3 extra-inning win.
Tennessee drew first blood in the contest taking the lead in the second inning. Eddy Martinez led things off a single before advancing to second on a P.J. Higgins a few pitches later. The hit parade continued with Charcer Burks, as he rolled one up the middle for the third consecutive hit scoring the games first run for the 1-0 lead. With a chance at an even bigger inning, Tennessee was unable to push across any more runs as Miller was given a small lead.
That lead appeared to be enough for Miller as he was cruising right along through four innings until the Blue Wahoos finally got to him in the fifth. After retiring the first batter of the inning, Miller worked himself into some trouble as a walk, and a single had runners on the corners. Fortunately for him, he was able to limit the damage getting Tanner English to roll one over for the force out, but one run managed to score to tie the game 1-1.
Two innings later it was the Smokies turn to get a run back as their offense was held in check for quite a while. A fielding error to open the inning allowed Gioskar Amaya to reach base which proved to be a huge advantage later on. With the next two batters being retired, the inning would have been over if the Amaya grounder was fielded. Instead, the door was left wide open for Roberto Caro to rip a single to right field giving Tennessee a 2-1 lead.
Once again, it was the Blue Wahoos battling back as they tied the game in the bottom half of the seventh. A leadoff walk to Jimmy Kerrigan was not a good start as he advanced to second on a sacrifice bunt. With one out, Joe Cronin singled putting runners on the corners, before Jordan Gore tied the game 2-2 with a single of his own. That was the last batter Miller would face as it was up to the bullpens.
With nine innings not enough to decide this one, the game shifted to extra innings for the second straight night. This time, however, it was the Smokies striking first as the Caro single put runners on the corners with no outs. Vimael Machin was intentionally walked to load the bases setting the stage for Jared Young. He would deliver with a line drive to center field plating a pair as the Smokies were back in front 4-2.
Much like previous deficits, Pensacola refused to go down quietly as they looked to push the game deeper into the Florida night. It took just two pitches for it to be a 4-3 game as Gore picked up his second RBI knock of the night. A one-out Travis Blankenhorn single had tying run at second, but an inning-ending double play sealed the deal for Smokies as they hung on for a 4-3 win to improve to 31-35.
A trio of hitters had multi-hit nights as Caro, Young and Higgins grabbed those while also being responsible for 3 of the teams 4RBI's. Both Machin and Clayton Daniel picked up hits to keep their averages above .300 for the season. Tommy Nance (2-1) got the win in relief as he lowered his season ERA to 2.76 with 2 1/3 shutout innings. Bailey Clark earned his second save.
MYRTLE BEACH PELICANS 0 – Down East Wood Ducks 1: For the second straight night, the Pelicans were victims of a solid pitching performance, despite throwing one of their own in the process. Just 24-hours after Alex Lange took a 1-0 loss; it was Erich Uelmen on the hill looking for his second win of the season. Uelmen (1-2) tossed six brilliant innings allowing 1ER on 4H. Unfortunately, that one run would be all Down East would need as the Pelicans were shutout 1-0 for the second straight night.
After going pitch for pitch through three innings, the Wood Ducks were able to break the scoreless tie in the fourth on the strength of some luck in the process. Leody Tavares took a one-out walk to get on base before Ryan Dorow reached on an infield single to put two runners on. The unfortunate part of that single was it was a comebacker right at Uelmen who deflected it off his glove. Now with two outs, Julio Pablo Martinez picked up the go-ahead RBI as his single made it a 1-0 game. That run proved to be the game winner, although no one knew that at the time.
Myrtle Beach had a great chance to tie things up in the bottom of the fourth as a Carlos Sepulveda single, and Cam Balego walk put a pair of runners on base with two gone. Looking to take a risk, the Pelicans attempted a double steal in which Balego was thrown out on the back end to end the inning with the score still 1-0.
Despite a few chances for Myrtle Beach with a runner in scoring position, the last great opportunity came in the bottom of the eighth as it was now or never. Luke Reynolds led things off with a walk to get the inning started. With the next two hitters being retired, Balego kept the inning going with another walk as two runners were on yet again. However, once again the Pelicans were kept off the board as that was their last great chance falling to 20-44 with a 1-0 loss.
Aramis Ademan and Sepulveda collected all three hits for Myrtle Beach. If it weren't for five bases on balls, they would not have had a runner at second in the game. Miguel Amaya was 0-4 on the night while Jesus Camargo and Manuel Rodriguez tossed three scoreless relief innings.
Gorgeous sunset from @Pelicanbaseball ballpark last night via Roger Cote #scwx pic.twitter.com/yef1H5A9W3

— Ed Piotrowski (@EdPiotrowski) June 14, 2019
SOUTH BEND CUBS 5 – Lansing Lugnuts 1: Looking to head to their final series before the all-star break on a positive note, South Bend turned to Brailyn Marquez who is looking to bounce back from two rough starts. Marquez got back to doing what he does best by throwing tons of strikes and blowing away hitters with an upper 90's heater. Marquez went five innings, allowing 1ER on 4H to go with 3BB and 7K in a no-decision as the offense had to come alive late to pick up the 5-1 win.
Pitching indeed dominated this game in the early going as both teams were held scoreless through two frames. If it weren't for a wild pitch in the third that gave the Cubs a 1-0 lead, no runs would have come across until the fifth when Lansing broke through on Marquez. A two-out Luis De Los Santos double extended the Lugnuts fifth before Reggie Pruitt showed off his wheels with his seventh triple of the year to make it a 1-1 game. That would be the final inning for Marquez as he pitched strongly to keep his team close.
South Bend managed to come through in the sixth inning taking the lead and never looking back. Tyler Durna eared a one-out walk, but with two outs, he was in danger of not scoring. Cole Roederer made sure that would not happen picking up his second triple to make it a 2-1 game. Christopher Morel and Gustavo Polanco walks extended the lead to 3-1 as Roederer trotted home on ball four to Polanco giving the Cubs a nice cushion.
With Lansing still in striking distance, the Cubs were looking for a little bit more insurance as the seventh inning was underway Once again the leadoff hitter was aboard as Delvin Zinn singled to reach base. On the verge of wasting a leadoff hit with two outs in the inning, Durna delivered the knockout punch with his third homer of the season ending a long drought putting giving the Cubs a 5-1 lead. Three scoreless innings from Brendan King who earned the win and a solid job from Ethan Barry in the ninth gave the Cubs a much-needed 5-1-win heading into the weekend.
Needing to win out to have a shot at a first-half playoff opportunity, South Bend is 35-31 on the year sitting in fourth place. The Cubs showed a balanced attack as six South Bend players contributed with one hit each in the win. With his scoreless ninth, Barry continues to be ranked in the top five in ERA, sporting a 1.35 ERA in 2019.
CUBS WIN! pic.twitter.com/2IHC9gnvtK

— South Bend Cubs (@SBCubs) June 14, 2019

Tags: Cubs Baseball
,
Colin Rea
,
Jim Adduci
,
,
Robel Garcia
,
Dixon Machado
,
Tony Barnette
,
Dillon Maples
,
Randy Rosario
,
Rowan Wick
,
Taylor Davis
,
Mark Zagunis
,
Tyson Miller
,
Eddy Martinez
,
Charcer Burks
,
Gioskar Amaya
,
Roberto Caro
,
Vimael Machin
,
Jared Young
,
Clayton Daniel
,
Bailey Clark
,
Carlos Sepulveda
,
Cam Balego
,
Luke Reynolds
,
Aramis Ademan
,
Miguel Amaya
,
Jesus Camargo
,
Manuel Rodriguez
,
Brailyn Marquez
,
Tyler Durna
,
Cole Roederer
,
Christopher Morel
,
Gustavo Polanco
,
Delvin Zinn
,
Brendan King