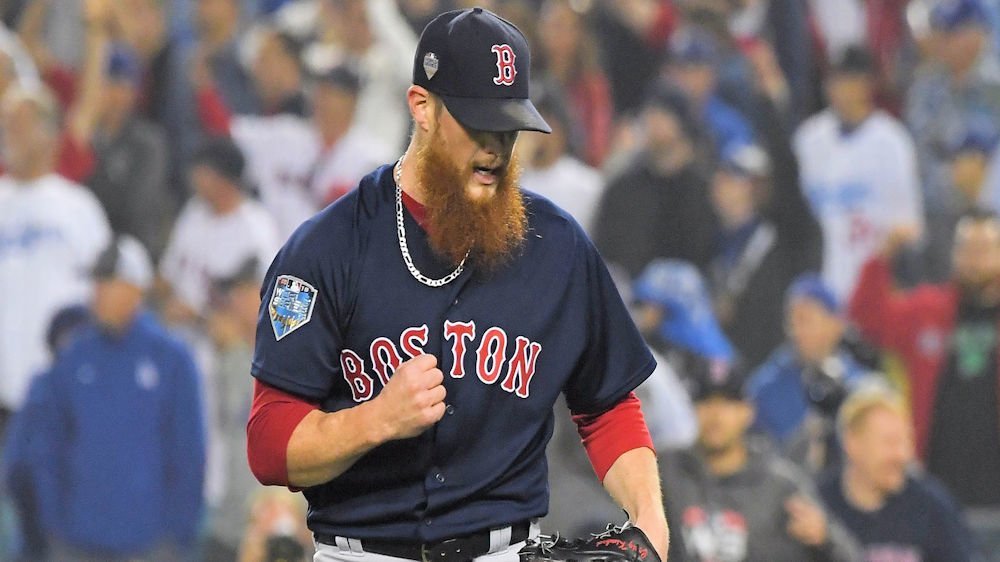 | | |
| --- | --- |
| Down on the Cubs Farm: Craig Kimbrel debuts, All-Star game HR derby, Eugene wins in extras | |
---
| | | |
| --- | --- | --- |
| Wednesday, June 19, 2019, 11:46 AM | | |
It was a quiet night in terms of farm system games as the Cubs managed to go a perfect 2-0 on the day. With that being said, three all-star games were taking place that had several of the Cubs prospects showing their stuff for different eyes to see.
IOWA CUBS 7 – Sacramento River Cats 4: All eyes were on the Iowa Cubs on Tuesday, and rightfully so as they looked to take four of five in the series. With the news of Kyle Hendricks hitting the IL, many thought it would be time for Adbert Alzolay to get the call to replace Kyle in the rotation. That was not the case as he is scheduled to start Thursday afternoon, but there was another reason all eyes were on Iowa.
It was the season debut of Captain Red Beard himself Craig Kimbrel, and to say it wasn't impressive was an understatement. After not pitching in a competitive situation in nearly eight months, Kimbrel was lights out in his inning of work needing just eight pitches (six strikes) to retire the side with 1K. That came after a gutsy outing from Colin Rea, who improved to 8-1 on the season following a six-inning 4 ER start.
Down 1-0 in the second after a Chris Shaw sacrifice fly in the first, the Iowa bats came to life with a huge inning to take control. Two batters in and the Cubs had a pair of runners in scoring position as Phillip Evans led things off with a walk ahead of a Mark Zagunis double. Jim Adduci keeps on hitting with a two-run single pushing his hitting streak to 15 games while also giving Iowa the 2-1 lead.
All of that happened before the first out was recorded, but immediately following that out Rea took it upon himself to help his cause as his double made it 3-1 Iowa. The lead continued to grow for the Cubs with the next hitter as Jacob Hannemann was able to reach on an error as another run came across to make it 4-1. Iowa managed to load the bases following that error, but couldn't push across any more runs.
After cruising along most of this season, Rea found himself in a world of trouble in the second inning as Sacramento came roaring back. Looking to work around a one-out single with two outs, Rea left one in the happy zone for Mike Gerber, who deposited it over the fence for his 15th of the season cutting the lead to 4-3. Henry Ramos followed that up with a single before is speed manufactured another run. Ramos would steal second a few pitches later and advance to third on a Taylor Davis throwing error. One pitch later we had a 4-4 game as Ramos came home on the Rea wild pitch.
Rea was strong after the first two innings as he didn't yield a run the rest of the game. Now it was up to the offense to pick him up after he did his part to settle down. It was in the fifth inning when the Cubs grabbed the lead for good as Phillip Evans went deep for his 10th of the season giving Iowa the 5-4 advantage. Davis was responsible for the final two runs of ball game picking up an RBI groundout in the seventh before adding an RBI single I the ninth to lift the Cubs 7-4.
Iowa will head back home with a 40-32 mark as they capped off a solid road trip. Evans was locked in at the plate leading the offense with three hits. Although his homer streak came to an end, Trent Giambrone continued to swing a hot bat picking up two more hits in the win. Zagunis also had a pair of hits in the win while Davis was 1-5, but did manage to pick up 2 RBI. Ian Happ had the day off.
Today's @EMCInsurance Player of the Game honors go to Phillip Evans! pic.twitter.com/hEclscJNnl

— Iowa Cubs (@IowaCubs) June 18, 2019
Behind another winning performance from Rea, the Cubs bullpen was filthy as it all started with Kimbrel in the seventh. He turned things over to Tony Barnette who has suddenly become the go-to pitcher late in the game with another scoreless frame as his ERA falls to 2.53. Dillon Maples recorded his second save picking up a pair of K's in the ninth.
Craig Kimbrel went 1-2-3 in his first inning as a member of the #Cubs organization ?? pic.twitter.com/NmH8ZOWjJR

— Cubs Talk (@NBCSCubs) June 18, 2019
??: Craig Kimbrel talked with media after his #Cubs organizational debut. pic.twitter.com/KETJ3Ocw3c

— Iowa Cubs (@IowaCubs) June 19, 2019
TENNESSE SMOKIES: It was an all-star night for the Southern league as the North emerged victorious over the South 7-3. Several Smokies not only made the team but saw significant action in the game as Vimael Machin went 2-5 for the game with P.J. Higgins going 2-4 with an RBI double in the second. Roberto Caro was hitless in two tries at the plate.
In terms of pitching, the Smokies also had a trio of stars see action on the mound with two names that shouldn't surprise you. First, it was Tyson Miller entering the game in the fourth as he allowed 1ER in his inning of work. In the seventh, it was Cory Abbott getting his shot on the hill, but by allowing 1ER on 2H, Abbott didn't get out of the seventh lasting 2/3 of an inning before turning it over to his teammate Wyatt Short who finished off the inning.
MYRTLE BEACH PELICANS: All-Star Night in the Carolina league was extremely exciting with the North edging out the South 8-7. The Pelicans had a trio of arms participate in the contest as all three got to pitch in the game. First, it was Javier Assad in the second as he plowed right through the lineup, recording 2K's in a scoreless frame.
In the fifth, it was time for Jesus Camargo to take his turn and much like Assad, made quick work of the North all-stars retiring them in order with a pair of strikeouts also. The final pitcher of the night was Paul Richan as he looked to match his teammates. Richan did not have a good showing as he took the loss for the South all-stars, throwing just one inning of relief but allowing three earned runs on two hits despite picking up two strikeouts. Tyler Payne was the lone Pelican to bat, going 0-0 with a walk and a run scored.
SQU??D

Lookin' good, Birds! #MBPelicans | #GoBirds pic.twitter.com/DMssK94gHs

— Myrtle Beach Pelicans (@Pelicanbaseball) June 18, 2019
SOUTH BEND CUBS: South Bend was a busy place on Tuesday, as the Cubs hosted the Midwest League All-star game. With regulation not being enough in the 3-3 tie, the teams had to play a sudden death home run derby with the East emerging as the victor's courtesy of Chris Betts winning his second derby in as many days.
South Bend was well represented on the as their players loathed in the experience. Despite participating in the home run derby Monday, Jonathan Sierra was not in the lineup for the game as Andy Weber was the lone position player to take swings in the contest. In two at-bats, Weber went 0-1 but managed to take a walk.
The Cubs did, however, have a trio of arms take the mound, with Riley Thompson going first in the second. Thompson continued to pitch well, tossing a scoreless inning allowing 1H with 1K. Following him in the third was Brailyn Marquez as he looked to blow hitters away with straight heat. Although he only lasted 2/3 of an inning, Marquez gave up just 1H and looked strong throughout.
The final South Bend arm was Jeffrey Passantino as he entered the game in the ninth inning. Much like Marquez, Passantino lasted just 2/3 of an inning but managed to be perfect during that short stint retiring both batters he faced with a strikeout.
There's nowhere else we'd rather be than right here with over 7,000 #AllStar fans! ?????? #MidwestLeagueAllStarGame pic.twitter.com/pldawcZSLz

— South Bend Cubs (@SBCubs) June 19, 2019
EUGENE EMERALDS 6 – Vancouver Canadians 5 (10 innings): After struggling to score runs their last three games, the Emeralds busted out the lumber Tuesday putting an end to their losing streak 6-5 in 10. It was a rough go of things for Emeralds starter Niels Stone, who lasted just 2/3 of an inning allowing 2ER. Eugene went on to use six total pitchers in the game to hold on for the win.
As mentioned above, Stone did not last as long as the Canadians greeted him immediately in the first. Two batters in, Vancouver was threatening as both Cameron Eden and Tanner Morris picked up singles. Looking get double play ball, Trevor Schwecke grounded one over to third, but a fielding error by Yonathan Perlaza allowed the games first run to score. Following a walk, Luis De Los Santos reached on a fielder's choice to bring home another run as Vancouver was up 2-0 after 1.
That score held up until the fourth inning when Emerald's bats began to awaken. With an error allowing Edmond Americaan to reach base to start the inning, Luis Vazquez ripped a double putting two men in scoring position. It was another error bringing home the Emeralds first run as Perlaza was now on first. Following a wild pitch that made it a 2-2 game, Caleb Knight gave the Emeralds the lead 3-2 with an RBI groundout as the sloppy play for both teams continued.
De Los Santos was able to tie things up in the fifth inning, crushing a double down the left field line to make it a 3-3 game. Now, with it being a battle of the bullpens this game had extra innings written all over it as we still had a 3-3 game in the bottom of the eighth. It was at that moment when it looked like the Canadians were about to escape with a win as Morris picked up a clutch RBI double to put Vancouver back in front 4-3.
However, it was the Emeralds saving the best for last as they refused to give up in the ninth inning. Knight continued his strong game by leading things off with a single. Two batters later Fernando Kelli connected for the one out triple as we had a 4-4 game with the go-ahead run on third. Unfortunately, Kelli would get thrown out at home on a fielder's choice as the Emeralds managed to retire the Canadians in the ninth to send the game to extras.
It was at that moment when you could see a sense of new life for Eugene as they wanted to make quick work of the extra frame. Already with runners on the corners following an Americaan single, it was a one-out intentional walk to Gage Burland to load the bases setting up a double play chance in the process. That plan backfired for Vancouver as Jake Slaughter rolled one into right field for a single putting Eugene back on top 6-4.
Down to their final three outs, the Canadians refused to go down without a fight as Yorman Rodriguez needed just one pitch to make it a 6-5 game with a
single. A walk to Dominic Abbadessa put two on with no one out, but that is as close as Vancouver would come with Carlos Vega settling down to pick up his first save of the season and give Eugene the 6-5 win to improve to 2-3.
Slaughter, Knight, and Kelli all had big nights at the plates, as they picked up a pair of hits each and were responsible for four RBI's. Americaan, Vazquez and Danny Zardon tallied the other three hits. On the mound, the Emeralds saw several good showings, but three, in particular, stood out.
Chris Allen made a name for himself after entering the game in the third inning. Yes, he did allow 1ER, but that was all as he went three innings, the longest of anyone on the night. Fauris Guerrero followed him up in the sixth as he tossed two scoreless innings despite battling minor command issues. Rounding out the strong performances in the pen, was the winning pitcher Ivan Medina who also threw a pair of innings. Despite conceding a run in the eighth, Medina was impressive on the hill picking up 5K in two innings of work for Eugene.
EXHALE EMS FANS, WE WIN!

It took extras, but the Ems come away with the 6-5 win in 10 innings! pic.twitter.com/ZHgNEHHLQV

— Eugene Emeralds (@EugeneEmeralds) June 19, 2019

Tags: Cubs Baseball
,
Kyle Hendricks
,
Adbert Alzolay
,
Colin Rea
,
Phillip Evans
,
Mark Zagunis
,
Jim Adduci
,
Jacob Hannemann
,
Taylor Davis
,
Trent Giambrone
,
,
Tony Barnette
,
Dillon Maples
,
Vimael Machin
,
Roberto Caro
,
Tyson Miller
,
Cory Abbott
,
Wyatt Short
,
Javier Assad
,
Jesus Camargo
,
Paul Richan
,
Jonathan Sierra
,
Andy Weber
,
Brailyn Marquez
,
Jeffrey Passantino
,
Yonathan Perlaza
,
Luis Vazquez
,
Caleb Knight
,
Fernando Kelli
,
Fauris Guerrero
,
Ivan Medina