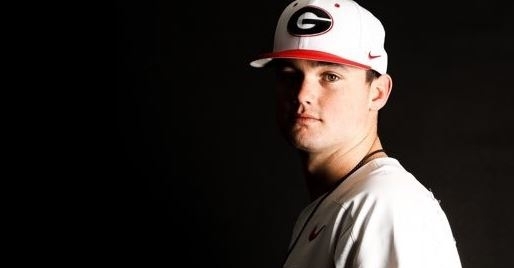 | | |
| --- | --- |
| Draft Breakdown: Cubs 14th rounder Shane Marshall | |
---
| | | |
| --- | --- | --- |
| Monday, August 8, 2022, 8:13 AM | | |
It took a while for the Cubs to tap back into the Division 1 ranks, but that is what they did in round 14. However, if you are a fan of the hitting side of things, I want to urge you this isn't the pick for you as the Cubs selected RHP Shane Marshall out of the University of Georgia.
Or is he a pitcher? Despite being announced as a pitcher, Marshall was primarily a catcher in college and threw a grand total of 26 pitches in college. Despite being a hitter his entire college career, the Cubs scouts didn't miss those 26 pitches and had to like what they saw.
Now, this will become a conversation starter as he could easily stay a pitcher, go back to hitting or try and pull the Shohei Otani route and do both. The 6-4 222-pounder is the perfect size to be an MLB pitcher, but may be too big to be a catcher. That could be one of the reasons he announced himself as a pitcher, knowing that he has a better future on the mound compared to behind the dish.
When you look at his offensive numbers, especially from his senior season, you can see the argument as he hit just .210 this season with five doubles, two triples, one homer, and 19 RBIs. He did that across 42 starts, as that type of offensive production isn't going to cut it.
That is why he has pitching in his back pocket, as he made three relief appearances this season and threw 26 pitches in the process. So if you are the Cubs, why make this pick when he has limited pitching experience, and the bat wasn't playing up to the standards this season?
Well, for starters, this has always been an organization that loved having versatile players on their roster. Marshall is universal, and the Cubs are anxious to see what they can get from him. Another reason they made this pick is the Otani effect.
Given that he is the closest thing to Babe Ruth since Ruth played, more and more players are entering the MLB draft as two-way players hoping to stick at both pitcher and hitter. While most players are forced to pick one over the other, it is always nice to have players who can succeed at both.
That not only gives the Cubs options with those players, but gives the player options to try different things in case their primary position fails. You also have to look at the defensive side of things from Marshall as he was one of the better defensive catchers, so you have that hanging out there if all else fails.
There is not a lot out there on this pick, and the stuff that is doesn't get fans excited. However, I want to bring Rowan Wick into this conversation as I see Marshall taking that approach to the MLB level.
For those that forgot, Wick was once a catcher in the St. Louis Cardinals system after they drafted him eight years ago. With Yadier Molina and Carson Kelly blocking him at the time, Wick transitioned from catcher to pitcher, which worked in his favor.
Not only does he use that short arm stroke that many catchers use, but he typically sits in the 94-96 MPH range with his fastball while also offering a devastating 12-6 curve as his pitch. No one is going to sit here and say that Marshall will be the next Wick, but at least he is going to a system that has had someone make a similar switch.
I am not expecting much out of this pick, but from a pure intrigue side of things, you have to like the high-risk, high-reward play the Cubs made.