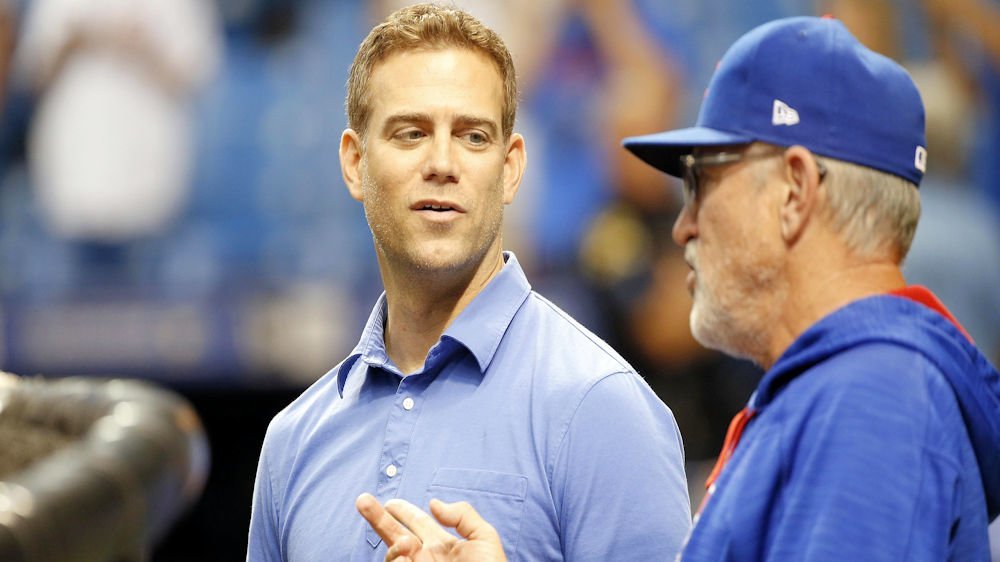 | | |
| --- | --- |
| Cubs News: Epstein like a snake in the grass waiting to strike | |
---
| | | |
| --- | --- | --- |
| Friday, December 7, 2018, 8:27 AM | | |
It's starting to happen. Corbin to the Nationals. Goldschmidt to the Cards. Eovaldi stays in Boston. Cano and Diaz to the Mets. As the off-season wears on, one by one, names are starting to be pulled from the roster of free-agents and the trade pieces are beginning to be dealt.
Bryce Harper seems to be causing a bottleneck for teams waiting to land an All-Star caliber, slugging outfielder, and Manny Machado may be jamming things up for teams looking for that much-needed shortstop/third baseman, even if hustle isn't a priority of his. In the meantime, top-tier outfielders like Pollock are stuck in the fold, and some pretty good infielders are stuck in limbo. Nobody wants a Brantley or a McCutchen with Harper remaining a possibility, and guys like Galvis and LeMahieu are going to be stuck on hold awaiting Machado's decision.
Seemingly trapped in some level far below the obligatory hesitation of most teams not wanting to pounce too early, lies the Cubs.
While I don't believe there to be a cash-crunch in Chicago, I do think the Ricketts have tightened the reigns in the name of fiscal responsibility. The Cubs are already near the luxury tax threshold with salary commitments, but they undoubtedly have holes to fill, and whether by purchase or trade, they'll be fielding a team in late March.
I've contended that the Cubs will be trade-heavy and free-agent light this off-season, and my colleague Dan Marich feels the same. Dan and I both feel the Cubs are going to trade, and then trade some more to fill their needs, then turn to free-agents when holes remain. Prospects are only going to go so far when dealing for a big-name reliever or that bonafide slugger, and the Cubs' farm system isn't exactly overflowing with a surplus of untapped talent.
While Dan and I agree that Happ, Schwarber, and Russell will likely become casualties of war (pun intended), Willson Contreras's future in Chicago has also recently come into question by many. In an ESPN article recently by Jesse Rogers, he took it a step further by suggesting Caratini, Almora, and gasp- maybe even Bryant could be dealt.
The names are almost irrelevant at this point, the more significant focus should be on the fact that the Cubs are likely to disintegrate at least part of the core this winter, and it seems logical that the longer they wait to start dealing, the bigger the names being dealt are likely to be. Building and maintaining a core of young players is a beautiful concept, but when that core, as a whole, fails to produce, changes are not far away. Just what those changes will entail is yet to be seen but make no mistake- they are coming.
Theo Epstein is notorious for making at least some sort of moves at the winter meetings, and those start in less than a week. Opening Day is now 111 days away, and the pitchers report in just over two months. While there's little doubt that several new relievers will eventually be coming to Chicago for 2019, bear in mind Epstein's comments about a "broken" offense, as the shipping season begins.
Pardon the comparison, but I can't help to think that Epstein has been spending this winter, coiled up quietly, like a snake in the grass, just waiting for the opportunity to strike. Not that it's a bad thing, as that snake often gets its prey, but with so many opportunities passing by, I'm growing curious to see what, or whom entices that first strike.