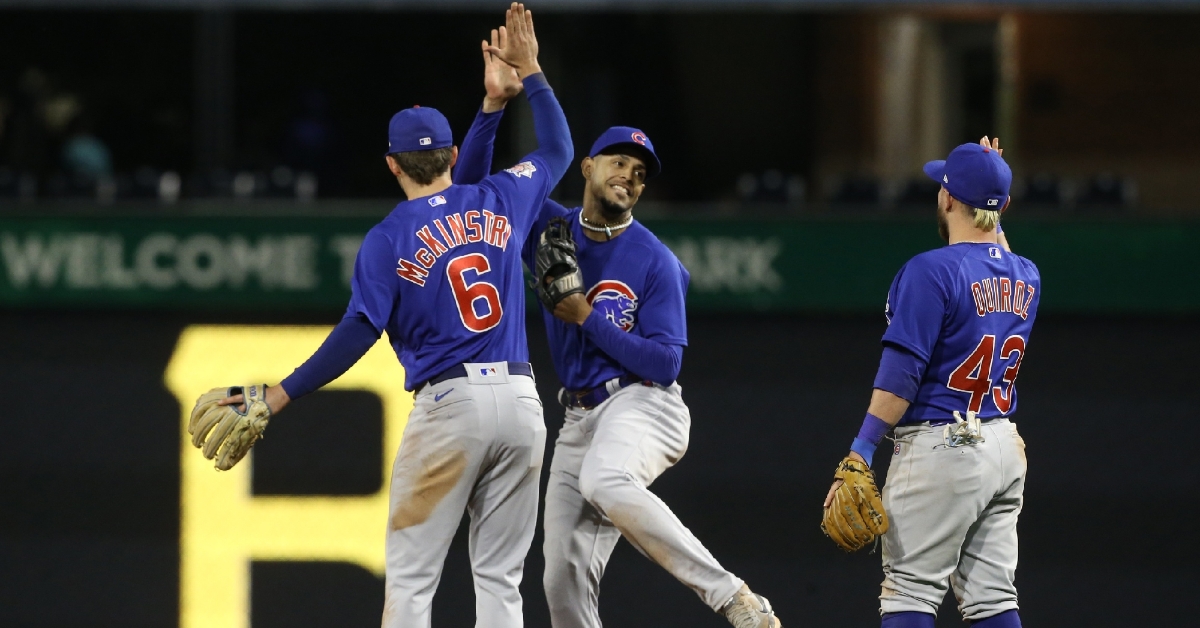 | | |
| --- | --- |
| Fly the W: Cubs scratch and claw for fourth straight win | |
---
| | | |
| --- | --- | --- |
| Saturday, September 24, 2022, 8:22 AM | | |
PITTSBURGH - The current Chicago Cubs (66-85) will not win you a championship, but seeing them play as well as they have is refreshing. Winners of four straight and eight of their last 11, the Cubs have officially avoided a 100-loss season and, depending on how things shake out, may even avoid 90 losses.
Should that happen, David Ross deserves a ton of credit, as eight of the remaining 11 games come against the bottom feeders in the NL Central. That includes two more with the Pittsburgh Pirates (55-96) at PNC Park as they continue to go through one of their worst offensive seasons in franchise history.
You wouldn't have guessed that on Friday night as the Pirates offense got to Javier Assad early and handed him his worst start since joining the Cubs. Assad labored through four innings as he was tagged with four earned runs while also throwing a ton of pitches. He continues to be a question mark heading into next season, but will be given one or two more chances to prove his worth before the season's end.
Take away that outing, and the Cubs bullpen was very good across five innings as the trio of Michael Rucker, Manny Rodriguez, and Erich Uelmen allowed just one run over five innings. Add that to a three-run sixth inning, then another late game rally and the Cubs managed to come out on top 6-5 as they look for the series win on Saturday.
4 walks
2 singles@Cubs lead! pic.twitter.com/cUlUu7nCTw

— Marquee Sports Network (@WatchMarquee) September 24, 2022
Opposing Assad was Bryse Wilson, who has had a rough go of things this season. Not only did he enter the game with a 3-9 record, but an ERA over 6.15 as he has struggled mightily since being traded by the Braves. Wilson went on to have one of his better outings this season as he allowed two runs over five innings and left with the lead only to see the bullpen blow it.
Pittsburgh wasted no time scoring the game's first run as they needed just two batters to take a 1-0 lead. With Oneil Cruz leading things off with a walk and a stolen base, Bryan Reynolds continues to be one of the hottest hitters in baseball as his RBI single put the Pirates in front 1-0. That lead didn't last long as the Cubs responded just two batters into the second inning.
First, it was Ian Happ coming through with his 40th double of the season and 104th career hit against the Pirates. That is the fifth most hits for Pittsburgh-born players against the Pirates, as Happ loves to face his hometown team. Two pitchers later saw Patrick Wisdom unload for his second homer in three days and 24th of the season as the Cubs were now in front 2-1.
Patrick Wisdom crushes his 24th home run of the year!

He sets a career high with 62 RBI. #DailyWisdom pic.twitter.com/iXU5gBG40V

— Chicago Cubs (@Cubs) September 23, 2022
An Alfonso Rivas single and Jared Young walk later in the inning kept the Cubs in business, but Wilson worked around that jam without further damage.
Three pitches into the bottom of the second, and the game was tied 2-2 as Jack Suwinski took Assad deep. The Pirates continued to keep the pressure on in the third inning as an error to lead things off opened the door for what could have been a big inning. RBI doubles from Cal Mitchell and Kevin Newman followed that up with the Pirates now leading 4-2. That would be all the offense the Pirates could get off of Assad as he retired the final five hitters he faced before handing things off to the pen.
With the bullpen now in for the Cubs, and an offense looking to respond after wasting a leadoff double in the fifth, the sixth inning was very kind to the Cubs. Instead of their typical big hit innings, the Cubs focused on patience first as Wisdom, and PJ Higgins started things off with walks while a Young single loaded the bases with one down. Consecutive walks to Franmil Reyes and Zach McKinstry not only tied the game, but the Cubs took a 5-4 lead with an Esteban Quiroz single to cap off a three-run frame.
Still holding that lead in the seventh, it was time for Reynolds to come through once more as he connected for his 25th homer off of Rodriguez, and just like that, it was 5-5. That homer was also his fifth hit over the first two games of this series, and the Cubs need to get him out sooner rather than later.
Needing a run late, which this team has become accustomed to the past week, Higgins started things off in the eighth inning with a single before a walk to Young gave the Cubs another excellent scoring chance. With two down in the inning, Quiroz came through with his biggest hit as a Cub so far, using an RBI single to put the Cubs in front for good 6-5.
However, that win didn't come without plenty of drama, and look no further than the bottom of the ninth for that drama. With the Cubs wasting an opportunity to add on in the top of the ninth, you had to wonder if that would come back to bite them, especially with Uelmen on the mound for the save.
As if a one-out single from Ji-Hwan Bae wasn't bad enough, how about consecutive walks to load the bases as the Pirates had a chance to break through with two outs. Knowing that a base hit wins the game, Uelmen buckled down to strikeout Mitchell and ended the game with his first career MLB save. Higgins and Quiroz led the offense with a pair of hits as the Cubs had 10 total hits in the game.