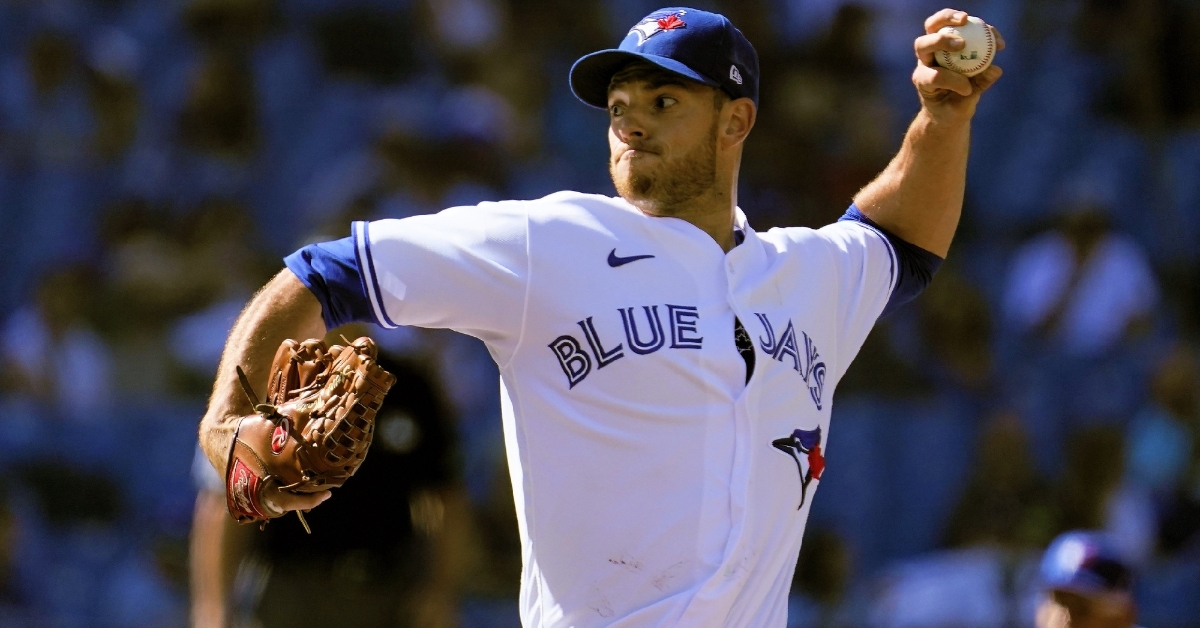 | | |
| --- | --- |
| Free Agent target: Cubs could look at Steven Matz | |
---
| | | |
| --- | --- | --- |
| Thursday, November 11, 2021, 10:42 AM | | |
We are roughly three weeks into the MLB offseason, and the Cubs have had their share of rumors, to say the least. While some of those rumors revolve around some of the top shortstops in the game, most continue to circulate around starting pitching, which isn't a surprise. When you look at this organization's pitching last season, they need tons of help to contend once again.
Some of that help was added via the waiver wire when they plucked Wade Miley up after the Reds let him go. Not a long-term solution by any means, Miley gives the Cubs plenty of flexibility in the middle to back end of the rotation while bringing a left-handed arm that the Cubs also need. With that being said, the Cubs may not be done in terms of looking at lefties as former Toronto Blue Jays starter Steven Matz.
At 30 years old, Matz has been around a while, but certainly fits the path the Cubs may be willing to take this offseason. Once a top prospect in the Mets system, who the Cubs got very familiar with during the 2015 postseason, Matz has had a bumpy road since, but started to figure things out again this season. For his career, Matz has put together a 45-48 mark to go with a 4.24 ERA which is nothing to write home about, but you have always been able to see the potential he brings to the table if he can consistently put it together.
This past season especially was when Matz displayed his full potential as many named him the unsung hero of the Blue Jays staff this season as he delivered a career-high 14 wins to go with seven losses and a respectable 3.82 ERA. Not to mention his 43 walks and 144K is a good ratio, although the strikeout numbers were a little bit down from past seasons.
Matz broke onto the scene as a rookie with the Metz in 2015, going 4-0 with a 2.27 ERA across six regular-season starts, before becoming the team's No. 4 starter in the postseason that year. In the process, he helped the Mets reach the world series and pitched the NLCS clincher against the Cubs. Outside of that, Matz was nothing more than a .500 pitcher at best with the Mets, as 2019 was his best season going 11-10 with a 4.21 ERA.
Injuries did play a significant role in some of Matz's struggles, especially when it came to his shoulder injuries, but for whatever reason, he could never live up to his rookie season billing. Sometimes it is better late than never, as Matz responded from a terrible 2020 season with his best season to date. Whether he figured something out in terms of how to pitch will never be known, but he had a great 2021 and will look to cash in because of it.
Matz isn't the only Blue Jay the Cubs have been linked to, as they have had their name linked with Robbie Ray. Although Ray is precisely the type of pitcher this team could use and is a perfect fit, there is a problem when it comes to signing Ray, and it is worth noting for future decisions. Not only did the Blue Jays offer Ray a qualifying offer, but should he not take that offer, any team that signs Ray is tied to draft pick compensation, meaning the Blue Jays would get a pick for him. Would the Cubs be willing to give up a pick for a starter?
That is where signing Matz stands out as the Blue Jays didn't give him a qualifying offer which would have been 18.4 million dollars. Matz pitched well enough to earn that kind of cash from a performance side of things, but history shows that he may not be worth that long term. Matz has shown plenty of flashes, especially last season and early in his career, but it hasn't been there consistently to earn elite money on the free-agent market.
At this point in his career, Matz is nothing more than a middle-of-the-rotation arm who will not only make 30 starts but will keep you in most games. Looking at how things went for the Cubs last season, that would be a massive upgrade to the rotation as he not only gives them plenty of experience, but he knows how to get deep into games.
Matz has always been an intriguing name, and I thought the Cubs would have kicked the tires on him a few years ago before his struggles in 2020. For the most part, Matz lives in the 94-96 MPH range with his heater, but likes to sit in the lower velocity range to get the best results. He pairs his fastball with your typical left-handed breaking ball, which can strike out tons of hitters. In terms of a contract, Matz will command around a three-year deal at 42-45 million as he looks to prove last season was no fluke.