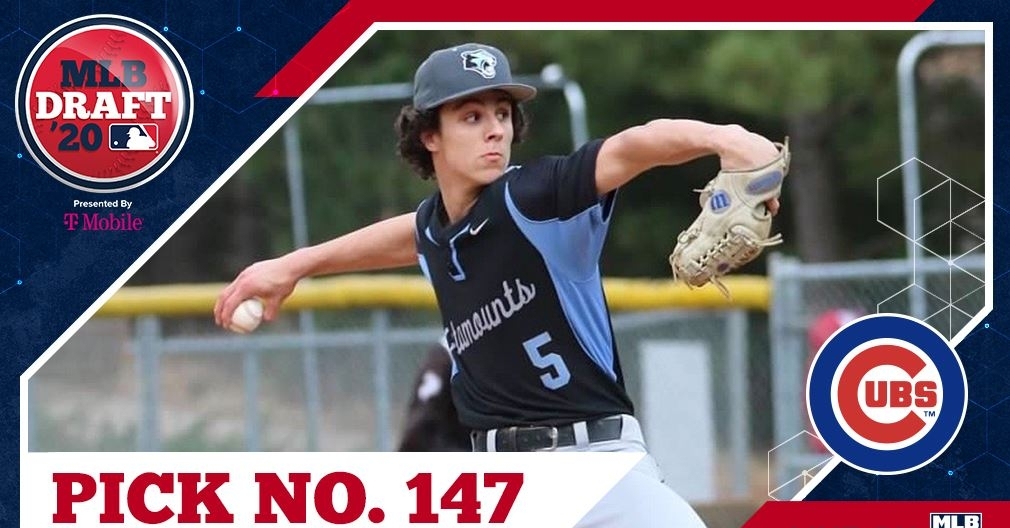 | | |
| --- | --- |
| Getting to know: Cubs Draft pick Koen Moreno | |
---
| | | |
| --- | --- | --- |
| Wednesday, June 17, 2020, 9:16 AM | | |
With their fifth and final pick in the 2020 shortened MLB Draft, the Cubs decided to stick with the pitching side of things to build depth in the system. After going to college arms with their first two pitchers, it was time to go with a prep arm in Koen Moreno from Panther Creek High School in North Carolina.
I must be honest; I don't know much about this man as he wasn't listed on the 200 draft prospect list, so I had to do some digging to find out what the Cubs saw in him. From what I have seen from him on film, I do like his make up as a pitcher and someone who could potentially grow into a rotation role. He has a projectable body at this point and has plus arm speed, which all could lead to success long term.
Going back to his junior season in High School, Moreno was lights out where he posted a 5-3 record with a 1.62 ERA over eight appearances. During those eight games, Moreno logged 47 2/3 innings of work, striking out 80 hitters and walking 17. Despite not throwing a ton of innings throughout high school, he was highly effective when he did pitch, which to me, is the main reason why the Cubs are taking a chance on him.
Much like all high schoolers, Moreno is going to have to take some time to develop as a pitcher when he moves through the system, but he could quickly grow into a starter over the next few years. If by some chance, he does not want to sign with the Cubs this year in hopes of improving as a pitcher, Moreno is committed to East Carolina, so things could still happen for him moving forward.
As I mentioned earlier, Moreno was unranked in terms of prospect rankings, but some scouts see him as a sleeper, which could bode well for the Cubs. Baseball America had different views on him however, as they ranked him as high as 128 in the past, which is what the Cubs may have seen from him so far.
Moreno is one of the most athletic pitchers in this year's class and participated in basketball along with baseball during his prep days. At 6-2 and 170 lbs, the East Carolina commit doesn't have a ton of size to this point and hasn't logged a lot of innings, but scouts have been impressed with his work ethic and his consistent steps forward in terms of development since last summer.
His fastball has a wide range in velocity, sitting as low as 87 mph and as high as 93 mph. Moreno has been clocked at 94 mph a few times but look for him to sit consistently 89-91 mph at this point. While most scouts look at velocity first, Moreno has an exceptional feel for spinning the baseball, but his breaking pitches do need to be more consistent at this point should he want to grow into a solid player.
Offsetting his heater is a curveball that comes from a ¾ arm slot in the 73-78 mph range and shows great depth in terms of break, but does become hittable if he leaves it up in the zone too much. Moreno has also shown some good feel at times for a change-up in the 81-85 mph range as that has the potential to be go-to off-speed pitch over time. Despite scouts not seeing him pitch this spring, he was a candidate to take significant steps forward this year and was on pace to move as high as round 3.
The Cubs usually don't take high school arms this high, but since they did, I feel they believe they can sign him to that 370,000-slot value. They can go over the signing pool by about 5%, so maybe they are playing with dollar amounts in hopes of keeping him in their system instead of seeing him head to East Carolina in the fall.
The one big concern I have for him is the primary concern I had for all high school players this season, which was no season. The last time most of these high school stars played was the previous spring or summer, which was the last time we had the chance to see them play. We have no idea if they have adjusted over the past year and what kind of strides they have made overall. That is why drafting high school kids this season was going to be risky. Hopefully, this one pans out for the Cubs, but don't expect to see much from him for the next 3-4 years.