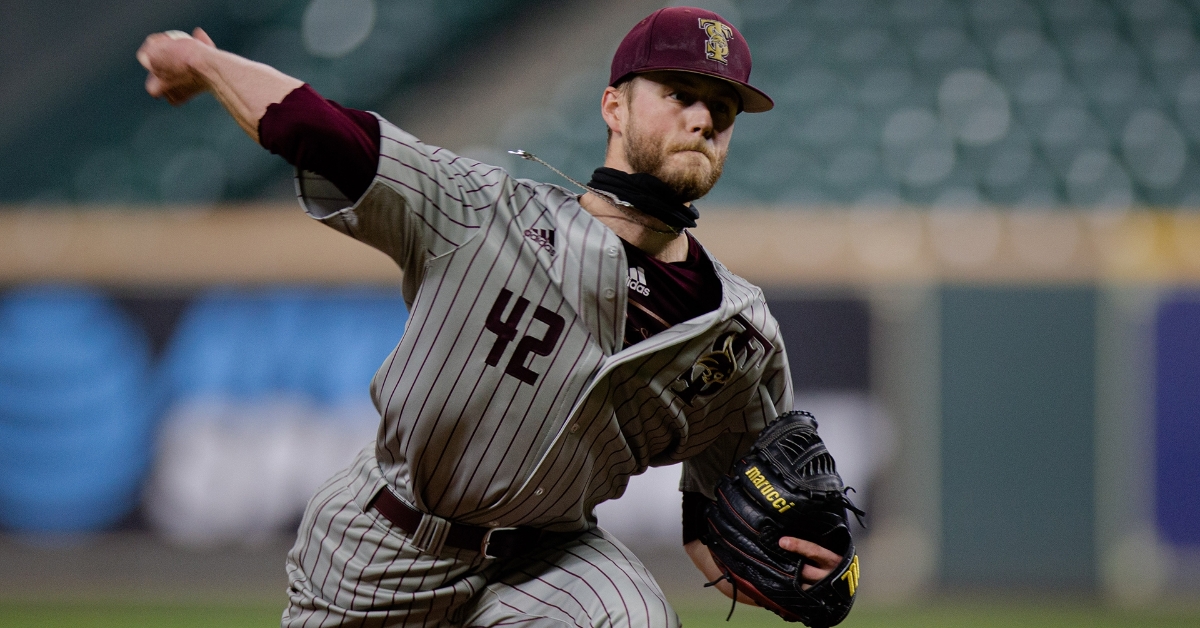 | | |
| --- | --- |
| Getting to know Cubs draft picks: Leigh, Olivio, Hambley, Avitia, Cunningham | |
---
| | | |
| --- | --- | --- |
| Monday, July 19, 2021, 10:10 AM | | |
Over the first part of the 2021 MLB Draft, the Cubs did their homework and spent most of their picks adding college-quality players who are expected to sign. When day three began, the Cubs took a different approach as they began selecting more high school players over college players.
This was a rather unusual strategy because, given the slot value at some of these spots, these high school players would be better off not signing and going to school, whereas a college player would make more sense to sign. I don't work in the front office, so I have no idea what their plan of action was, but the Cubs must believe they can get some of these prep stars to sign over honoring a college commitment.
Round 16: Zachary Leigh (RHP Texas State)
One of the rare college picks the Cubs made on day three was that of Zachary Leigh from Texas St. After taking four left-handed pitchers to start the draft, the Cubs flipped the script and selected four straight right-handed pitchers in the second half of the draft with Leigh included in that group.
There isn't a lot of information on this kid, but looking at his college stats, there is a lot to question. Across four years at Texas St., Leigh went 12-13 while posting an ERA in the 4.30 range. That may not be that great, but he did post a 3:1 strikeout to walk ratio, so the command is where the Cubs want it to be. This could be a classic case of someone throwing too many hittable strikes and getting hurt by it. It will be interesting to see if he signs and what the Cubs do with him.
Round 17: Christian Olivio (SS Leadership Christian Academy)
The Cubs continued to stock their system with shortstop talent as Olivio was added to that list. A right-handed shortstop out of Puerto Rico, Olivio may be the only prep star the Cubs can get to sign, as he is the only one without a college commitment at this point.
Olivio will be a long-term prospect, but at this point in his career, he offers a lot to like about his hitting abilities. Not only does he barrel up a lot of baseballs, but he does a great job spraying them all over the entire field. He does that using a simple stroke at the plate and repeats it quite easily. Although Olivio may not be a true power hitter, he is a line-drive hitter, which is something this team could use.
Round 18: Dominic Hambley (RHP Belmont Secondary School)
Another right-handed pitcher, Hambly may be a bit harder to sign as he is one of the late-round prep picks made by the Cubs. Hambley has a ton of potential given his measurables on the mound, but being an Oregon St. commit, he becomes the hardest one to sign in this entire class.
At 6-3 220 pounds, not only does he fit the build of a starting pitcher, but he is only going to get stronger with age which could turn him into a top-five round pick in the coming years. Already armed with a heavy heater that sits in the 93-95 range, it will be interesting to see how much more velocity he can add to that. Hambley also brings a 78-mph breaking pitch and an 85 MPH change as his secondary pitch command will continue to improve.
He is the rare hard-throwing prep start who has three pitches to turn to and someone who will miss a ton of bats. The Cubs are hoping they can sign him, but at this point, I find it highly unlikely that that happens.
Round 19: Daniel Avitia (RHP Alhambra HS)
Another RH prep star out of Arizona, Avitia is a Grand Canyon University commit, which is the same school that produced an earlier pick for the Cubs. Regarded as a top 15 player in the state of Arizona, including a top 5 pitcher, Avitia has a high upside, but he is a prep star, so who knows what will happen.
Avitia has a heater that sits around 91 MPH, which is very good for a kid his size. His biggest problem is a lack of secondary pitch, as he doesn't have a go-to one at this point. He does have a change-up that he seldomly uses, but he will need way more than that. Expect him to land at Grand Canyon University as he looks to become a more defined pitcher.
Round 20: Wilson Cunningham (LHP JSerra Catholic High School)
The final pick in the 2021 MLB draft for the Cubs was another pitcher and another prep pitcher, for that matter. Of the prep stars, the Cubs took, this is the one that comes with the most intrigue and not just because he is a left-handed pitcher.
A California Native, Cunningham has a commitment for UIC, so whether he signs with the Cubs or not, he will be in Chicago for the foreseeable future. The thing that stands out the most for him is his size, as he is 6-8 and checks in at 215 pounds. He is a massive high school arm that could create tons of deception, which will be an enormous get for the Cubs if they can keep him out of the college ranks.
Unlike a lot of the other players taken in this draft, Cunningham is not known for his fastball as he sits around 83-86 as of now. What he does instead is get people out by using his long legs to create deception. He reminds me a lot of Sean Marshall, who wasn't overpowering at all, but knew that a long stride can be tough to hit. Maybe the Cubs will use him in a role like that should he sign.
BRYCE BALL FROM ATLANTA TRADE
Although this isn't a draft pick, it does fit into the Prospect category as the Cubs were the first team to make a significant trade. Late Thursday night, the Cubs elected to send Joc Pederson to the Braves for first baseman Bryce Ball. Listed as the 12th prospect in the Braves system, Ball has a chance to be Anthony Rizzo's replacement if that is the direction the Cubs feel like going.
Ball is just 23 years old and has been playing ball for High-A Rome this season. Although his average is just 207 through 50 games, Ball has heated up as of late, posting a 905 OPS through the first 11 games in July. A 24th round pick in the 2019 MLB draft, Ball was a college teammate of current minor leaguer Burl Carraway who was taken in round 2 by Chicago last season.
Ball played just one year of college ball, but put on a show hitting a 325 with 18 homers and an OPS north of 1000. Once he arrived in the Braves system, the slugging left-hander continued to build off his strong college showing by hitting a 329 with 17 homers across two levels in the Minor Leagues. This may not be the move people expected, but it is the kind of return Jed Hoyer wants as he is looking to build this team back up for the future.