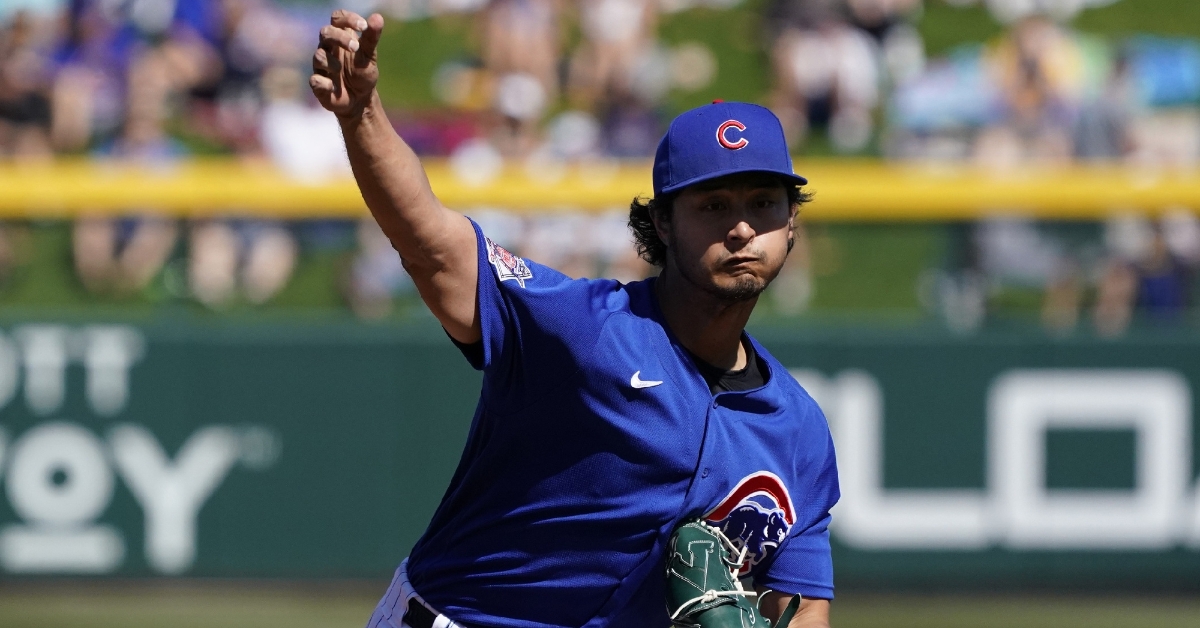 | | |
| --- | --- |
| How MLB's 2020 season proposal may affect Cubs' pitching | |
---
| | | |
| --- | --- | --- |
| Thursday, April 9, 2020, 8:25 AM | | |
The good news is that MLB is planning their return. No, no date has been set, so don't get too excited, but it does look as though they're anticipating getting a partial season in.
MLB released a statement on Tuesday which read, "MLB has been actively considering numerous contingency plans that would allow play to commence once the public health situation has improved to the point that it is safe to do so. While we have discussed the idea of staging games at one location as one potential option, we have not settled on that option or developed a detailed plan. While we continue to interact regularly with governmental and public health officials, we have not sought or received approval of any plan from federal, state and local officials, or the Players Association. The health and safety of our employees, players, fans, and the public at large are paramount, and we are not ready at this time to endorse any particular format for staging games in light of the rapidly changing public health situation caused by the coronavirus."
According to things I've read on various sites, part of MLB's contingency plan would also include almost nonstop doubleheaders featuring seven-inning games. I've also read that MLB may institute the electronic strike zone for this shortened season. This is going to make life (and managerial strategy) very interesting. God, help us.
It was almost a foregone conclusion that MLB was going to expand the rosters for this season due to the postponement. If they go to doubleheaders, they'll have to expand it, as you'd need ten starters to have guys pitch on five days rest.
If the Cubs – or any team for that matter – used a playoff pitching strategy, they could use a pair of three-person rotations. For the Cubs, that would almost have to be Yu Darvish, Kyle Hendricks, and Jon Lester pitching the first games, followed by Jose Quintana, Tyler Chatwood, and Alec Mills working the back half of the doubleheaders. Pitching in the playoffs is different, though. Teams are playing best-of-five and best-of-seven series with days off in between.
This format is going to present a problem. Even pitching three innings every three days is going to cause injuries. The Cubs rotation isn't exactly youthful, and this is going to cause problems for guys like Lester and Quintana. Hendricks doesn't throw hard, so he may be OK, and you have some youth left in Mills. Chatwood's accustomed to functioning as middle inning reliever, so he may do well in this format, but this is either going to make or break Darvish.
Guys can't be expected to go five or more innings every three days, so is MLB going to change the amount of required innings for a win?
Further adding insult to injury for Chicago, they don't have a very well-defined bullpen. Granted, there will undoubtedly be extra relievers involved, but if Mills goes to the starting rotation, who'll be the Cubs' middle reliever? The Cubs had hoped for good things out of Jharel Cotton, but his preseason looked awful. Just about everyone else in the Cubs' pen is suitable for an inning or two, meaning that David Ross is going to have to demand max effort and innings from his starters.
Next, look at the closing situation. Craig Kimbrel struggled terribly last year, but all involved had hoped that a typical winter break, combined with a regular spring training, would get Dirty Craig back in his groove. So much for that strategy. Even healthy and effective, there's no way Kimbrel could be called upon day after day for doubleheader closing duties.
Enter Jeremy Jeffress. Jeffress should have been Brandon Kintzler's replacement- a guy who could set Kimbrel up to deliver the knockout punch. So much for that. By default, Jeffress would have to function as the Cubs; second closer. If healthy, he could certainly do it, as he owned that job in Milwaukee before Josh Hader stepped in.
If Ross can get three innings per starter, the bullpen only needs to cover three innings before they use either Jeffress or Kimbrel. The problem is, between two games a day, they're going to need between four and six relievers a day to get to the seventh inning. The three-batter minimum is going to help in this case, as guys are going to have to pitch an inning's worth of outs – that is if they can get all three men they face without any issues.
The good news is that there may be some upside to the proposed game format changes.
Let's start with Yu Darvish. If Darvish stays healthy, he may be looking at a bid for the Cy Young this year. Injuries have plagued Yu's career, but a shortened season allowing for more outings with fewer innings per start could play right into his hands. Darvish entered spring training like he was in the middle of a season, throwing insane breaking balls and near-100 mph fastballs. Even on three days rest, Darvish may be able to rake this season.
While Lester may have issues with working on shorter rest, it could also benefit him. Jon may very well have been ready to retire after this year if his season went bad and the Cubs declined his option. Now, however, with an abbreviated schedule (they'll never get all 162 games in), it is enough to breathe life into him for a run at 2021. He's still going to need to stay both healthy and effective, but he won't need to worry about turning in consistent five-inning outings.
There isn't any telling how much MLB may expand the rosters, but you'd have to think that they may use last year's playoff rule and allow all 40-men. If so, You may get to see guys like Dakota Mekkes get his Major League Debut, and it can only mean good things for guys like Casey Sadler, who've never been part of an Opening Day roster at the professional level.
Whatever the case, the 2020 season will be one to remember. Empty stadiums for sure, the (possible) introduction of the Robo-ump and playing July baseball in spring training facilities intended for February and March. As long as all sides agree, I say, "PLAY BALL!"

Tags: Cubs Baseball
,
Yu Darvish
,
Kyle Hendricks
,
Jon Lester
,
Jose Quintana
,
Tyler Chatwood
,
Alec Mills
,
Jharel Cotton
,
David Ross
,
Craig Kimbrel
,
Jeremy Jeffress
,
Brandon Kintzler
,
Dakota Mekkes
,
Casey Sadler