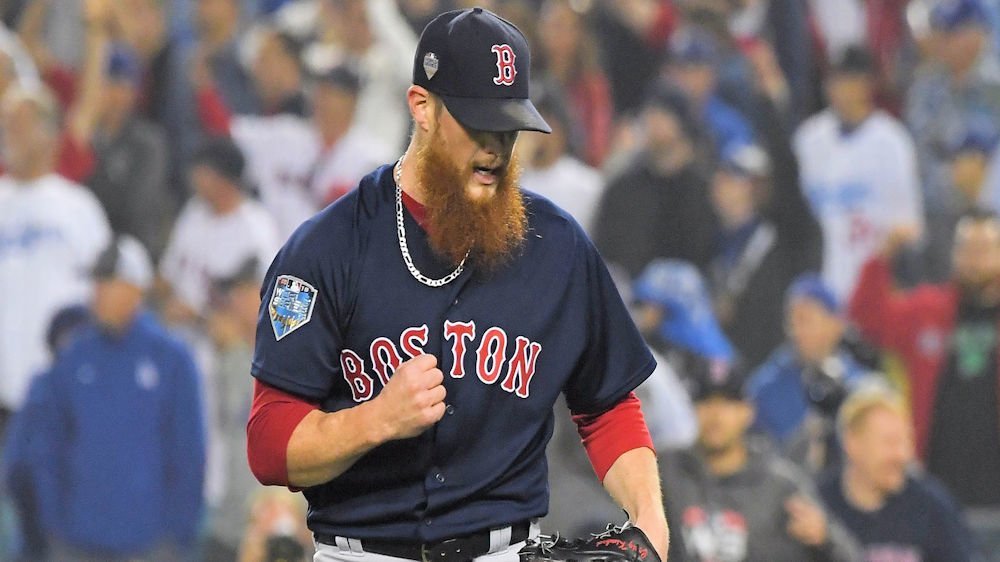 | | |
| --- | --- |
| How much better can Craig Kimbrel make the Cubs? | |
---
| | | |
| --- | --- | --- |
| Saturday, June 8, 2019, 3:24 PM | | |
It has undoubtedly been a long wait for newly acquired closer Craig Kimbrel. Kimbrel last pitched in the 2018 World Series for the Boston Red Sox against the Los Angeles Dodgers. After winning the World Series. Kimbrel went into free agency looking to become one of the highest paid closers in baseball, with his agent even going as far to call him the "greatest closer of all time." Instead, it was due to his age, 31, his price tag, or the draft pick compensation tied to signing him, Kimbrel's free agency did not go as planned.
Along with former Astro Dallas Keuchel, Kimbrel went the entire winter and spring without a contract. Then, as the MLB Draft came and went, Kimbrel was no longer attached with the draft pick owed to the Red Sox after he declined their qualifying offer of $17.9 million and he became far more enticing to teams. Ultimately the Cubs decided to make the signing, inking Kimbrel to a 3yr/$43 million dollar contract with a 4th-year option. This deal bolstered the Cubs shaky bullpen and may have saved their season.
The Cubs are currently holding onto first place on the season despite having 11 blown saves already this season. A plethora of Cub relievers has been sent to the injured list, including current closer Pedro Strop. Along with Strop, Steve Chisek and Tyler Chatwood have also been tasked with some of the closing duties. The issue the Cub's have faced is that while Chisek and Strop are excellent relievers, neither are true closers. Brandon Morrow was signed to pitch the 9th, but he has been out since the first half of last season, and the timetable for his return is ever changing. Injury and lack of performance have the Cubs searching for answers at the backend of their bullpen.
Craig Kimbrel hopes to be that answer. Kimbrel has had a nine-year career, spending time with the Atlanta Braves, San Diego Padres, and Red Sox. Kimbrel as a career 1.91 ERA while going 333 for 367 in save attempts(90.7%), and putting together a 14.7 K/9. Kimbrel's historic strikeout numbers are a huge reason to applaud this signing as Cubs pitching, in general, has not missed many bats. The Cubs pitch to get ground balls approach is very useful and efficient most of the time, but strikeouts are key late in games. Having a dynamic strikeout pitcher sitting in the bullpen late in games is a huge asset for the Cubs. Kimbrel struggled in last years postseason run, but has overall been a very reliable closer and fills a position the Cubs desperately need.
The addition of Kimbrel allows the Cubs to move Strop and Chisek back to setup roles where they have thrived. And at this point, anything they can get from Brandon Morrow at this point is just a bonus, but if he can come back and be healthy, he would be another dynamic setup man. Bullpens are so crucial in 2019 baseball and will be vital if the Cubs want to plan another parade.
Another benefit for the Cubs is by signing a closer instead of trading for one; their trade deadline plans are in no way hindered. The Cubs got a premier closer without giving up anything but money. They have saved all their prospects so they now still have the option to make a blockbuster trade if they choose to do so. They could decide to go all in and make a "superpen" by still adding Alex Colome, Sean Doolittle or Shane Green. I think it's unlikely they would, especially if Kimbrel has success, but they still can explore their options. I think the Cubs will add to their bullpen more in July, but in smaller scale moves for middle relievers. The Cubs have had success in these kinds of deals, such as Mike Montgomery in 2016 or Jesse Chavez and Brandon Kinztler last year.
The overall takeaway from this signing is the Cubs were able to fill their only major roster hole without parting ways with any prospects. Craig Kimbrel is not the closer Aroldis Chapman is, or Wade Davis was in 2017, but he comes at a much cheaper cost and will be a huge piece to this Cubs team. Any way you slice it, this is a massive win for the Cubs, and give the North Side a lot to cheer about.