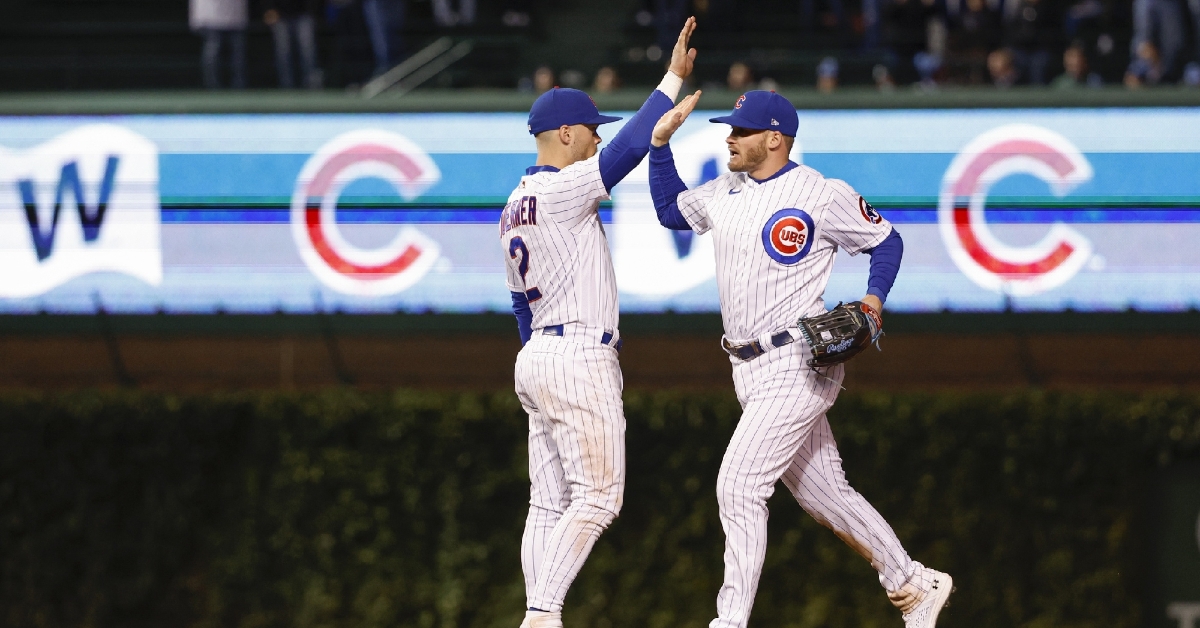 | | |
| --- | --- |
| How will Cubs handle the next Cubs core? | |
---
How to handle a core of players is a tricky plan to navigate for any successful sports team. If you look at the 90s Bulls, the priority was to keep Michael Jordan and Scottie Pippen and supplement the rest for each of the six championships.
For the modern-day Warriors, keeping Stephen Curry, Klay Thompson, and Draymond Green through the years has proven to pay off — as Golden State just grabbed its fourth title in the era this summer.
In hockey, the Blackhawks benefited from keeping Jonathon Toews, Patrick Kane, Patrick Sharp, Marian Hossa, Duncan Kieth, Brent Seabrook, and Niklas Hjalmarsson on their squad to win three championships in five seasons.
Look at the Nationals.
Washington elected not to sign Bryce Harper after the 2018 season, and won the 2019 World Series. At that point, they need to make a decision to keep Anthony Rendon or Stephen Strasburg. They kept Strasburg, who has pitched a total of fewer than 30 innings over the last three seasons due to injury.
Since then, the Nationals have been forced into a rebuild — letting go of All-Stars like Rendon, Max Scherzer, Trea Turner, and Juan Soto, among others.
Look at the 2016 Cubs.
Just seven years later, the only player who received any sort of extension from the World Series winning team was Kyle Hendricks — the "core" of Jon Lester, Jake Arietta, Ben Zobrist, Anthony Rizzo, Dexter Fowler, Addison Russell, Kris Bryant, Javier Baez, and Kyle Schwarber are all now currently playing for different teams or out of baseball.
In fact, with Jason Heyward leaving the organization after the season and Willson Contreras set to be a free agent, Hendricks is the only Cub with a World Series ring left on the roster.
The 2016 Cubs are a dramatic example of how to handle a core, not locking any player up. The other side of that scale is the Atlanta Braves. The Braves won the 2021 World Series and have their hitters Austin Riley, Ozzie Albies, Matt Olsen, Ronald Acuna Jr., Michael Harris, and pitchers Max Fried, Mike Soroka, and Spencer Strider to extensions.
The polar opposite of the Championship Cubs, the Braves bought into their young players' talent and decided to commit to them — believing it could lead to more championships.
The 2016 Cubs did not do that, and now have a young core of players beginning to shine. With last winter's acquisitions of Seiya Suzuki and Marcus Stroman, and breakout campaigns from hitters Nico Hoerner, Ian Happ, Christopher Morel, and pitchers Justin Steele and Keegan Thompson — the Cubs showed flashes of a team that could compete for a division title, especially in the second half.
With a big offseason acquiring another big hitter and a front-of-the-rotation arm, along with some prospects like Pete Crow-Armstrong, Alexander Canario, Brennan Davis, Kevin Alcantara, Ben Brown, Hayden Wesneski, Cade Horton, Jordan Wicks, Matt Mervis, Owen Cassie, Cristian Hernandez or other sticking at the big league level — the Cubs have the makings of a team that could be good for years to come.
The question is, how will the Cubs handle the young core?
Will they let players come up and be cheap through arbitration, and avoid ever paying them in their competitive window like last time? Will they take a page out of the Braves' book and buy-in on young talent early, and take a risk that could pay off well in the long run? Will they settle somewhere in the middle?
We'll see. But early reports show the Cubs have plans to extend Nico Hoerner and Ian Happ — which would be a great step in the right direction to ensure that the next great Cubs team stays great for longer. This is the way to achieve the sustained success that Theo Epstein and Jed Hoyer promised but partially failed to deliver after winning the Championship almost seven years ago today.

Tags: Cubs Baseball
,
Kyle Hendricks
,
Jon Lester
,
Ben Zobrist
,
Anthony Rizzo
,
Dexter Fowler
,
Addison Russell
,
Kris Bryant
,
Kyle Schwarber
,
Jason Heyward
,
Willson Contreras
,
Seiya Suzuki
,
Marcus Stroman
,
Nico Hoerner
,
Ian Happ
,
Christopher Morel
,
Justin Steele
,
Keegan Thompson
,
Alexander Canario
,
Kevin Alcantara
,
Hayden Wesneski
,
Jordan Wicks
,
Theo Epstein