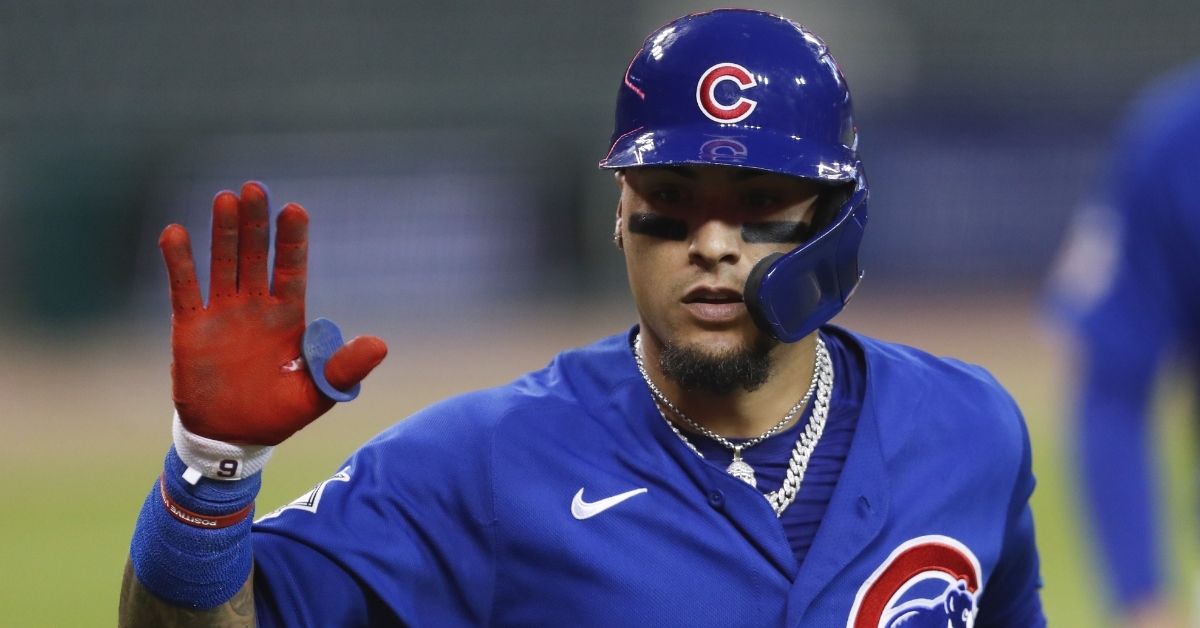 | | |
| --- | --- |
| Javier Baez goes yard twice as Cubs roar past Tigers | |
---
| | | |
| --- | --- | --- |
| Monday, August 24, 2020, 10:54 PM | | |
DETROIT — Making his second career start, Detroit Tigers (11-16) pitcher Casey Mize, the No. 1 overall pick of the 2018 MLB Draft, did not remain in Monday's game against the Chicago Cubs (18-10) for too long, as the North Siders kicked off a 10-game road trip with a victory. The Cubs tagged Mize for four runs on five hits and two walks and went on to win 9-3 at Comerica Park.
Alec Mills started on the mound for the Cubs and was solid in his seven innings of work, striking out seven in a three-run outing. A trio of impressive home runs off the bats of Javier Baez and David Bote highlighted the Cubs' plate performance in the opener of the three-game series. In the wake of an up-and-down 12-game homestand that saw them go 5-7, Chicago jumped out to an impressive offensive start to their 10-game swing of playing away from home.
---
Inning-by-Inning Breakdown:
---
T1: Mize pitched well out of the gate, drawing a groundout and a couple of strikeouts in the top of the first.
Score: Cubs 0, Tigers 0
---
B1: After getting taken for back-to-back one-out singles, Mills tabbed two strikeouts in a row to get out of the bottom of the first.
Score: Cubs 0, Tigers 0
---
T2: Willson Contreras hustled for an infield single and advanced to second on a groundout. Victor Caratini was then beaned on the lower body to put runners on first and second. Bote proceeded to come up with his first pivotal hit of the game in the form of an RBI base knock that plated Contreras. Next, Caratini came home on an RBI single from Nico Hoerner that grazed the outstretched glove of shortstop Nico Goodrum and headed into the outfield. Ian Happ walked after that, but Rizzo ended the two-out rally by fouling out.
Score: Cubs 2, Tigers 0
A pair of two-out knocks for the early lead! pic.twitter.com/B1YWGBua2h

— Chicago Cubs (@Cubs) August 24, 2020
---
B2: Mills worked a 1-2-3 frame. With the second out of the half-inning, Hoerner prevented Christin Stewart from reaching base by pulling off a stellar jump throw to first after fielding the chopper hit by Stewart on the outfield grass. The ensuing at-bat saw Hoerner cover plenty of ground en route to making an over-the-shoulder catch in right to end the inning.
Score: Cubs 2, Tigers 0
Nico doing his best Derek Jeter impression. pic.twitter.com/miBeb6ADpX

— Marquee Sports Network (@WatchMarquee) August 24, 2020
---
T3: Baez led off with a single, and a subsequent fielding error by former Cubs prospect Jeimer Candelario allowed Baez to take second and Kyle Schwarber to reach first. "Javy" then made a baserunning blunder on a unique 6-4-2 double play that saw him get caught in a pickle and tagged out between third and home. Schwarber was outed on a force play, but Contreras, who grounded into the double play, reached second while Baez attempted to allude Tiger defenders on the basepath. Jason Heyward walked thereafter, but Caratini hit a ground ball for the third out.
Score: Cubs 2, Tigers 0
Let's Turn Two! ??#DetroitRoots pic.twitter.com/oNrKnGbVa9

— FOX Sports Detroit (@FOXSportsDet) August 25, 2020
---
B3: Two singles and one walk loaded the bases with one out. Candelario drove a run home with a fielder's choice. Goodrum then fouled out to leave two baserunners stranded.
Score: Cubs 2, Tigers 1
---
T4: Bote crushed the second-longest home run of his career to lead off the fourth. The 455-foot blast marked the longest dinger of the Cubs' season thus far, and it sailed out to left field in a hurry. Willi Castro suffered a throwing error that allowed Hoerner to reach. Hoerner proceeded to steal second and advance to third on a lineout. A pitching change brought Tyler Alexander into the game in place of Mize, and an infield single garnered by Rizzo off Alexander scored Hoerner. Baez belted his first round-tripper of the contest after not going yard since Aug. 1. Carrying 425 feet out to right-center, the two-run jack provided the Cubbies with a comfortable five-run lead.
Score: Cubs 6, Tigers 1
Forget aBote it. @BinnysBev pic.twitter.com/xOByBrAC4E

— Chicago Cubs (@Cubs) August 25, 2020
LAAARGE to the opposite field. pic.twitter.com/gZcy22uGlu

— Chicago Cubs (@Cubs) August 25, 2020
---
B4: The Tigers were unable to respond to the Cubs' four-run inning, as they went down in order via a groundout and a pair of strikeouts.
Score: Cubs 6, Tigers 1
---
T5: Jason Heyward led off with a double to deep left. He made it to third on a groundout, and Hoerner, who took first after getting plunked, notched his second steal of the night. Entering Monday's game, Hoerner had yet to steal a base in the big leagues, and he proceeded to swipe two bags in a mere two innings. Happ drew a base on balls after that, and Rizzo ended the top of the fifth by grounding out with the bases juiced.
Score: Cubs 6, Tigers 1
---
B5: Mills flew through the fifth, needing just six pitches to draw three outs.
Score: Cubs 6, Tigers 1
---
T6: Alexander fared much better in the sixth, going three up, three down.
Score: Cubs 6, Tigers 1
---
B6: Three groundouts in a row made for an uneventful bottom half of the sixth.
Score: Cubs 6, Tigers 1
---
T7: Despite going hitless, Caratini reached base three times on the night via one intentional walk and two HBPs. He was beaned for the second time in the game with one out in the seventh. Bote followed the hit by pitch with a double play-inducing groundout.
Score: Cubs 6, Tigers 1
---
B7: After giving up a leadoff single, Mills got taken for a two-run jack, as Stewart decreased the Tigers' deficit to three runs with a 408-foot homer to right.
Score: Cubs 6, Tigers 3
Turn around and watch it fly.#DetroitRoots pic.twitter.com/C23oungIzV

— Detroit Tigers (@tigers) August 25, 2020
---
T8: Cubs batters had their enthusiasm curbed by Kyle Funkhouser, who pitched a scoreless eighth.
Score: Cubs 6, Tigers 3
---
B8: Ryan Tepera hurled a 1-2-3 eighth that included two strikeouts.
Score: Cubs 6, Tigers 3
---
T9: John Schreiber was victimized by Baez's second moonshot of the affair, as "El Mago" led off the ninth with a 401-foot drive to left. A Schwarber single, a Heyward double and the aforementioned intentional walk of Caratini loaded the bases with one out. Rony Garcia emerged from the bullpen and gave up a two-run single to Bote. Albert Almora Jr., who pinch ran for Schwarber, and Heyward scored, increasing the Cubs' lead to six. Hoerner then grounded into an inning-ending 6-4-3 double play.
Score: Cubs 9, Tigers 3
Nueve de nuevo. pic.twitter.com/RBU9A6sYIC

— Chicago Cubs (@Cubs) August 25, 2020
---
B9: Reliever Colin Rea put the finishing touches on the Cubs' triumph with a three up, three down ninth inning. Mills improved to 3-2, Mize dropped to 0-1 and Tepera picked up his first hold. The 9-3 victory represents the 11,000th win in Cubs history.
Final Score: Cubs 9, Tigers 3
---
Statistical Breakdown:
Chicago Cubs: Batting: 9 R, 12 H, 2 2B, 3 HR, 9 RBI, 2 2-Out RBI, 2 GIDP, 4-12 RISP, 9 LOB; Fielding: 0 E; Baserunning: 2 SB; Pitching: 7 H, 3 R, 3 ER, 1 BB, 10 K, 1 HR, 0 HBP, 0 IBB, 0 WP
Detroit Tigers: Batting: 3 R, 7 H, 1 HR, 3 RBI, 0-4 RISP, 5 LOB; Fielding: 2 E, 3 DP; Pitching: 12 H, 9 R, 8 ER, 4 BB, 8 K, 3 HR, 3 HBP, 1 IBB, 0 WP
---
Studs of the Game:
Chicago Cubs: Javier Baez (SS): 3-5, 2 R, 3 RBI, 0 BB, 1 K, 2 HR; David Bote (3B): 3-5, 1 R, 4 RBI, 0 BB, 0 K, 1 HR, 1 2-Out RBI, 1 GIDP, 2-3 RISP; Alec Mills (SP): 7.0 IP, 7 H, 3 R, 3 ER, 1 BB, 7 K, 1 HR, 0 HBP, 0 IBB, 0 WP
Detroit Tigers: Jonathan Schoop (2B): 2-4, 0 R, 0 RBI, 0 BB, 0 K, 2 defensive assisted DP
---
Duds of the Game:
Chicago Cubs: N/A
Detroit Tigers: John Schreiber (RP): 0.1 IP, 3 H, 3 R, 3 ER, 1 BB, 1 K, 1 HR, 0 HBP, 1 IBB, 0 WP; Casey Mize (SP): 3.1 IP, 5 H, 4 R, 3 ER, 2 BB, 2 K, 1 HR, 1 HBP, 0 IBB, 0 WP
---
Up Next: The Tuesday, Aug. 25, matchup at Comerica Park will see Cubs righty Tyler Chatwood (2-1, 5.40) return from the injured list and start on the mound. He will go up against Tigers righty Spencer Turnbull (2-2, 3.65). Expect a hot, partly cloudy night at the ballpark. The first pitch is scheduled for 6:10 p.m. CDT.
---
Highlights:

Tags: Cubs Baseball
,
Alec Mills
,
Javy Baez
,
David Bote
,
Willson Contreras
,
Victor Caratini
,
,
Ian Happ
,
Jeimer Candelario
,
Kyle Schwarber
,
Jason Heyward
,
Ryan Tepera
,
Albert Almora
,
Colin Rea
,
Tyler Chatwood