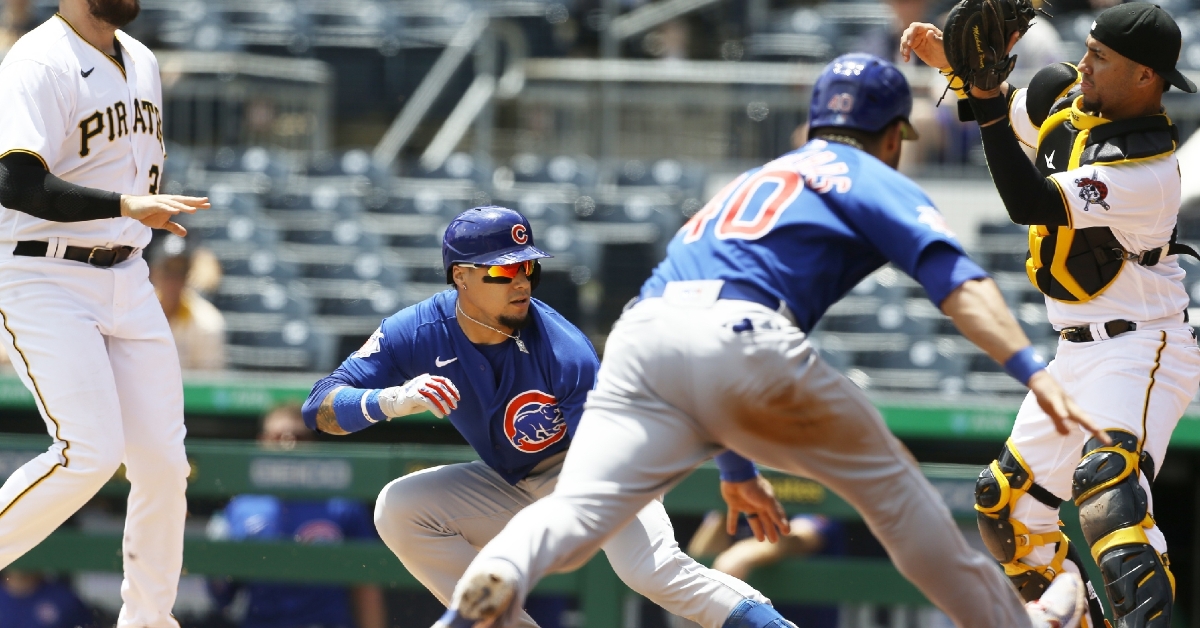 | | |
| --- | --- |
| Javier Baez wows as Cubs sweep Pirates at PNC Park for first time since 2016 | |
---
| | | |
| --- | --- | --- |
| Thursday, May 27, 2021, 4:40 PM | | |
PITTSBURGH – Sweeping the Pittsburgh Pirates (18-31) at PNC Park for the first time 2016, the Chicago Cubs (27-22) moved into a tie atop the National League Central standings with a win on Thursday. The finale of the three-game series was highlighted by a jaw-dropping play by Javy Baez that made the Buccos look rather silly. On the bump, Kyle Hendricks tossed seven innings of three-run ball, and the Cubs never trailed after a first-inning home run by Kris Bryant provided them with an early advantage that culminated in a 5-3 win.
In the second plate appearance of the contest, Bryant took Tyler Anderson deep on a 409-foot solo shot out to straightaway center field. Erik Gonzalez doubled off Hendricks in the second but did not score. Willson Contreras hit a base knock and stole second in the third, which set the stage for Baez's two-out magic. "El Mago" lived up to his nickname by seemingly casting a spell on first baseman Will Craig after he caught a throw from Gonzalez, who fielded a routine grounder hit to third. From there, calamity ensued.
And good morning to you, Kris! #KBoom @KrisBryant_23 #CubTogether pic.twitter.com/Qj0D9LEPrE

— Chicago Cubs (@Cubs) May 27, 2021
Craig caught the throw out in front of first base, so he decided to apply a tag on Baez, who then reversed course and jogged back toward the plate. At that point, Craig should have just turned around and run to step on first. Instead, he meandered down the basepath and made a late throw to catcher Michael Perez as Contreras barreled toward home. Contreras slid in ahead of the tag, but the run technically did not count yet because the force out at first was still on the table.
However, no one was covering first, so, after briefly celebrating Contreras sliding across the dish safely, Baez bolted for first and slid in headfirst. Second baseman Adam Frazier scrambled to the bag, but Perez fired an errant throw to him that allowed Baez to reach second base. The wacky play set the stage for Ian Happ to drive Baez home with an RBI base knock, putting the Cubs up 3-0 in a half-inning that would have ended at 1-0 if not for Craig's mental lapse.
Javier Báez.
El Mago.
The Magician. pic.twitter.com/yZX7HgUFCU

— Chicago Cubs (@Cubs) May 27, 2021
For what it is worth, Craig, who was likely still rattled, committed a fielding error on a David Bote grounder following Happ's RBI single. The Cubs did not score any additional runs in the inning, though. After getting called up on Wednesday, Patrick Wisdom homered for the first time in a Cubs uniform – and the first time in any big league uniform since 2018 – with a leadoff blast in the fourth. Bryan Reynolds and Gregory Polanco cut the Pirates' deficit in half with back-to-back solo shots in the bottom half of the inning.
First #Cubs home run for @PatrickWisdom5! #CubTogether pic.twitter.com/5O5mTwdhT2

— Chicago Cubs (@Cubs) May 27, 2021
Back-to-back on the Riverwalk. pic.twitter.com/6qK8dZNAZA

— Pirates (@Pirates) May 27, 2021
Wisdom doubled off Sam Howard with two outs in the sixth but was left stranded. Frazier singled in the sixth but was thrown out by Contreras on a steal attempt. Perez pulled the Pirates within one by homering off Hendricks with two outs in the seventh. Daniel Winkler took the mound for the bottom of the eighth and walked Wilmer Difo to lead things off. Frazier then hit a ball up the middle that Baez made a superb diving stop of before bobbling the ball when setting up for a throw. He then forced an unnecessary throw to first that was well off the mark, allowing Difo to reach third.
Watch for the homer, stay for the catch. pic.twitter.com/qVmZhyxQyI

— Pirates (@Pirates) May 27, 2021
Frazier headed for second on the play but was tagged out in a rundown, preventing Baez from being charged with an error on the fielder's choice. Winkler hit Reynolds with a pitch and walked Polanco to load the bases with two outs, but Ryan Tepera then entered to pitch and escaped the bases-loaded jam by drawing a ground ball that ended the inning. In the ninth, Eric Sogard singled, and Willson Contreras doubled. Sogard then scored on a double play groundout by Bryant, with Contreras getting tagged out at third after the force out was recorded at first. Craig reached due to a Baez throwing error in the ninth, but Tepera was able to finish off the 5-3 victory.