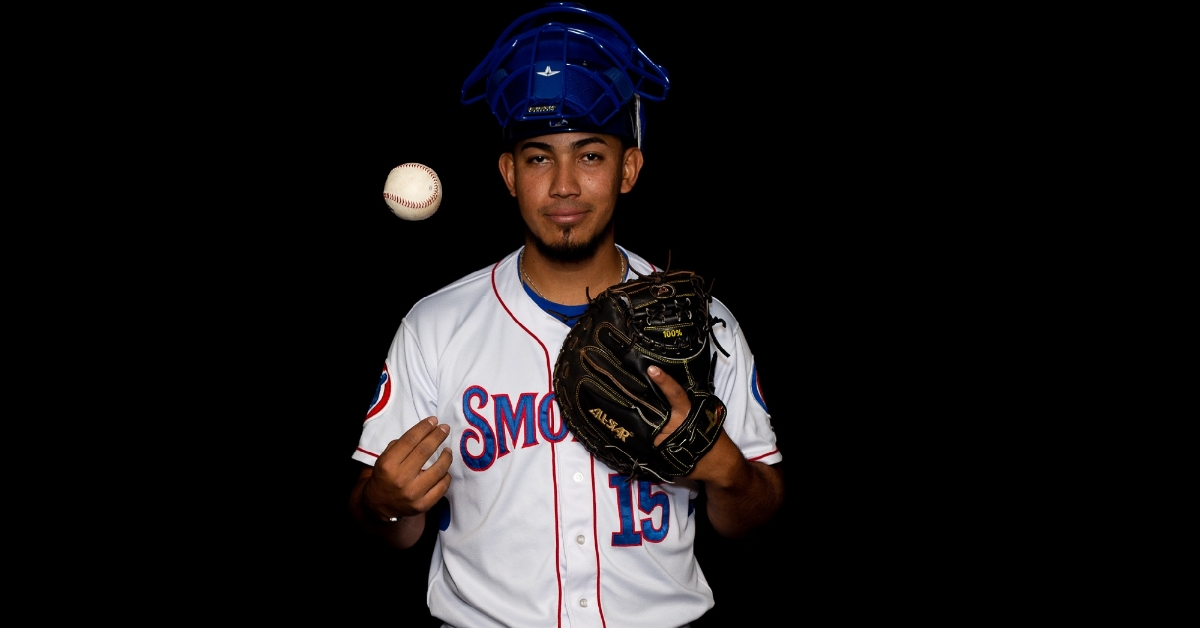 | | |
| --- | --- |
| Jhonny Pereda named Top Defensive Catcher in minors | |
---
| | | |
| --- | --- | --- |
| Tuesday, October 15, 2019, 2:45 PM | | |
When you look at the Cubs system and start to look at prospects, we all know who will enter the season as the top prospect in the Cubs system. That would presumably be 21-year-old catcher Miguel Amaya, who is finishing up his fall season in the Arizona Fall League. However, what would you say if Amaya may not be the best catcher in the system?
Many would call me crazy to even think that or mention anyone other than him as the top catching prospect in the system. However, the fact is the Cubs may indeed have a better option as Jhonny Pereda has established himself as a very valuable piece for Chicago. The 23-year-old Pereda emerged as an eyebrow-raising prospect last posting a .272/347/363 slash line for High A Myrtle Beach.
Pair that with improving defensive work, and you have the potential to have a game-changer catcher behind the plate. Although his power hasn't quite been there yet, it is essential to note that the power part of the game is often the last thing that catchers fully develop. I think the Cubs can certainly wait for that part of the game considering how he has nearly an 11% walk rate and only a 13% strikeout rate, which was well below his first professional season behind the plate.
With Pereda was still at such a low level, the Cubs elected to leave him unprotected in the Rule 5 draft, but he was somehow passed over allowing the Cubs to send him to AA Tennessee for the 2019 season. That is a similar path that Willson Contreras took back in 2014, but to compare the two players is unfair despite some similarities.
The big difference between Contreras and Pereda was that Contreras exploded offensively at AA while Pereda is still in the development stages of his game. Looking at the numbers, it looks as if Pereda took a step back as his average was just .241 this season. He did, however, continue to show excellent plate discipline with his walk rate increasing to 12.3 percent and a strikeout rate remaining consistent at 13.8%. The problem this season was that Pereda didn't hit the ball consistently with any authority.
His groundball rate for the season was at 53.7%, while his HR/FB ratio was only 2.4%. Those are mighty ugly offensive numbers and show that Pereda is a player that has no problem taking pitches and putting the bat on the ball. However, without making some adjustments in the future, Pereda will get eaten alive by some more experienced arms.
You may be wondering what makes this catcher so unique compared to Amaya. Well, the answer is easy. Pereda is not only a great defensive catcher but was named the top Defensive catcher in all MILB for 2019. That means he was a gold glove winner this season, which is something you must love if you are a Cubs fan considering how the biggest knack for Contreras in the majors has been his inability to consistently frame pitches.
I don't know if Pereda is much better at framing or not and without any type of factor put in place we may never know. However, what Pereda did show all season long was other excellent defensive skills, especially a cannon of an arm that threw out 50% of base stealers in 2019. That alone is an incredible number that you don't ever see.
With so much talk about changes coming to the Cubs this season, does that mean a future could be in place for Pereda on the North Side? With Contreras and Victor Caratini slated to be the team's catchers in 2019, I wouldn't count on Pereda making noise for at least two more years. However, with Amaya, Ian Rice, and P.J. Higgins in the system with Pereda, someone must be the odd man out moving forward as the Cubs have too many catchers in the system.
Tentatively, I hope the Cubs can sign Pereda to another minor league deal and don't lose him via trade or rule 5 draft. You don't want to take any chance of losing him. This is a guy you want to keep in your system, especially if his defensive ability continues to grow, and the offense follows. With Contreras and even Caratini being brought up in trade talks this offseason, one of those two may be on a new team come 2020.
If that happens, it could pave the way for Pereda to become the next man up and potentially keep the seat warm until Amaya is fully ready to go. I don't believe Pereda is going to be available until 2021 at the earliest, but he is undoubtedly someone the Cubs need to hold onto long term. If his pitch framing abilities match his defensive skills, it will give the Cubs a secret weapon in the future that could help a lot of the Cubs arms gain strikes they have been denied recently.
The future is wide open for this man, but the Cubs truly may have a diamond in the rough in terms of Pereda.