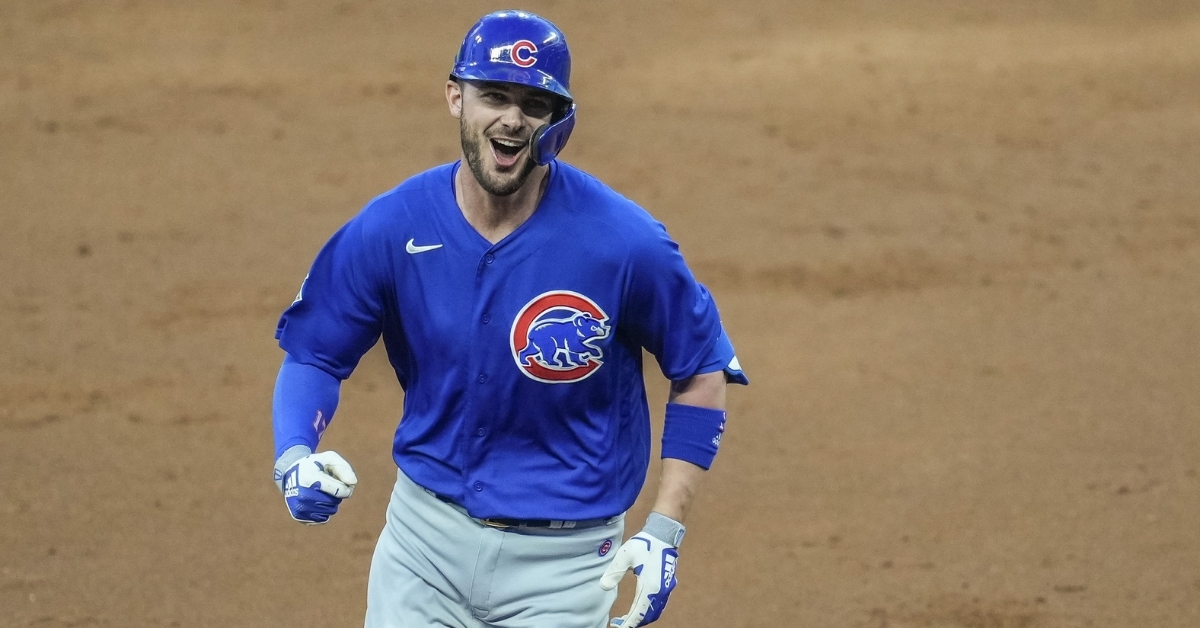 | | |
| --- | --- |
| Cubs News: Kris Bryant is back to being Kris Bryant | |
---
| | | |
| --- | --- | --- |
| Saturday, May 1, 2021, 1:01 PM | | |
Despite the Chicago Cubs currently being in last place in the NL Central 25 games into the season, a massive bright spot for the Cubs in 2021 has been Kris Bryant's offensive resurgence.
Last season, Bryant battled numerous injuries that kept him out of almost half of the team's 60 games last season. Those injuries were mostly to the upper body, causing a big zap in power for the 2016 NL MVP. Bryant finished the 2020 season playing in just 33 regular-season games, and he hit 4 homers, drove in 11 runs, and slashed .206/.293/.351. So far this season, the 29-year old has clubbed 6 home runs, drove in 17 runs, and is slashing a phenomenal .310/.392/.619.
Bryant's bat in the lineup has been a much-needed boost to a Cubs offense that has struggled to put up runs at times. In fact, the Cubs have scored three or fewer runs in 14 of their 25 games this season.
The Cubs were not expected by many to be great in 2021, especially after the significant payroll cuts that were made after the 2020 season. And even though the Cubs had faced offensive struggles with most of this offensive group in the past, it is hard to imagine a lineup that features Anthony Rizzo, Javier Baez, Willson Contreras, Joc Pederson, and Bryant being so quiet.
But early on in the season, it's been Bryant consistently shining with the other mixing in the occasional good game. In fact, Bryant has been so good that according to Fangraphs Wins Above Replacement (WAR) stat, Bryant's 1.2 WAR is the second-best in the entire National League.
Not to mention, Bryant has been contributing from all over — literally. Bryant has played third base, left field, right field, and first already this season and has made just one error in over 60 chances. Plus, Bryant has batted in the No. 2, No. 3, and the No. 4 hole in the Cubs lineup.
A healthy Bryant has displayed versatility and the field and consistency at the plate in a way that resembles his 2016 MVP form. And the Cubs, along with Bryant's benefit in this relationship, is threefold.
A) Bryant's success helps the Cubs to win on a day-to-day basis.
B) With every day that Bryant continues to play well, his trade value increases. For a Cubs team that currently sits below .500 and has a multitude of players set to hit the open market at the end of this season, having a player of Bryant's status playing at an all-star caliber can only mean good things for a potential trade haul the Cubs will receive. Especially since it appears the writing is on the wall for Bryant to leave because of Scott Boras being Bryant's agent, among other things.
C) Bryant is playing himself into more money this offseason, with whatever team ends up paying him — especially since Bryant's value was at a career-low after his injury-riddled 2020 campaign.
Of course, the Cubs could surprise us all and bring Kris back to finish his career in Chicago. But either way, his success in 2021 is beneficial for all parties involved.