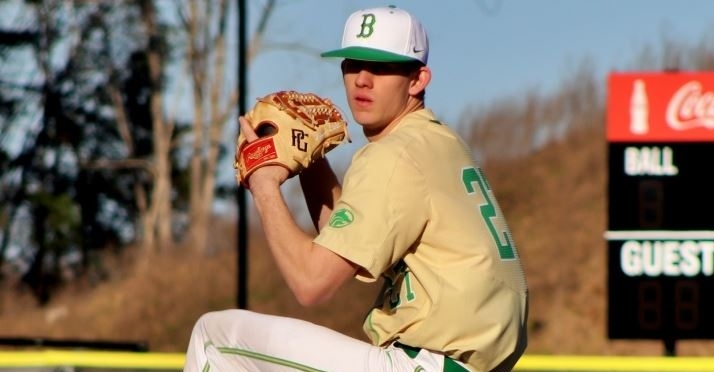 | | |
| --- | --- |
| Latest MLB mock draft has Cubs selecting elite prep arm | |
---
| | | |
| --- | --- | --- |
| Thursday, January 6, 2022, 10:22 AM | | |
The 2022 MLB draft will be a significant one for the Cubs, especially when you look at where this team is picking. Unlike the past several seasons that have seen the Cubs picking outside the top 20, Chicago will not only have a top 10 selection in the first round, but will pick No. 7 overall. That is their highest spot since taking Kyle Schwarber No. 4 overall in 2014, and most of their picks will follow that trend.
Knowing that they will have their highest selection in eight years, the Cubs have been linked to several top-caliber prospects from various positions. As you would expect, most of the early mock drafts have the team going pitching first, and one name is starting to appear more often than the rest. That name is Dylan Lesko, RHP from Buford, GA.
That's right, the Cubs are being listed as one of the teams to look at prep arms, and the 6-2 high school senior Lesko is the one to watch. Listed as the ninth-best prospect in this year's class, Lesko is not only the third-best prospect in the state of Georgia, but maybe the best pitching prospect in this entire class, both college, and prep. That alone is a big reason he is a Vanderbilt commit, so if the Cubs draft him, they will have to spend a pretty penny to keep him from committing.
Lesko is part of a deep class of prep pitching arms this season, but as mentioned before, may be the top pitcher in this entire draft class. During the 2021 season, Lesko became the first junior ever to earn the Gatorade National Player of the year award. During his junior season, Lesko threw 60 innings and posted a perfect 11-0 mark in the process. To go with that, Lesko had a microscopic 0.35 ERA and struck out a whopping 112 hitters.
Though the industry is skittish about the risk associated with teenage hurlers, his combination of stuff, polish, athleticism, and projection could land the Vanderbilt recruit in the top five or 10 selections. Skittish or not when it comes to prep arms, you can't argue with the overall stuff he already possesses, which is what makes this a no-brainer for the Cubs if he is sitting there at seven.
With another high school season ahead of him to get better and stronger, Lesko is already sitting in the 92-95 MPH range with his heater and has seen it top out at 97. Not only is he expected to add more velocity when he adds strength, but his fastball has great carry in the zone, terrific arm-side run, and will have tremendous sink making it a tough pitch to square up.
Not only is the ever-improving fastball a pitch to watch, but he might have the best changeup in this entire class giving him two legitimate pitches to rely on in the count. From a velocity side of things, the changeup sits around 82, but has a sideways motion to it. Lesko also has a 77 MPH curveball in his back pocket that, although it is his worst pitch right now, comes with a high spin rate and the potential to be a lethal bender when polished.
Another thing you notice about Lesko when watching him pitch is how easily he generates the quality of stuff that he has. Lesko has one of the most sound deliveries in this year's class and can easily repeat that delivery. The high velocity comes with a natural motion and not too much effort, allowing him to locate all three of his pitches consistently. That alone is no easy feat for a young kid and is a nightmare to think about as he matures more.
Lesko is tough enough when it comes to his overall stuff, but add in the excellent extension he gets on his release point, and it is that much more challenging for a hitter to get a piece of his stuff. Most prep stars need to mature before coming into their own. Not Lesko, as he has gotten plenty of praise for not just his overall maturity, but his intelligence about the game and how it is played.
Everything is pointing for him to be an ace in the future, although he looks like more of a middle to No. 2 starter at this point. To reach that potential and the lofty ceiling scouts have put on him, he needs to do a few things to help translate that success. For starters, he needs innings against pro competition so scouts can get a real feel for his stuff. Second, he needs to redefine his pitches, especially that curveball. Should he do that, the sky is the limit for this kid and someone the Cubs would love to have.