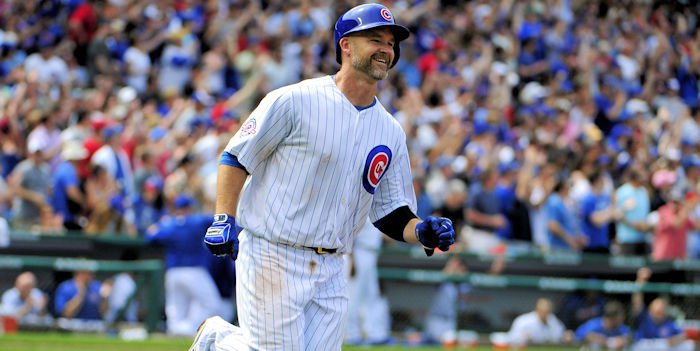 | | |
| --- | --- |
| Latest news and rumors: Cubs sign infielder, Ross stays at ESPN, Cubs TV, and more | |
---
| | | |
| --- | --- | --- |
| Tuesday, December 18, 2018, 6:01 PM | | |
Cubs' news and notes
Cubs' 2019 Opening Day: 100 days. Double-digits starting tomorrow…
Cubs/Daniel Descalso: The Cubs have reached an agreement with free-agent utility man, Daniel Descalso. Two years, $5m deal, with a $3.5M option for 2021. The contract breaks down to $1.5M in 2019, $2.5M in 2020, with either a $3.5M option or a $1M buyout for 2021. Incentives totaling 250k also available.
Tommy Hottovy: Cubs' pitching coach, Tommy Hottovy already has his game-plan in place: Less walks, attack the hitters and most importantly, break down the metrics into usable and understandable information.
Hottovy recently commented via NBC Sports Chicago, "We have a lot of data, and that data will give us information on mechanics and how to make changes, but it's about simplifying it. It's about giving them one or two nuggets to focus on and not ten different things. It's about; hopefully, in the end, you land in a good position to throw a baseball and execute."
Also, on Tommy's shortlist, is the intention to visit face-to-face with every member of the pitching staff this off-season. The Cubs have yet to add anyone new, so Hottovy is already familiar with each of the current pitchers. He's already managed to meet with Brandon Kintzler during the winter meetings last week.
David Ross: Well, so much for the pipe-dream of David Ross being the next bench coach. It was just announced that Grandpa Rossy received a multi-year contract extension from ESPN.
Brandon Hyde: When recently asked about putting together his coaching staff for Baltimore, Brandon Hyde replied, "There aren't going to be a lot of people I can take from the Cubs, if any."
Tyler Chatwood: Happy belated birthday to Chatty who turned 29 on Sunday. The Cubs made the social media posts announcing it but had to disable the comments on their Instagram as people were getting a little salty with their replies. Look, no one has been more hypercritical of Chatwood than I have, but geez, give the guy a pass on his birthday. New year, a new season and a new pitching coach- let's see if he can get it turned around, in the meantime, at least let the guy enjoy a birthday.
Latest news and rumors from around the league
RIP Penny Marshall: Penny Marshall, best known for her role as Lavern DeFazio in Laverne and Shirley died today at age 75 due to complications from diabetes. Marshall also directed "A League of Their Own."
Today we remember Penny Marshall, and we are forever grateful that "A League of Their Own" shines a light on such an important chapter in the history of the game she loved. pic.twitter.com/FrwYnie4iS

— MLB Communications (@MLB_PR) December 18, 2018
Astros: Houston has reached a deal with OF Michael Brantley. No details yet, but expected to be a two-year, $32M deal. Astros also said to be "back in the mix" for catcher, JT Realmuto.
Dodgers: Per Ken Rosenthal, "The Los Angeles [Dodgers] club doesn't seem inclined to tantalize Harper with a record-setting overall guarantee. Rather, the club would be more interested in a shorter-term pact with a "high" average annual value and multiple opt-out clauses along the way." Harper is rumored to have interest in playing for LA.
Giants: Per Jess Passan of Yahoo Sports: "Of all the teams at free-agent SS Troy Tulowitzki's open workout today, the San Francisco Giants have the most impressive presence, league sources tell Yahoo Sports. Among the attendees for the Giants: New president of baseball operations Farhan Zaidi and manager Bruce Bochy."
Mets: NY signs free-agent outfielder Rajai Davis to a minor league deal, with an invite to spring training.
Nationals: Washington has announced they are bringing back Matt Adams on a one-year, $3M deal with a mutual option and $1M buyout for 2020.
Orioles: Baltimore held a news conference today to formally announce Brandon Hyde as their new manager. Hyde was greeted by Hall of Famer, Brooks Robinson who serves as the team's community liaison. As Hyde left the news conference, he was reported to be smiling and said, "Brook Robinson. Are you kidding me?"
Royals: The Royals announced today that they have inked a deal with outfielder Terrance Gore. It's a one-year, MLB pact. utility-man Rosell Herrera was designated for assignment today, to create roster space.
Twins: The Twins announced today that they will honor Joe Mauer by retiring his uniform number "7."
White Sox: According to the latest odds, the Sox are no longer in the running to score Bryce Harper. This shouldn't come as a shock, as even the Sox ownership viewed the team as longshots from the outset.
As per Bruce Levine, "The Bulls and Blackhawks will partner with NBC Sports Chicago on a new regional network starting in Oct of 2019. An announcement of the agreement will come soon. The Cubs will have their own regional network with a new broadcast partner."
Yankees: The Yankees are hiring recently retired ballplayer Carlos Beltran to a front office role. Beltran will serve as a special advisor to GM Brian Cashman. Beltran had declined a similar offer last year from the Yanks.