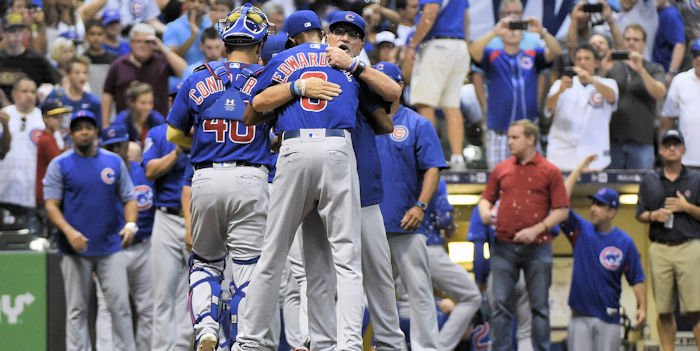 | | |
| --- | --- |
| Latest news and rumors: Maddon talks Harper, Happ on Russell, Cubs sign pitcher, more | |
---
| | | |
| --- | --- | --- |
| Wednesday, January 16, 2019, 6:01 PM | | |
Cubs' news and notes:
Cubs' Opening Day: 71 days. (March 28 vs. Rangers)
Pitchers/Catchers Report: 28 Days.
First Spring Training game: 39 Days. (Saturday, February 23, Brewers vs. Cubs at Sloan Park)
Joe Maddon: At a Joe Maddon charity event Monday night, Joe said he's talked with Schwarber and Happ the most this offseason, based merely on their seasons last year. He expects bounce backs/improvements across the board. In other Maddon news, Big Joe is opening a restaurant at Wrigley sometime in 2019; No word on the name.
Cubs/Harper: At the same charity event according to the Chicago Tribune, a fan asked Joe, "What are the chances of [signing] Bryce Harper?" Without a pause, Maddon replied, "Not going to happen." At this point, Jim Deshaies stepped in and said, "Let's move on."
Maddon on Russell: Last night Maddon said he talked with Addison Russell recently: "He seems to be in a good place. He's really working to get things behind him and make sure he does and says the right things moving forward. It's a maturation process on his part. He's going to have to face a lot of obstacles or tough questions. We all are. He's taking culpability."
Happ on Russell: "Addison's got a lot of personal stuff to work on before he's back with us. We're all going to be there to support him if he's taking the proper steps. That's our job as teammates to welcome him back, if he does everything he needs to do to get back...with us."
Happ on 2018: "I think Theo is really good at giving the sentiment of the players. We're a really good baseball team. We got punched in the mouth last year. We were such a productive offense the first half. Those last 30, 40, 50 games were like, 'We could have done something better. For us to really get upset about something, and be able to have that honest discussion, is something that's really going to help us moving forward."
Happ on the hitting coaches: "I'm really excited. I have a relationship with [Terrmell Sledge and Anthony Iapoce]. I couldn't be more excited for that direction."
Ian Clarkin: The Cubs (again) claimed lefty pitcher Ian Clarkin off waivers from the White Sox. Their 40-man roster is now at 39 players. The Sox had claimed Clarkin off waivers from the Cubs on November 26 after the Cubs had claimed him from the Sox on November 20. (You can't make this stuff up, folks…)
Latest news and rumors from around the league
NPB: Japan's Orix Buffaloes have purchased the contract of Pirates righty, Tyler Eppler.
Angels: The halos have acquired RHP John Curtiss from the twins for INF Daniel Ozoria. The Angels have also designated RHP Parker Bridwell for assignment.
D-Backs: Arizona has signed free-agent, Wilmer Flores to a one-year, $4.25M deal. The D-backs have also acquired INF/OF Tim Locastro from Yankees for LHP Ronald Roman and cash.
Orioles: Once thought to be a candidate for the pitching coach spot in Chicago, Doug Brocail looks like the choice to fill the same spot in Baltimore under new manager, Brandon Hyde.
Padres: New reports say that the Padres may be looking for a third baseman in a roundabout way. SD is now reportedly interested in trading with the Indians for Corey Kluber so that the Friars can turn around and flip him for a third baseman.
Phillies: The insiders are all saying that the Phillies are likely to land either Machado or Harper, and as of now, it looks like it'll be Harper. Philly still has money to spend, and after signing, presumably, Harper, they are likely to set their sights on other key free-agents (Kimbrel, Keuchel or Pollock).
Rangers: Texas has John Andreoli off waivers from Seattle. Texas is also now reportedly showing interest in Adam Ottavino.
Reds: Cincinnati has signed a pair of former Twins' pitchers to minor league deals: Lefty, Buddy Boshers and righty, Felix Jorge. The Reds have also announced that Marty Brennaman has announced that 2019 will be his final season calling Reds' games. He has been calling games for the club since 1974 and is Frick Award winner at the HOF.
White Sox: The White Sox offer to Machado is for $175 million, over seven years.