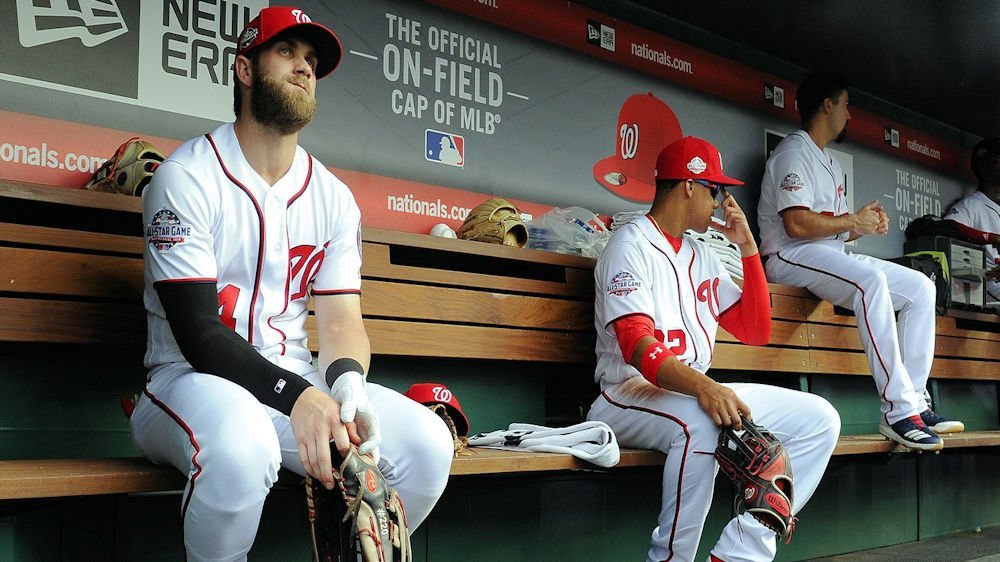 | | |
| --- | --- |
| Meltdown in Washington: Nationals' loss is Cubs' gain | |
---
Rivaled only by the antics of former Cardinals' manager, Mike Matheny and President of Baseball Operations, John Mozeliak, the Washington Nationals seem to be having a large scale temper-tantrum. They're making statements at Nationals Park, though I'm not entirely sure that I understand any of them.
It all started with Bryce Harper's comments about a walk-off hit by Marlins catcher, J.T. Realmuto. Harper had remarked that if Realmuto had played for the Nationals, the walk-off would've never happened. The next thing you know, Harper was on the trading block. While Mike Rizzo, the Nationals' general manager, eventually said that Harper wasn't for sale, those words came long after almost all of the media had been allowed to report that Harper was up for grabs.
Was there an anonymous leak to the media about Harper's availability, perhaps designed to send Bryce Harper a message about embarrassing his team? No one knows and they probably never will. There's also the possibility that offering-up Harper was a knee-jerk reaction to Harper's statement, and that the offer was rescinded once cooler heads prevailed. Again, we'll probably never know.
Maybe less suspect, but still worth considering, was that Nationals' right-hander, Stephen Strasburg hit the DL shortly after a televised, heated exchange with a teammate, Max Scherzer. It's no secret that Scherzer rules the roost in the Nationals' clubhouse, and when someone fails to pull their weight, Scherzer is going to tell them about it. Rightfully so, as Max Scherzer is undoubtedly the heart and soul of that team.
That brings us to Nats' reliever, Shawn Kelley. Last night in a blowout game against the Mets (final score 25-4), Kelley threw his glove down on the mound, then glared at the Nationals' dugout in disgust, after giving up a home run ball to Austin Jackson of the Mets. Kelley admitted after the game that he had "acted like a baby," but that may have been a little too little, a little too late for the Nationals' front office, as they designated Kelley for assignment earlier today.
Next, but certainly not least, we have the reliever, Brandon Kintzler. To the best of my knowledge, nobody even knew that Kintzler was being offered, then all of a sudden the Cubs had him signed in exchange for right-handed, minor-league prospect, Jhon Romero. What was initially rumored a trade to make way for the minor-league prospect, Wander Suero, it now looks as though the Nats parted with Kintzler as some type of retribution for Kintzler allegedly leaking rumors of clubhouse discourse to the media. Kintzler spent today, his 34th birthday, vehemently denying that he was the source of the leak. Happy birthday, Brandon.
Whether Kintzler was the source of the leak or not, is irrelevant at this point- just so long as it doesn't continue in the Cubs' clubhouse if he was. I suppose it's possible that by leaking private team matters to the media, Kintzler knew he'd likely part ways with Washington, but if that clubhouse is half as tumultuous as the reports say it is, I suppose no one can blame the guy.
I think Brandon Kintzler inevitably got the better end of the deal, as the third-place Nationals are now five games behind Philly, and 4.5 games out of a wildcard spot. For the Cubs' part, they've received a veteran, right-handed reliever, who can help close out games in the absence of Brandon Morrow. Sounds like a win-win for the North Siders.