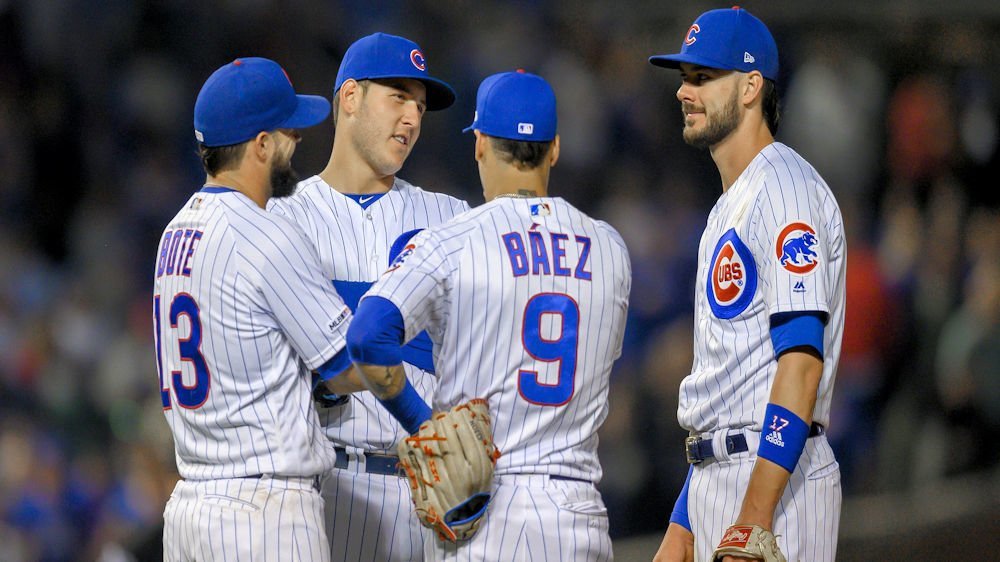 | | |
| --- | --- |
| MLB 2020 is finally upon us | |
---
| | | |
| --- | --- | --- |
| Thursday, July 16, 2020, 8:02 AM | | |
Here we are – finally – near the restart for Cubs exhibition games, leading us then to Opening Day 2020 for Major League Baseball. COVID-19 has and continues to wreak havoc on professional sports and its athletes, not to mention the country as a whole. I looked forward to this day, but it won't be the same.
It's mid-July. Instead of recently celebrating things like the All-Star week and peering ahead at the upcoming trade deadline, we're celebrating news that no Cubs have tested positive for the virus. Other teams aren't so lucky.
The list of affected players is beginning to read like some sort of who's who. Freddie Freeman (Braves) has the virus, as does former Cubs' slinger Aroldis Chapman.
The list of player opt-outs is becoming increasingly formidable. Buster Posey (Giants) and his wife had adopted twin girls who were born prematurely. Out of concern for their vulnerability to catching the disease, Posey elected to stay home. Ian Desmond (Rockies) took the free pass on playing this year, and then David Price (Dodgers) did the same). Those names populate a list that continues to grow, with even Yu Darvish on the fence.
Buster Posey and his wife are adopting identical twin girls. That is why he has missed time in camp. The twins were born prematurely and stable but will be in NICU for some time. He is opting out of the season.

— Andrew Baggarly (@extrabaggs) July 10, 2020
At this point, Darvish believes he'll play, but with delays in testing, Yu said that he attended a team Zoom meeting the other day, with full intentions of opting out, had he not thought the Cubs were taking things seriously enough.
It's one thing to gain a competitive advantage because an opponent has players on the IL, but with some of the games bigger stars opting out, this could become like shooting fish in a barrel. If the Cubs are going to win this year, I want it done based on team effort, improvements by players and impeccable managing by David Ross, not because the Giants didn't have Posey on the diamond.
Even beyond the issues of sickness and/or fear which have arisen as the result of the pandemic, nothing else about baseball seems normal. The universal DH, the three-batter minimum, the automatic runner on second for extra innings. Even worse are the rules about having to air-five instead of high-five, and the piped in crowd noise, as the only bodies in the seats are players and perhaps some media members, all social distancing, of course.
Understandably, MLB is trying to cut down on physical contact as part of their safety protocols, but what about the other sports? Are the Bears going to have to use air-tackles to stop a run up the middle? How is anyone in the NBA going to avoid physical contact while committing fouls (flagrant or otherwise)? For hockey, cross-checking won't be allowed, but will air-checking? It's just all so surreal, and I don't like it.
Then there's the part of me that – despite all of the changes – can't wait to see the first pitch this year. It seems like forever (March 11th, to be exact) since I wrote my last game recap, and as I prepared to do so on March 12th, word had come down that the season had been postponed indefinitely. Here we are, now four months later, but it will restart.
Will they get all 60 games in? Let's be what I'd like to call pessimistically optimistic. Outbreaks of the virus are again running rampant, with Florida running out of hospital beds and ventilators, while Toronto is talking about instituting a bubble. California is said to be on the verge of closing down again, and Arizona and Texas have also seen massive spikes.
Maybe hearing the voices of Len Kasper and Jim Deshaies might make things a little more "normal." The Cubs played a televised scrimmage game on Tuesday and Wednesday, but of course the new Marquee Network is still unavailable in my area.
Yes, Willson Contreras took Chatwood deep, and Ian Happ also hit a three-run dinger. Both good signs for the offense, if not for Chatwood.
Hurts so good. pic.twitter.com/S2RSYJBJYl

— Chicago Cubs (@Cubs) July 15, 2020
With any bit of luck, MLB TV will also broadcast the Cubs/White Sox exhibition game on Sunday night, but either way, we will have the recap for you by shortly after the final out. Yes, baseball is finally back. It'll be weird, but we'll get used to it, as the changes – ridiculous or not – are a small price to pay in order to be able to see the 60-game season. Isn't it amazing what you can get used to?
Best of luck to David Ross and the 2020 Chicago Cubs, as they embark on the season that may have never come to pass. Had it not been for the will and determination of so many people working together, we may not have even been seeing an improvised season.
Enjoy it for what it's worth. Play ball..