| | |
| --- | --- |
| MLB and MLBPA reportedly to meet several times next week | |
---
| | | |
| --- | --- | --- |
| Friday, February 18, 2022, 1:33 PM | | |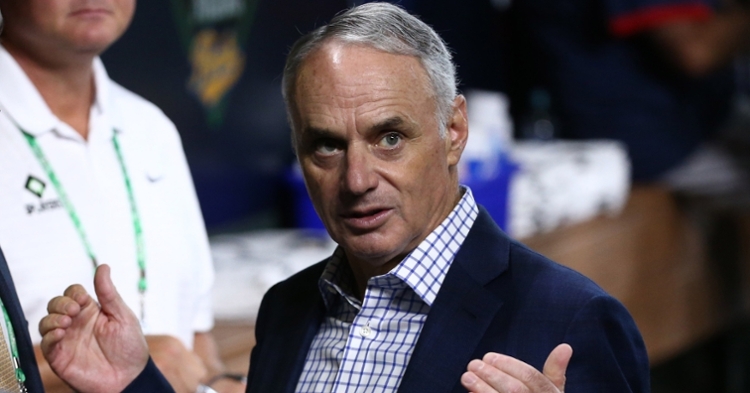 We are approaching 80 days since the MLB Lockout began, and no real end in sight. With the due date for Pitchers and Catchers already passed, there is no way to put this lightly, but Spring Training will effectively be delayed this season even if an announcement hasn't been made. To make matters worse, the most recent negotiation session lasted just 15 minutes, which isn't a good thing for fans who want baseball.
Although that meeting lasted such a short time, there were some positives to take away from it, including some arbitration talk which has been one of the more significant issues since day one. The fact that there is positive traction on that is a good thing, which could be why there is more optimism than before.
After their meeting ended, the MLB informed the MLBPA that if a deal weren't reached by February 28, a dealy to the regular season would need to happen. That gives the two sides 10 days to make things happen, and something has to be signed, not just verbally agreed to. With a 10-day window being put in place, the ball is in both sides' court as it seems like a sense of urgency has finally kicked in.
Where that has been this whole time is a different story, but the bottom line is that the two sides seem ready to put an end to this lockout one way or another. Despite the meeting being short earlier this week, the MLBPA still had time to drop off a new proposed CBA and one the owners would take a look at. It seems like the owners have looked at it, and now it looks like they are ready to negotiate something.
Nothing is official until it happens, but next week could be the most crucial week for baseball in quite some time. Not only do the sides expect to meet, but they expect to sit down as early as Monday to begin talks. Taking things a bit further, this won't be a one-day thing as multiple owners and players are expected to fly in ahead of the February 28 deadline. The Sides are expected to meet multiple times next week and are even willing to meet every day if it means reaching a deal in the deadline window.
Considering that everyone knew some form or work stoppage was inevitable given how things have gone the last few years, all this talk is smoke and mirrors unless things happen. However, to hear both sides say they plan to meet every day if necessary has to make you smile as that is one of the more positives to take from this lockout. It could mean that enough is enough from both sides, and they are ready to settle this once and for all and move on.
Given the deadline, the two sides don't have to like each other, but they need to make it look like they are trying to figure something out. With games on the verge of being canceled, neither side wants that to happen as that was considered a last resort when this began. Because of that, this is a now or never approach to things as a deal must get done to salvage an entire season.
They may talk for an hour a day. They may speak for 12 hours a day. Either way, you can't sit here and tell fans you tried as hard as possible to get a deal done. Unless you walk out of the conference room next week with a signed new CBA, no fan will believe a word that comes out of anyone's mouth. It should never have come down to this, and now that it has, MLB is at risk of losing games, alienating more fans, including youth, and potentially killing the game of baseball altogether.
Lockouts are no strangers to sports, but the MLB has suffered the most lockouts of the major sports organizations. 1994 may have been the last one, but we saw how fans reacted to it once it was over. It took a steroid era of 10 years to save baseball and bring people back to the game. If there were to be missed games this season or, heaven forbid, no season at all, there is a not a thing in the world baseball could do to save itself.
Baseball is supposed to be Americas past time and a game that kids love to play. It is getting to the point where financial greed from both sides is killing it altogether. Thankfully NCAA baseball kicks off this weekend with the minor leagues and high school seasons to follow shortly after. As a baseball fan, I want a deal to be reached as much as anyone.
However, I am starting to face the harsh reality that it may and probably won't happen by the deadline. If games are missed this season, it will be the third year in a row that the MLB has lost out on revenue. Not even the most powerful businesses in the world can overcome that, which alone is not a good thing. This could be huge for the minor leagues and their revenue this season.
The longer we go without MLB baseball, the more likely fans will turn their attention to the minors. That means more money within the minor league landscape which bodes well for the future. This is the one time where fans will be glued to their phones in hopes of something positive coming from the next 10 days.