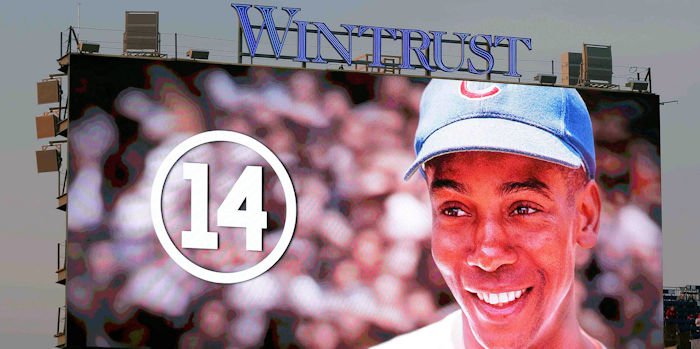 | | |
| --- | --- |
| My Chicago Cubs' All-Time team | |
---
| | | |
| --- | --- | --- |
| Wednesday, January 30, 2019, 12:50 PM | | |
Once again our slave-driving editor has challenged us with an assignment that is almost impossible to get right. This time he wants us to come up with an all-time Cubs team by position. How hard can that be when the team has been around for 120+ years?
Do you have any idea how many players have played for the Cubs over that period? Me either because I stopped counting at 500. I mean how do you even start to determine what the criteria will be for this project?
Do you take guys that played for the Cubs only? Do you include players who ended their career with the Cubs? Those who started their careers here? How about players who spent their peak seasons in Cubs pinstripes?
You can see what a daunting task this is and for sure you are going to have to leave someone great off your list and infuriate 40% of the fan base because you didn't pick their favorite guy. "How could you not pick John Boccabella?"
Against my better judgment, here is my list, starting with some players who didn't make my cut.
Among those left off were, Andy Pafko, Sammy Sosa, Mark Grace, Rick Sutcliff, and Ryne Sandberg.
My criteria was they at least needed to be in the Hall of Fame to even have a chance, and because I can, I picked two guys who went in with non-Cubs hats but should have been Cubs.
Left Field: Billy Williams. This sweet swinger was one of the best outfielders of his time and certainly one of the premier hitters of his day. Arguably he would be on any Cubs Mt. Rushmore of players. Who can forget his spitting and hitting it before every at-bat. He finished his career with 2,711 hits, a .290 career average, and 426 home runs.
Center Field: Hack Wilson. He was an RBI machine and still holds the major league record for RBI's in a season with 191. That works out to 1.2 per game when teams played only 154 games.
Right Field: Andre Dawson. I know he went in as a Montreal Expo, but even he thinks he should have gone in as a Cub. His offer to play for free was a genius move, and it extended his career by getting off the astroturf and onto natural grass. He had a rocket for an arm, and his homers were majestic.
Third Base: Ron Santo. If ever there was a guy who epitomized being a Cub it was Santo. He was one of the greatest third basemen of all time, by any metric, and keeping him out of the Hall far as long as they did was a travesty.
Shortstop: Ernie Banks. This isn't even close. One of only 27 players to ever hit 500 home runs, one of 20 if you eliminate the steroid users, and he played at the highest levels for his entire career. He's Mr. Cub for goodness sakes so you can't leave him off the team.
Second Base: Rogers Hornsby. This was the hardest position to select since there was four Hall of Famers who played this position for the Cubs. Besides Sandberg, I left off Johnny Evers and Billy Herman. Hornsby defined his era and remains one of the icons of baseball.
First Base: Cap Anson. Another player who was the face of baseball in his era. He had 3435 hits in his career and a lifetime BA of .334, OPS of .847 and a WAR of 94.2. He was pretty good.
Catcher: Gabby Hartnett. Who else gets this nod? One of the greatest catchers of all time. A lifetime .297 hitter with an OPS of .858. He was a major league catcher for 20 seasons. Catchers don't last six years anymore, and he played there for 20!
Starting Pitcher: Fergie Jenkins. The most consistent pitcher of his era in a ballpark that was not pitcher-friendly makes him an easy pick. I did have to leave off Pete Alexander and Mordecai Brown, but Jenkins was just superb.
Relief Pitcher: Bruce Sutter. Again, I know he went in as a St. Louis Cardinal, but everyone in the world thinks of him as a Cub. He revolutionized the role of a relief pitcher and was the king of three-inning saves. I can still see him on the mound and thinking this game is over.
That is my team, and I'll put them up against anybody. Pick your own team and see how difficult it is to make choices. Looking forward to the other guy's selections so I can judge which one is goofier than the others.