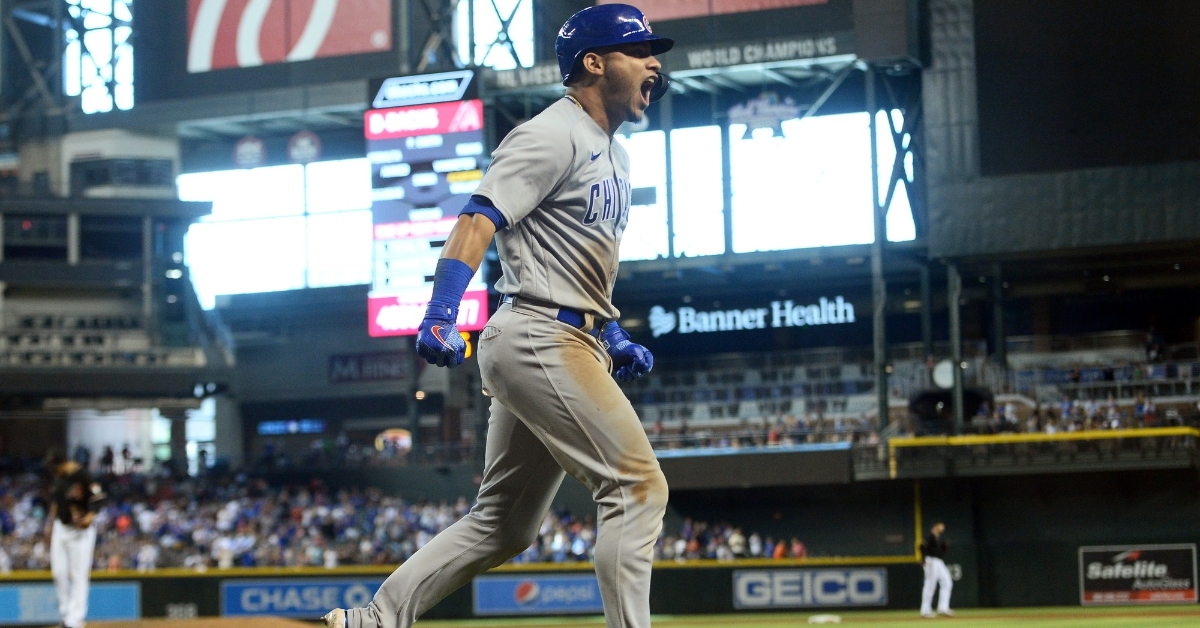 | | |
| --- | --- |
| Ninth-inning rally propels Cubs to victory over D-backs | |
---
| | | |
| --- | --- | --- |
| Saturday, July 17, 2021, 8:41 PM | | |
PHOENIX — A two-out rally in the top of the ninth resulted in a come-from-behind victory for the Chicago Cubs (46-46) and a letdown loss for the Arizona Diamondbacks (26-68) that perfectly epitomized their disappointing season. The D-backs were only one out away from registering just their third win of the season in which they scored fewer than five runs when Joakim Soria imploded and gave up three runs in a span of four pitches. A game-tying RBI single by Robinson Chirinos and a go-ahead two-run homer by Willson Contreras turned a one-run deficit into a two-run lead, and the North Siders came away with a thrilling 4-2 win at Chase Field on Saturday.
Contreras opened the game by smacking a single on the ground and through the infield for a base hit, but the Cubs had little success batting against Zac Gallen for quite some time after that. The top of the first ended with Contreras stranded at second. Thereafter, Adbert Alzolay needed merely seven pitches to retire the side in order in the bottom of the first. Ian Happ drew a two-out walk in the second, but Gallen struck out Ortega to end the half-inning.
Christian Walker reached on an infield single to begin the bottom of the second, and David Peralta then advanced Walker to second with a base knock. Josh VanMeter hit a grounder that first baseman Anthony Rizzo was unable to cleanly field. As a result, what could have potentially been a double play ended up as a putout at first. Rizzo was not charged with an error. Walker scored on an RBI groundout by Nick Ahmed, with Peralta reaching third on the play. Daulton Varsho drew a two-out walk and stole second before Gallen grounded out.
With one out in the third, Gallen hit Contreras with a pitch. However, a "strike 'em out, throw 'em out" double play soon followed, with Varsho gunning down Contreras at second after Rizzo looked at strike three on a full count. Ahmed and Varsho began the bottom of the fifth by hitting back-to-back singles. Varsho's came on a bloop hit to shallow center that Kris Bryant, who was shifted to the right side of the infield, nearly caught while falling down. Gallen then grounded into a 4-6-3 double play, and Josh Rojas plate Ahmed from third with a two-out RBI single to right. Pavin Smith walked in the next plate appearance, but Alzolay then struck Eduardo Escobar out to end the inning.
Another day, another RBI for @JoshRojass. #RattleOn pic.twitter.com/7SKBFXgOut

— Arizona Diamondbacks (@Dbacks) July 17, 2021
Hitting a single that was practically identical to the one that kicked the game off, Contreras reached with one away in the sixth. Rizzo drew a walk after that, and Javy Baez tied the score at one run apiece by slugging an RBI double to the wall in center. Baez, whose hitting streak now stands at seven games, ogled the ball as it left the bat, seeming to think that he had homered, but he still managed to reach second. Contreras scored from second on Baez's two-bagger, while Rizzo reached third. Rizzo attempted to score when Bryant hit a chopper to third but was thrown out at the plate by Escobar. Following a pitching change, Patrick Wisdom lined out to deep center, with Smith making a nice catch that resulted in the third out.
Javy extends his hitting streak to 7 games!#CubTogether pic.twitter.com/8StU0C2hJl

— Marquee Sports Network (@WatchMarquee) July 17, 2021
Keegan Thompson relieved Alzolay to begin the home half of the sixth and walked the leadoff man, Walker, prior to recording three outs in a row. Joe Mantiply, who replaced Gallen on the bump and outed Wisdom in the previous frame, retook the mound in the seventh and was beaten to the bag by Nico Hoerner on a leadoff infield single. Happ proceeded to ground into a 6-4-3 double play, and Brett de Geus, who came in to pitch after Mantiply walked Ortega, ended the half-inning by striking out Jake Marisnick. Pinch hitting for Thompson, Marisnick endured a frustrating three-pitch at-bat, as he was ignored when calling for time on the second pitch before failing to check swing on the third pitch.
Adam Morgan tossed a 1-2-3 seventh that featured two strikeouts, and the Cubs went on to foreshadow their ninth-inning rally by putting two runners on with two outs in the eighth. Noe Ramirez struck out Contreras and forced Rizzo to pop out on the first pitch. Baez then struck out swinging at a pitch in the dirt but was able to reach base, as Varsho's throw to first pulled Walker off the bag. The dropped third strike was followed by Baez stealing second without facing a throw and Bryant getting hit by a pitch that barely grazed his left thigh.
Varsho nearly caught a popup hit by Wisdom into foul ground but was unable to haul it in while leaning over the visiting dugout railing. Ramirez fanned Wisdom soon afterward, though, and was fired up as he left the mound. Rex Brothers toed the rubber in the bottom of the eighth and struck out a pair as part of a three up, three down half-inning. Hoerner led off the top of the ninth and popped out to second, and Happ then struck out looking. Ortega gave the Cubs new life by drilling a double to right on the first pitch he faced, and Soria blew the save.
Robinson Chirinos pinch hit for Brothers and also collected a hit on the first pitch of his at-bat, scoring Ortega with a single to left-center. Sergio Alcantara pinch ran for Chirinos, but his speed was not needed, as Contreras skied a 404-foot blast just inside the foul pole in left to give the Cubs their first lead of the game. Contreras enthusiastically ran around the bases after slugging the go-ahead bomb. Soria remained on the hill and beaned Rizzo before Baez ended the rally by swinging at the first pitch and flying out to center.
.@robinson28ch ties it up!#CubTogether pic.twitter.com/8AN5hIV53x

— Chicago Cubs (@Cubs) July 17, 2021
Willson Contreras - Chicago Cubs (14) pic.twitter.com/PsG8Hb3B1G

— MLB HR Videos (@MLBHRVideos) July 17, 2021
Craig Kimbrel walked Peralta to start the bottom of the ninth but then tallied three consecutive outs, two of which were strikeouts. Kimbrel's 369th career save locked up the Cubs' 4-2 triumph and also moved Kimbrel into outright ninth place on MLB's all-time saves leaderboard. The Cubs will look to carry the momentum from Saturday's come-from-behind win into Sunday's series finale versus the Diamondbacks, as they will have a chance to sweep a series for the first time in over a month.

Tags: Cubs Baseball
,
Willson Contreras
,
Adbert Alzolay
,
Ian Happ
,
Anthony Rizzo
,
Javy Baez
,
Kris Bryant
,
Patrick Wisdom
,
Keegan Thompson
,
,
Jake Marisnick
,
Rex Brothers
,
Craig Kimbrel