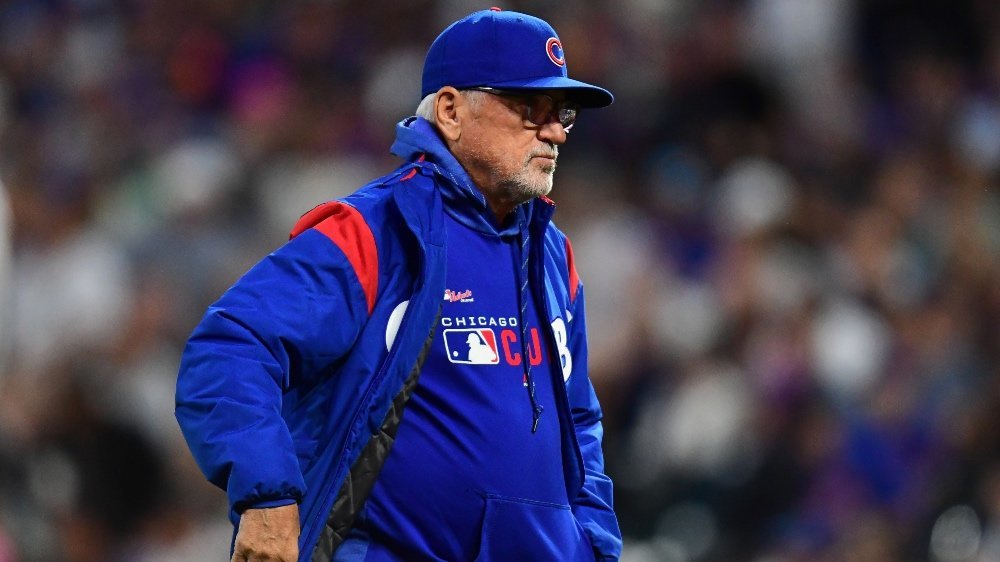 | | |
| --- | --- |
| Odds and Ends: Cubs need change, Maddon's future, the leadoff spot, more | |
---
| | | |
| --- | --- | --- |
| Thursday, July 4, 2019, 4:13 PM | | |
Time to empty the bin and surplus of my post-its again; here's the latest odds and ends from a cluttered desk and a busy mind.
Will things ever change?
Six months ago, Theo Epstein sent what should have been a clear message: Play hard or we're going to replace you, no matter your name. Since that time, Ian Happ has been languishing in the minors, and Carl Edwards got a demotion for a month- both good moves, but hardly enough to correct the problems facing the Cubs.
Here we are in July, just about to the All-Star break, and Theo's using the same rhetoric; but maybe he's more serious this time. With a weak showing at second base between the pair of Daniel Descalso and Addison Russell, the Cubs promoted minor-leaguer Robel Garcia on Wednesday. Could he spell trouble for someone (think Addison Russell) on the Cubs 25-man roster? Maybe, but that all depends on how he performs. Adbert Alzolay was considered to be the end-all, be-all, but Alzolay's rise to fame lasted a little over a week, then back to Des Moines he went after being pummeled in his two starts.
For a team so rich in talent, the Cubs sure have a lot of issues to fix and a lot of holes to plug if they want to stop the bleeding.
The bullpen is not working, but for some reason, Joe Maddon keeps trotting out the worst of the worst in the most critical situations. Just this week, Jed Hoyer said that Mike Montgomery wasn't your prototypical lefty-on-lefty type of pitcher, then, not 24 hours later, Maddon inserts Montgomery into a situation (Tuesday night) that inevitably blew any chance the Cubs had of winning against Pittsburgh. Meanwhile, Brad Brach and Kyle Ryan both continue to disappoint, yet they're out there night after night, inning after inning.
What frustrates me the most, is that the Cubs finally went out and dropped some serious coin on a bona fide closer in Craig Kimbrel. However, but as of Kimbrel's seventh day in Chicago, he has only been needed him a few times because the offense can't keep up with the bullpen's shortcomings.
Lately, the team can't seem to compete with even the worst teams in the NL, and it doesn't look like things will immediately get any better- which leads me to the next issue…
An underperforming offense has been key to many of the Cubs' losses this year. This team has the best of the best in terms of offensive talent, yet somehow, they can't hit a single to right to save their lives, with runners in scoring position. These guys have power, but there's a time and a place to use it, and that time is not during every at-bat. The concept of situational hitting eludes this team, and if you factor out the RBI scored from homers, the Cubs are only hitting .223 with runners in scoring position. No team can contend with an average like that.
Hitting slumps are certainly common, but when Maddon elects to play a guy like Daniel Descalso (who's hitting a whopping .186) in crucial games and during critical times, you can't expect to generate a ton of offense. Maddon also tends to bury Descalso deep in the order (what else can he do?), but he's essentially giving away two-thirds of an inning between Descalso and the pitcher's spot which isn't conducive to scoring runs.
The Cubs have changed pitching and batting coaches more frequently than people change their underwear, yet nothing has changed the outcome. Sometimes the truth hurts, but it's becoming increasingly clear that the problem lies with either the players or the management at this point.
Jesse Rogers made an insightful comment the other day on ESPN 1000, he said, "It may be time for Joe Maddon to put down his velvet hammer and start using a sledge." Great idea, Jesse, but I don't see it happening, at least not with Maddon at the helm.
Brace yourselves: Maddon might be gone
The Cubs aren't likely to give Joe the heave-ho in July (though it may not be the worst thing) but don't look for him to be with Chicago next year. The Cubs haven't offered, Joe hasn't asked, and if you can't read the writing on that wall, well, then I'm not sure what else I can say to make you understand. The two names being floated the most as possible replacements are Joe Girardi and David Ross, each of whom are in the final year of broadcast deals.
Maddon likes to be a guy's guy, a friend to his players, someone who's very passive in the face of adversity, but this approach doesn't always work and isn't helping matters now. Joe has the wonderful ability to coddle a team, and while that may have worked up through 2016, it hasn't worked since.
These guys need someone who can (and will) crack the whip, someone who'll motivate them, someone, to call them out when they screw up, and Maddon isn't that guy. If the Cubs had a bench-coach with experience (Brandon Hyde), a mid-season firing wouldn't be out of the question, but there sits Mark Loretta with minimum experience as a bench coach, and much less as a manager.
I'd hate to think Maddon has taken on a poor attitude about the team, now that his future with the Cubs looks bleak, but based on some of his recent game decisions, I'd either have to think that he just doesn't give a damn anymore, or that he's absolutely lost his mind (neither thought is pretty).
"Cubs need a solid leadoff man"
I had someone on Twitter ask me to write an article addressing the Cubs' need for a leadoff man, but I don't think Kyle Schwarber is doing a lousy job. Going into Wednesday night, Schwarbs had 47 games as the leadoff man and slashed .244/.321/.536, but also grabbed a total of 21 walks in that spot, as well as delivering four sac-flies. The only downfall is that his strikeout rate in the leadoff spot stands at 29%, but Kyle has also produced 13 homers, eight doubles, and a triple.
The Cubs had the golden ticket for a bonafide leadoff man with Carlos Gonzalez, but much like the Indians, the Cubs failed to use him properly (in the leadoff spot), costing the Cubs runs and Gonzalez another DFA. Daniel Descalso was never the answer there, and no one else on this team has done as well as Schwarber (Ben Zobrist could have, but his head was understandably elsewhere).
I think the concept of focusing on a dedicated leadoff man is overrated, as every inning usually bears a new "leadoff" man unless the team can bat nine men per inning. Sure, there's someone out there who can do the job well consistently, but finding him is a matter of trial and error, and at this point, the Cubs can't afford to trade the farm on a "maybe."

Tags: Cubs Baseball
,
,
Daniel Descalso
,
Addison Russell
,
Robel Garcia
,
Adbert Alzolay
,
Mike Montgomery
,
Kyle Ryan
,
David Ross
,
Kyle Schwarber
,
Ben Zobrist
,
Joe Maddon
,
Brandon Hyde
,
Theo Epstein
,
Mark Loretta