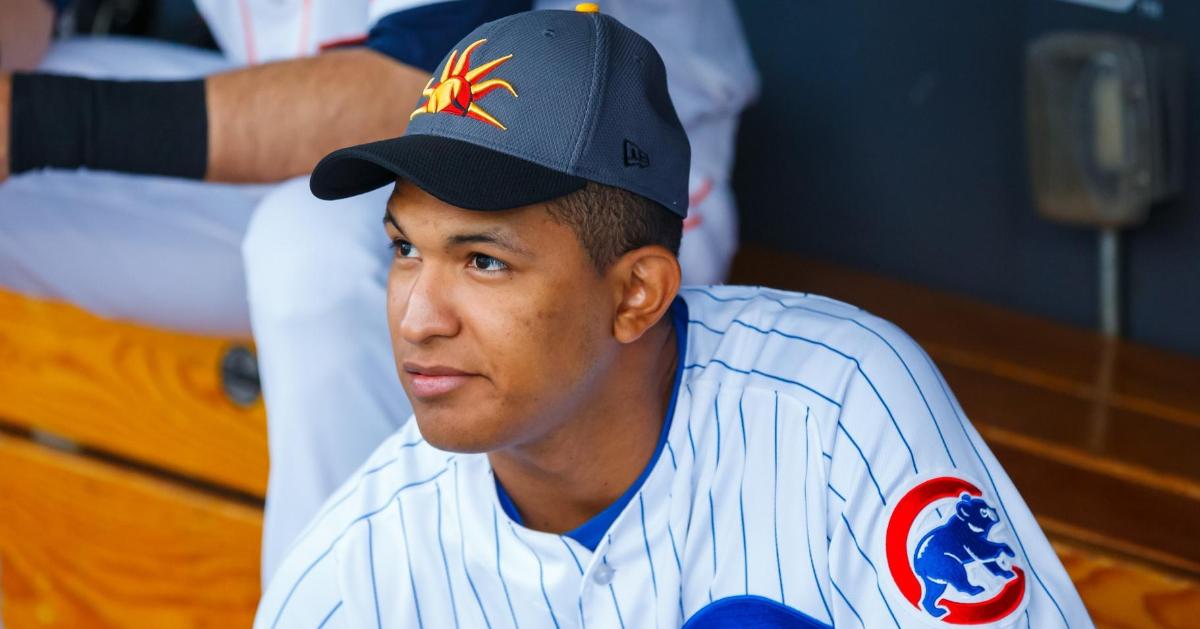 | | |
| --- | --- |
| Potential starters who could solve Cubs bullpen puzzle | |
---
Last season was a season of transition for the Cubs bullpen as they appeared to go through more relievers than any other team in baseball. With Kyle Ryan, Steven Cishek, Brandon Kintzler, Tyler Chatwood and Pedro Strop as the lone five that opened the season on the opening day roster and finished on the opening day roster, the Cubs certainly had a revolving door of some sorts throughout the first four months of the season.
From Mike Montgomery, Tony Barnette, Xavier Cedeno, Tom Collins, Allen Webster, Randy Rosario, James Norwood, Dillon Maples and Duane Underwood among players that the Cubs hoped could hold down the fort, only Underwood showed promise of someone who could hang around long term beyond last season. Chicago did however find a few diamonds in the rough in Rowan Wick and Brad Weick as both signed minor league deals last off season only to find themselves as go to men down the stretch.
Now with the team preparing for 2020, it appears the Cubs have five of their bullpen spots locked up for next season, leaving most likely three spots needing to be filled come spring or before opening day 2020. Ideally, Will Harris would be a lovely addition in the free-agent market. Still, I don't see the Cubs forking out any significant amounts of cash to improve the team outside the organization. That means Chicago will be looking to develop within and outside of a few minor names that have already been inked, where will that help come from.
The most logical answer would be both Norwood and Maples if either one of them could show signs of consistent control at the MLB level. Norwood is armed with a high 90's heater and has no trouble blowing hitters away. His only issue is no real secondary pitch allowing hitters to sit dead red on his heater. Maples has one of the filthiest sliders in the game, but with no real command of his 96 mph heater hitters can sit on the slider making it very easy to take.
With those two seeing big league time and most likely heading to the minors again, the Cubs may have to get creative in terms of relief help and potentially change some starters too relievers much like they did with Underwood whom has looked a lot better with his new role. After losing Michael Rucker via Rule 5 draft, and former Iowa Cub Pierce Johnson signing with the Padres, the Cubs are now looking for new players whom could benefit from a change in scenery from the starting role to relief option.
One pitcher who already did that mid-way through the year was Iowa right hander Matt Swarmer. Last season, Swarmer started the year as the NO. 4 in the rotation, but was moved to the pen once Alec Mills was healthy and Tyson Miller was promoted to AAA. With Mills and most likely Colin Rea opening on the big league roster, Swarmer is bound for the rotation again, but is that his best spot?
After earning the 2018 minor league pitcher of the year award, Swarmer was walloped last season, taking major steps back. Given his high home run rate, Swarmer may be a terrible option for relief, but his deception mixed with a swing and miss slider may be enough to try him for a few weeks to see how he would do long term. Among pitchers who threw at least 50 innings last season, Swarmer ranked sixth in swing and miss percentage, higher than both Michael Rucker and Underwood. With how difficult right-handers pick the ball up off him, he could be used as a righty specialist long term.
Another arm to look at is lefty Justin Steele. After rising through the Cubs system as a potential middle to front line starter, Steele has been slowed with injuries the last few seasons and has the Cubs wondering if he can stay healthy long term. That question right there should be enough to move him to the pen to lighten his workload.
On paper, Steele has all the makings of a legitimate starter featuring a mid-90's heater, decent changeup, and put away slider that makes life miserable for left-handers. However, with all the injuries he has sustained as of late, his development on his secondary pitches has been slowed down, which has the Cubs in an interesting position going forward.
The Cubs would love him to start, given that he is a left-hander which is something the Cubs will lack soon. However, should the injuries question continue to resurface, Steele will most likely be heading to the pen where he could be a version of Mike Montgomery. Should the Cubs be able to not only keep him healthy but use him as a swingman or matchup type of lefty, they could have a valuable weapon come 2021 and beyond.
Another injury-prone pitcher whom may be headed to the pen if he can't stay healthy is No. 2 pitching prospect Adbert Alzolay. This wouldn't have been a question two seasons ago, as Alzolay was viewed as the ace of the future for the Cubs staff. Since then, he has suffered two arm injuries, one to the shoulder and one to the elbow that has sidelined him nearly if he has pitched, leaving major concerns about his durability.
I get that the Cubs have put a lot into Alzolay and want him to start long term, but when a player has constant injuries (Brandon Morrow) a move to the pen is generally the best option. Although a limited sample size last season, Alzolay did make three relief appearances for the Cubs along with his two starts. Looking at the numbers, Alzolay was much better in relief than as a starter, which is why I would also look into this move.
He not only has the fastball to put hitters away but has a great change-up with an improving curveball to give him a solid three-pitch mix. Yes, Alzolay is still figuring things out in terms of pitch mix, but if he can be counted on to provide you with 3-6 or even nine outs depending on the situation, why not go with him. If worst comes to worst and he struggles in that role, you can always move him back into the rotation and see if he can get healthy. As of now, I like him in a relief role until he can prove he can remain healthy.
With these three as my top candidates to move from the rotation to the pen, the Cubs will have plenty of decisions looming regarding the future of their pitching staff. Other names that are starting to come into consideration are Erich Uelmen, whom already has bounced from rotation to pen at times, Cam Sanders who was solid as a starter, but had trouble getting through five innings, and Jack Patterson who may have impressed as a starter in the minor league system last year, but the pen appears to be his better role long term.
Also, keep an eye on last year's third-round pick Michael McAvene who may be the closer of the future. Yes, he did start a handful of games for Eugene's previous season, but when you look at those starts, only one time did he go beyond two innings. That to me right there tells you that the Cubs view him as a reliever long term, and how could you not when you see his stuff on tape. His 98 plus mph heater mixed with a breaking ball that makes lives miserable gives me the impression that they will mold him as the team's future closer. With Kimbrel on the hook for two possibly three more years, keep an eye on McAvene to see if that is indeed that plans for him moving forward. This season will give us a great view of that, depending on where he is assigned and how he is used.

Tags: Cubs Baseball
,
Kyle Ryan
,
Brandon Kintzler
,
Tyler Chatwood
,
Pedro Strop
,
Mike Montgomery
,
Tony Barnette
,
Xavier Cedeno
,
Randy Rosario
,
James Norwood
,
Dillon Maples
,
Duane Underwood
,
Rowan Wick
,
Dakota Mekkes
,
Pierce Johnson
,
,
Tyson Miller
,
Colin Rea
,
Michael Rucker
,
Justin Steele
,
Adbert Alzolay
,
Brandon Morrow
,
Cam Sanders