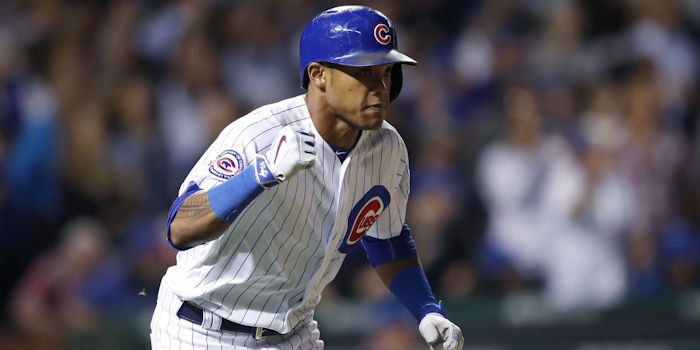 | | |
| --- | --- |
| Cubs News: Rebuilding for 2019 Part 2: The Demolition continues | |
---
| | | |
| --- | --- | --- |
| Friday, October 5, 2018, 8:45 AM | | |
Yesterday, in part one of this series, I covered the coaches and free agents that would most likely be parting ways with the Cubs. Today we start gutting the structure, trimming away the players who, although still under contract, have become dead-weight and financial liabilities to the team.
Shall we?
Tyler Chatwood: While many speculate the Cubs will stick by Chatwood over the next two years, I just don't see it. He hasn't made an appearance in over a month, as he can't be trusted in any situation. The Cubs will inevitably end up eating the remaining $25.5M that Chatwood is owed, as he has zero trade value, but that will be the price they pay in order to open up a roster spot.
Ian Happ: A phenom-flop, Happ was supposed to be the successor to Ben Zobrist, when Ben finally hangs up his cleats (presumably after 2019). The fact that Happ plays six positions doesn't mean that he plays any of them well, and his dismal .233 batting average is only accented by his 43.2% strikeout rate. While Happ has minor league options remaining and is under team control for another two years, Happ has significant trade value and will be utilized as trade bait in order to either obtain pitching help or a free agent slugger. Happ's salary for 2019 will be $570K.
Addison Russell: If a slumping bat, perpetual injuries and increasing errors weren't enough to let Russell go, being found guilty on Wednesday by an MLB investigation into allegations of domestic violence will be. Russell's contract expires this year, and with the 40 game suspension that he just received (retroactive to 9/21/18), Russell will miss approximately 18.5% (30 games) of the 2019 season. I think the Cubs have been on the fence for a while over Russell's decrease in productivity, and missing a chunk of 2019 will be the straw that breaks the camel's back. Parting ways with Russell will save the team a minimum of $3.2M, as Russell is due for arbitration.
Brandon Kintzler: The Cubs have a team option for Kintzler in 2019, but it'll cost them $10M. Kintzler had an exceptionally rough transition to Chicago from DC, and unfortunately, he just never gained his footing. Scattered, solid appearances were marred by hits and runs given up by Kintzler in high-leverage situations, leaving him with an ERA of 7.00 for 18 innings of relief work as a Cub. I have become acquainted with Brandon's dad, and I know first-hand, that Kintzler wants to stay in Chicago. While Kintzler would be likely to improve in 2019, the Cubs will not risk $10M on him.
Brian Duensing: At (almost) age 36, Duensing has nine years in the league, and the wear-and-tear is beginning to show. While Duensing has a lifetime ERA of 4.19, his ERA over his two years as a Cub is over five. Through 62.1 innings last season he was able to maintain a 2.74 ERA, but the wheels fell off this year, finishing with a 7.65 ERA over just 37.2 innings. With a 5.20 ERA over exactly 100 innings of work for Chicago, the Cubs have better options at hand. Duensing's 2019 salary would be an additional $3.5M.
Mark Zagunis: Although he's had very limited playing time, Zagunis has failed to leave any sort of indelible mark when he was given the opportunity. No contractual hassles, and no DFA necessary, as Zagunis had a one-year contract which expired as of the close of the season yesterday. The Cubs are rich in outfield help, and Zagunis' .105 career batting average makes him useless off the bench. Zagunis' salary for 2019 would be $545k.
Kyle Schwarber: Of all the names on the potential hit-list, Schwarber is the last guy that I'd want to see traded. MLB named Schwarbs as the most improved Cubs player of 2018, and he'll only get better. It's no secret that the Cubs will be pursuing Bryce Harper and pitching help this off-season, and Kyle, unfortunately, makes for good trade bait, lessening the cost of potential free agent signings. While eligible for arbitration prior to the start of next season, Schwarbs' one-year contract (2018) makes parting ways cheap and easy for the Cubs. If he goes, my guess is that he goes to an AL team as a potential DH. Schwarber would make no less than $604.5k in 2019, as he, too, is eligible for arbitration.
Stay tuned to CubsHQ, as tomorrow I start covering player retention and what it will likely cost the Cubs to keep the players worthy of wearing a Chicago Cubs' uniform.