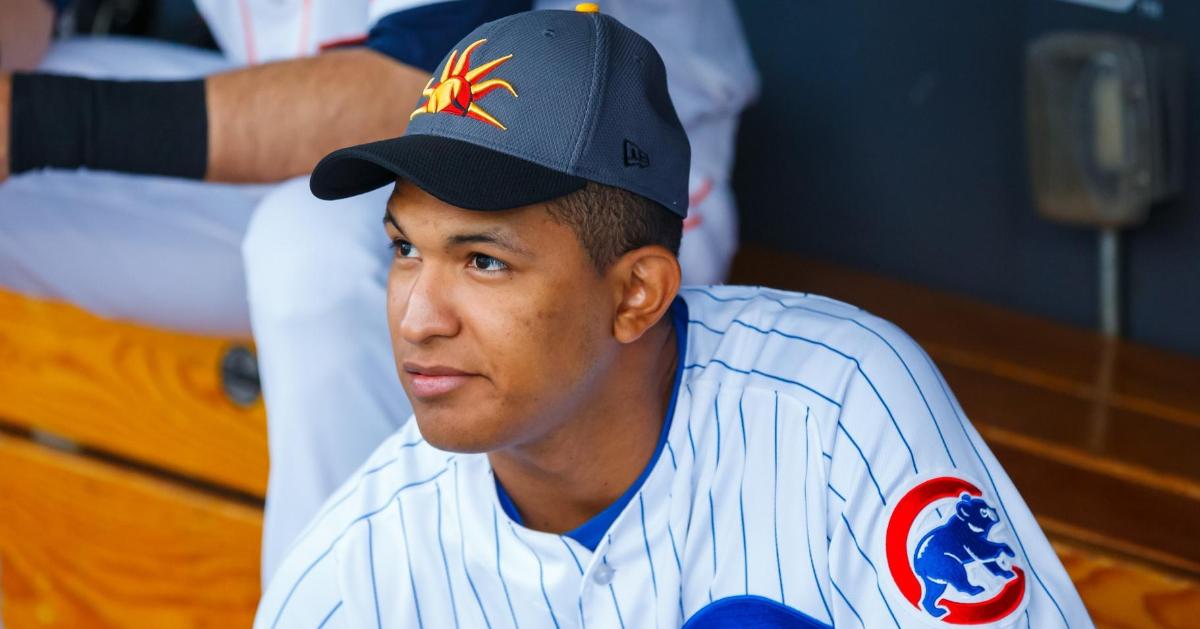 | | |
| --- | --- |
| Season in Review: Iowa Cubs | |
---
It was a magical year for the Iowa Cubs in 2019, as they not only managed to make the playoffs, but managed to take home their first division title since the 2009 season before bowing out 3-2 against Round Rock in the first round.
Iowa did, however, go through some tough times with most of those occurring around the all-star break and end of the season. Despite that, the Cubs were always able to recover as they finished the season 75-65 to win the division a full six games ahead of second-place Memphis.
Perhaps the team that benefitted the most from Iowa this season was the Chicago Cubs as every week it seemed as if someone new was being promoted to the show. Offensively, Robel Garcia, Taylor Davis, Mark Zagunis, Ian Happ, Jim Adduci, Addison Russell, and Carlos Gomez all spent time in Chicago while spending tons of time in Des Moines also.
Pitching was the same way for Iowa as if it wasn't for their plethora of arms, who knows what would have happened to the Cubs pen. In total, Danny Hultzen, Allen Webster, Brad Wieck, Rowan Wick, Kyle Ryan, Tony Barnette, Randy Rosario, Carl Edwards Jr, Dillon Maples, James Norwood, Tim Collins, Xavier Cedeno, Alec Mills, and Adbert Alzolay all spent time in both Iowa and on the North Side as they looked to solve what was a horrid bullpen situation.
With such a large chunk of their roster bouncing back and forth, one might find it hard for a team to have that much success as every day it seemed like someone was coming and going. Part of the reason for the Cubs' overall success was plenty of breakout performances, but none was better than what Colin Rea displayed on the mound.
Signed as a minor league free agent in February, Rea quickly became the Cubs ace and never looked back. In 26 starts, Rea went 14-4 with a 3.95 ERA. His 14 wins ranked him in the top three in the Pacific Coast League while his ERA was the best in the entire league. He will be an exciting player to keep an eye on moving forward into next season.
Alzolay was another pitcher who started to come into his own before another arm issue forced him to miss over a month of action. In 15 starts with Iowa, Alzolay went 2-4 with a 4.11 ERA but had a stretch in which his ERA was a sub 2.00 which earned his callup in June. Mills was the same way posting a 6-4 record with a 5.11 ERA. However, a month straight of good pitching allowed Mills to get the call where he continued to deliver for Chicago through the end of the season.
One name that burst onto the scene in 2019 was Wick who quickly became an MVP in the Cubs pen. In 27 games for Iowa, Wick posted a 1.80 ERA with six saves and a 9BB/44K ratio. He then went on to become one of the most trusted arms in the back of the Cubs bullpen as Joe Maddon used him in plenty of high leverage situations.
Ryan is another arm that the Cubs may not have to look far at signing for next year. Although he only tossed one game for Iowa, Ryan became the lone lefty in Chicago that the Cubs could trust out of the pen as he pithed himself into a future MLB contract with someone in 2020.
Offensively for Iowa, the Cubs produced at a high rate with Garcia stealing the show. The former Italian League start burst onto the scene this season by hitting a 281, 21 homers and 52 RBIs. Couple that with his AA numbers and Garcia finished the year with 27 homers, 31 if you count his four big-league bombs as that was the high number in the Cubs Minor league system.
Trent Giambrone also had an impressive year for Iowa despite hitting just 241. He not only led the team with 23 HRS but drove in a team-best 66 RBI's as terrific spring training translated to success with Iowa. Dixon Machado was another player who had a breakout season before suffering a late-season injury to derail his campaign. His .261 average was not to bad, but an increase in power with 17 homers and 65 RBI's made him the top choice to fill in for Baez late in the year until he got injured himself.
Perhaps the best all-around hitter for Iowa this season was the savvy 10-year minor league vet Adduci. After playing for Iowa in seasons past, Adduci returned to the Cubs and delivered a solid campaign. He finished with a team-best .301 average to go with 12 hrs and 58 knocked in. Not to mention a 15-game hit streak and 23 game on-base streak midway through the season got him going and you can see why he was trusted all season.
Phillip Evans was another surprise in the Cubs system who may have landed himself as trade bait with a shot to make a big-league roster somewhere else in 2020. His .283 average was great, to begin with, but you add that with 17 homers and 61 RBIs, and it shows you the potential he brought to the table.
All in all, Iowa had a great year that was filled with plenty of excitement. Even though they were a AAA team, it seemed more like a big league roster this season as so many moving parts bounced from Chicago to Iowa all season. I don't expect that to happen as frequently next season as the Cubs front office will have a busy offseason. However, I do expect a lot of these players back in Iowa for 2020 as they look to make it two division crowns in a row.

Tags: Cubs Baseball
,
Robel Garcia
,
Taylor Davis
,
Mark Zagunis
,
,
Jim Adduci
,
Addison Russell
,
Rowan Wick
,
Kyle Ryan
,
Tony Barnette
,
Randy Rosario
,
Dillon Maples
,
James Norwood
,
Xavier Cedeno
,
,
Adbert Alzolay
,
Colin Rea
,
Trent Giambrone
,
Dixon Machado
,
Phillip Evans
,
Joe Maddon