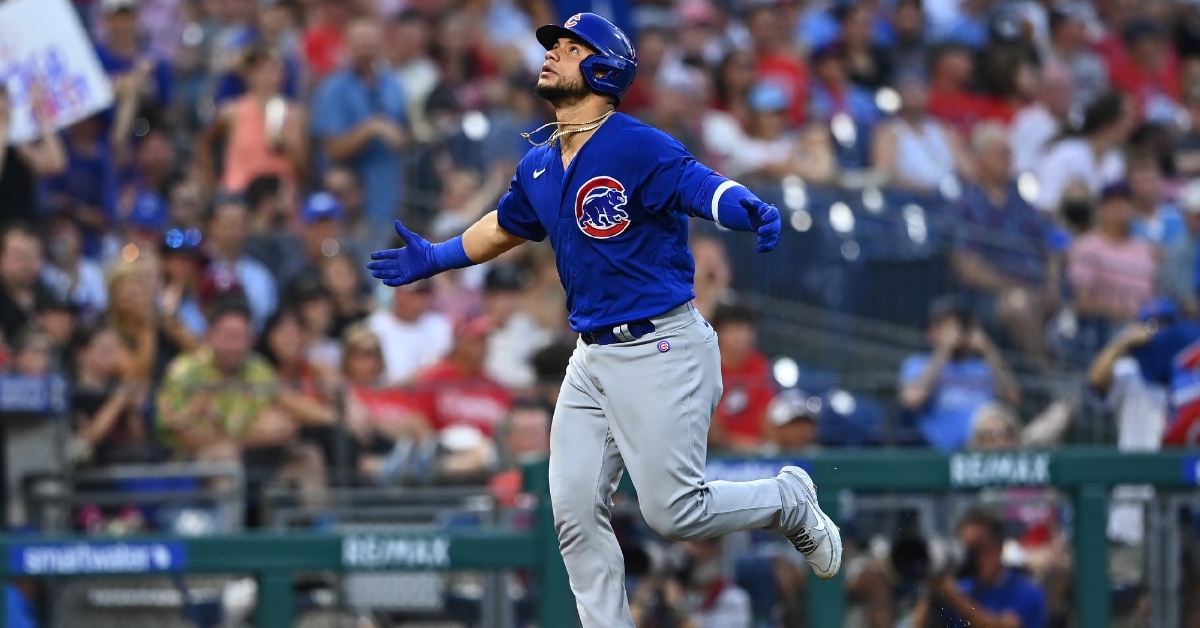 | | |
| --- | --- |
| Season Report Cards: Cubs Catchers including Willson Contreras | |
---
| | | |
| --- | --- | --- |
| Friday, October 7, 2022, 12:00 PM | | |
Now that the Cubs 2022 season is over, they can begin to focus on what could be an interesting and exciting offseason. Not only is this a team coming off a better season than what many expected, but they have a boatload of money to spend. Mix that with an ever-improving farm system with several blue-chip prospects, and the Cubs could return to greatness sooner rather than later.
Over the next few weeks, we will take things position by position and grade out how each position fared. Today we start with the catcher position, which was in much better shape this season than in 2021. After using an MLB record nine catchers in 2021, the Cubs got through the season with only three, and all three saw significant time on the field.
One of the biggest questions the Cubs will have to face this offseason is what to do with Contreras. The long-time Cub is hitting free agency for the first time, but Chicago still has the option to hand him a qualifying offer. Do I see him accepting that offer? No, but at least more effort could be made this offseason.
Contreras ranks in the top three in every catching category in Cubs history and continues to put together great seasons. His average was way down this season at just .243, but he still connected for 22 homers and drove in 55. Those numbers will not be easy to replace should he move on, and his arm is second to none.
Grade B-: Contreras will still produce from an offensive side of things as he continues to be one of the more durable catchers in the game. His problem has always been on defense, which seems to worsen as he gets older.
Another issue he has been having is a decreasing average hovering around .250 the past few seasons after always sitting around .270. Someone is going to pay him 20 million a year, but that someone will not be the Cubs, as he could be the final piece of the old core to leave the Northside.
Last season, the Cubs not only had no dependable backup catcher, but given their injuries, had no backup catcher at all. Looking to avoid using nine catchers this season, the Cubs invested in the backup catchers market last offseason and brought in Gomes.
Known for his excellent pitch calling and relationship with pitchers, Gomes proved exactly what the Cubs needed behind Contreras and did everything you would expect a backup to do. His average wasn't the best at .235, but his eight homers and 31 RBIs prove he can produce when given an opportunity.
Grade C: Gomes will not be an elite catcher, but he is durable and gives you exactly what you would expect from a backup. With the Contreras situation expected to linger until a final decision is made, Gomes could be coming into camp next year as the team's No.1 catcher.
Not ideal from an offensive side of things; there are far worse options than that. Whatever decision Contreras chooses to make will drastically affect how the Cubs address the catcher situation next season.
PJ Higgins
With the Cubs staying primarily injury-free at catcher most of the year, there wasn't really an opportunity for anyone else to come up during the season. However, Higgins made the most of it when given a chance as he replaced Gomes early in the season when he got hurt and forced his way to stay on the roster the rest of the season.
A big reason for that is his defensive versatility as he can play 1B and 3B along with catcher. Primarily playing first base by the end of the year, Higgins needs to be ready to catch more in 2023 if he is the backup when the season ends. With a .229 average this season to go with six homers and 30 RBIs, Higgins showed some potential but just lacked consistency.
Grade C-: It is hard to put an accurate grade on Higgins mainly because no one knew what to expect from him. An excellent hitter across his minor league career, Higgins showed flashes of that this season, but cooled off as the season went on.
Not knowing what next season brings, look for Higgins as the backup catcher, regardless of the situation. He is serving as a placeholder until guys like Miguel Amaya and Moises Ballesteros are ready to come up and live out their dreams.