| | |
| --- | --- |
| Series Preview and Prediction: Cubs vs. Brewers | |
---
| | | |
| --- | --- | --- |
| Monday, April 12, 2021, 2:07 PM | | |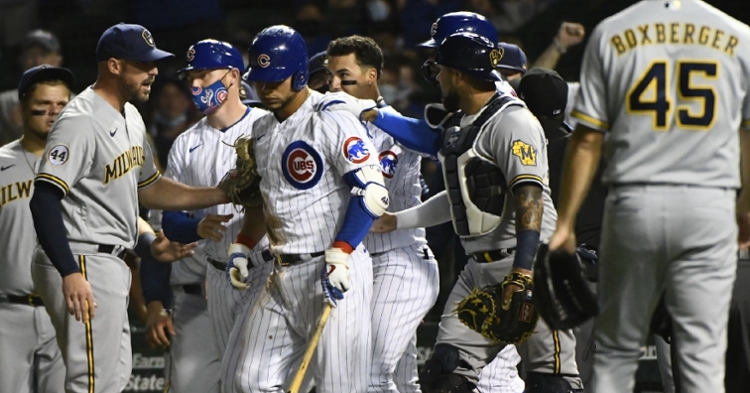 Following consecutive series losses at the hands of Milwaukee and Pittsburgh, the Cubs will continue their six-game road trip on Monday as they take on the Milwaukee Brewers for the second time in a week. Last week at Wrigley, the Brewers managed to take two of three from the Northsiders, silencing their bats most of the series.
That seems to be a common trend thus far this season, as the Pirates did the same thing to them this weekend. So far, the Cubs rank near the bottom of MLB in virtually every single offensive category, and that doesn't bode well going up against a pitching staff that ranks near the top in a lot of categories. Will the Cubs offensive woes continue, or will they finally wake up the sleeping bats and get their offense going.
Monday, April 12, 6:40 p.m. on Marquee Sports Network: Adbert Alzolay 0-1, 7.20 ERA vs. Freddie Peralta 1-0, 0.00 ERA
Making not only his second career start against Milwaukee but the second start of the season against them, Alzolay is hoping for better luck this time around. He surrendered four ER in five innings of work last time, with all four runs coming via the long ball. Three of those runs came in the first inning as he was able to settle in and make some adjustments.
That will be the biggest key for him this season as he looks to prove he deserves a spot in the rotation. Alzlolay has shown signs of being the dominant pitcher the Cubs thought he would be but at the same time has struggled to do that consistently. He needs to continue improving and adjusting from one start to the next to reach the level they expected him to for several years.
On the other hand, Peralta is hoping not to change a thing from his last outing as he held the Cubs hitless through four innings and shut them out in his only start this season. Since debuting in 2018, only Chris Sale, Gerrit Cole, and Max Scherzer have more strikeouts per nine innings than Peralta as he comes into his start with an impressive 12.3 K/9. Peralta did walk some batters early last time out but managed to make some adjustments on the way and dominated the Cubs. Chicago needs to capitalize on him earlier this time, especially if he is wild if they expect to have a chance.
Check out Monday's lineup for the Cubs
Tuesday, April 13, 6:40 p.m. on Marquee Sports Network: Kyle Hendricks 0-1, 3.00 ERA vs. Brandon Woodruff 0-0, 2.45 ERA
Talk about a difference in two starts; Hendricks was back to his old self last time out, allowing zero runs in his six-inning no-decision last time out.
However, that shouldn't come as a surprise as Hendricks twirled a 1.08 ERA against them last season and has pitched to a 2.65 ERA since the beginning of 2019 against this Milwaukee club.
The thing that was drastically more noticeable last time out was that Hendricks was able to keep the ball down and limited the hard contact. That allowed him to get through six innings allowing just one walk to go with four hits as he kept Christian Yelich in check once again. That will be the key on Tuesday as Yelich is nursing some back pain and may not be 100%.
Speaking of strong starts last time out, Woodruff was dialed in against Chicago, pitching one of the best outings of his career. Not only did he allow just one hit through seven shutout innings, but he held them hitless through six innings needing less than 60 pitches to get through six. Unfortunately for him, a Joc Pederson eighth-inning homer of Devin Williams handed him a no-decision, but it was a great start nonetheless.
Those are the kind of starts Milwaukee fans are getting more accustomed to with Woodruff, especially against a free-swinging team like Chicago. Known for his high 90's heater, Woodruff at times goes with nothing but heaters as long as they work. Chicago will have to come ready to hit, or it could be a long day once again.
Wednesday, April 14, 12:40 p.m. on Marquee Sports Network: Jake Arrieta 2-0, 2.25 ERA vs. Corbin Burns 0-1, 0.73 ERA
Of all the pitchers in the Cubs rotation, Jake Arrieta has been the most impressive getting off to a 2-0 start. Granted, both of those outings came against Pittsburgh, but it has been the way Arrieta has pitched that has stood out.
Not the hard-throwing overpowering strikeout man anymore, Arrieta is starting to reinvent himself as a pitcher going to a ground ball pitch-to-contact approach. That has worked against a team like Pittsburgh, but can it work against a better hitting Brewers lineup. Even with guys like Yelich and Lorenzo Cain posting good numbers off him, Arrieta has still fared well against Milwaukee, going 4-1 with a 2.67 ERA in seven career starts against them.
Chicago is 5-2 in games he starts vs. the Brewers.
Opposing him will be Corbin Burns, who could be a sleeper Cy Young candidate this season. Despite his 0-1 mark through two starts, Burns is the first pitcher in MLB history to deliver two consecutive starts of six innings or more, allowing one hit and no walks. Only two other pitchers have even done that in relief, and one is named Cy Young.
Burns has always had the stuff to be great, and many thought he had the potential to be the best starter on the Brewers staff. With no walks and 20 punchouts through two starts, he is starting to show that, and given the Cubs offensive struggles as of late, could this be three straight starts of that caliber.
Burns has no trouble striking out Cubs hitters but has had trouble getting past the fifth inning as the long ball has hurt him against this team. David Bote, Jason Heyward, and Pederson all have averages of 333 plus against him, and five hitters in the lineup have taken him deep at least once in their career.
Prediction -- The Brew Crew with the sweep
The once one-sided rivalry in the Cubs favor has gotten much more balanced in recent seasons, with the Brewers having the upper hand the last few years. So far, that is the case again this year as Milwaukee pitching continues to give the Cubs fits.
Going back to last season, no team has struggled to hit the fastball more than the Cubs, especially when the velocity sits at 95 MPH. Milwaukee will be throwing three guys at them who all can touch 97 MPH. Couple that with an offense that has twice as many strikeouts as hits at this point in the season, and it could be a long series.
David Ross continues to believe in this offense and put faith in them to get back on track. Kudos to him, but at some point, you must face the facts that they are not a good hitting team. Given their struggles this season, their struggles against Milwaukee pitching, and their inability to hit high velocity, I like Milwaukee's chances to sweep the Cubs, putting them in a difficult position with a tough series coming up.