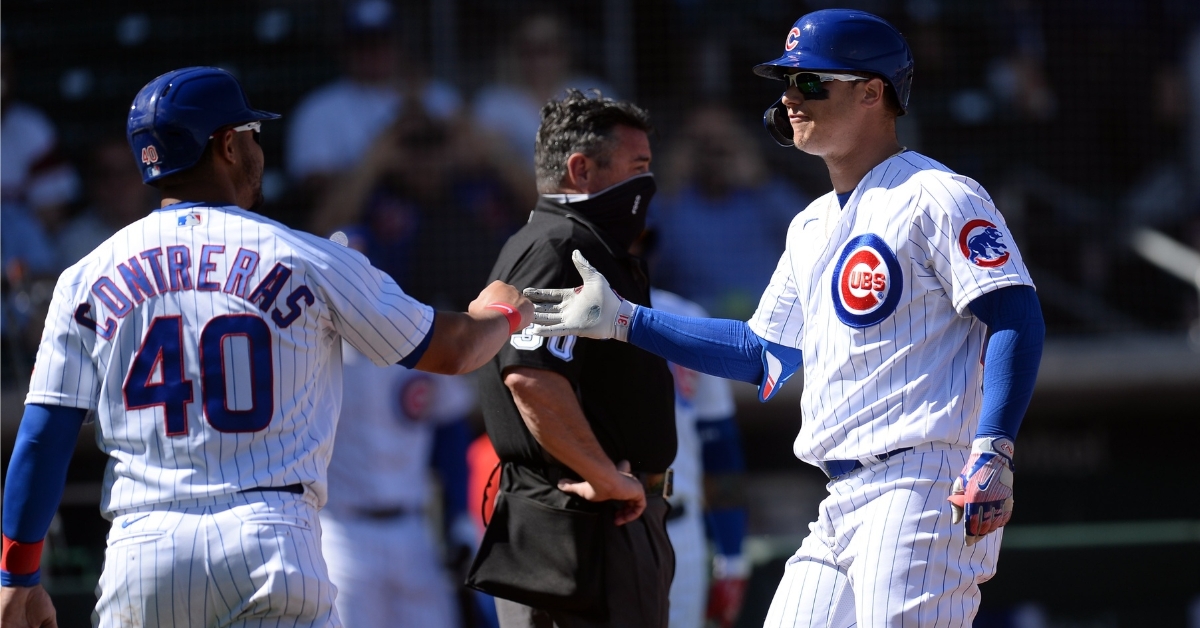 | | |
| --- | --- |
| Series Preview, TV info, and Prediction: Cubs vs. Brewers | |
---
The Cubs continue their 10-game road trip with a three-game set at Wrigley North against the first-place Milwaukee Brewers. You heard that right. Given the recent poor play from the Cubs and compare that to the Brewers being the hottest team in the NL Central, they have not only surpassed the Cubs in the standings but have opened some distance leading by three games.
Chicago has some work to do to reel in Milwaukee, but this would be a great series to just that. This is also a massive series for Milwaukee as they will be sending their three best pitchers at the Cubs offense, who continues to struggle. If things go south, the Brewers could be looking at a six-game lead in the division while the Cubs may be hinging on the verge of selling at that point. Regardless, there is a lot to play for this week, and look for this series to be a playoff-type atmosphere.
Monday, June 28, 7:10 PM CDT on Marquee: (Kyle Hendricks 10-4 3.84 ERA 70K vs. Freddie Peralta 7-2 2.11 ERA 114K)
Looking to play stopper once again will be the Cubs ace, Kyle Hendricks, as he continues to do his thing. Not only has he quietly become one of the league leaders in wins, but he has done so by winning eight consecutive starts for the longest winning streak of his career.
Hendricks has continued to look like Hendricks during that time as he has posted an ERA in the 2.97 range across his last nine starts. While the home run ball has been an issue for him this season, he has found a way to overcome that and will need to do that again tonight. Keeping Kolton Wong and Christian Yelich in check will be the biggest key for him.
Don't look now but Kyle Hendricks has 10 Wins...tied for the most in MLB! #PSA

— Cole Wright (@ColeWright) June 23, 2021
One thing the Brewers do exceptionally well is pitch, and they have plenty. Peralta is just one of a long line of terrific starters posting ERAs under a 3.00 for the season. Outside of the run, Corbin Burnes was on to start the season, Peralta may be the most impressive starter of the bunch as he has finally lived up to his potential.
Armed with a fastball that sits in the 95-97 range, Peralta has gone with more off speed stuff this season, using both his change-up and curveball equally as much. That has helped him not only keep hitters off balance but has given him three strikeout pitches. Peralta is making his fourth start against the Cubs this season, and although he is just 1-0, he has looked great in every outing. Willson Contreras has the best numbers off him, and the Cubs will need him to continue that trend.
Tuesday, June 29, 7:10 PM CDT on Marquee: (Zach Davies 5-4 4.31 ERA 49K vs. Brandon Woodruff 6-3 1.89 ERA 111K)
In desperate need of a win, Davies picked the best time to have his best outing of the season, no hitting the Dodgers through six innings last time out. In that start, the Cubs had a no-hitter against the Dodgers, making that the first time in history that that has happened.
Much like Hendricks, Davies has been on a roll since the beginning of May, even though his results don't always show it. He was finally rewarded for a great start on Thursday even though he lived dangerously most of his outing. Davies continues to struggle with walks, and after walking five Dodgers, it is a miracle, he didn't allow a run. Davies is hoping a return to Wrigley North can lead to more success.
Zach Davies is the first starting pitcher since at least 1906 to post the following stat line:

– 6 IP
– 0 R
– 0 H
– 5 BB
– 4 K pic.twitter.com/jkv8glV7QY

— Marquee Sports Network (@WatchMarquee) June 25, 2021
Opposing him will be Brewer ace, Woodruff, as he continues to go about his business. Despite posting a 6-3 record, Woodruff hasn't been blessed with the best of run support as he continues to post a 1.89 ERA. Woodruff has been one of the best pitchers in the National League across the last three seasons, and he has emerged as a top-five pitcher this year.
While he has had a lot of success against the Cubs the past two seasons, this is one team that tends to get him out of the game earlier than most. Yes, his 98 MPH gives the team fits, but for some reason, the Cubs do a great job laying off his secondary pitches, which allow them to work the count. Only one player in this lineup has an average north of 200 off him, with that being Joc Pederson.
Wednesday, June 30, 1:10 PM CDT on Marquee: (Jake Arrieta 5-8 5.32 ERA 60K vs. Corbin Burnes 3-4 2.53 ERA 115K)
The weak link in the Cubs rotation over the past month has been Arrieta, and it hasn't been close. Not only has he struggled to win on the road, but across his past 10 starts, he has posted an ERA north of 7.00 after sitting at 2.57 in April.
Despite earning a no-decision on Friday night, Arrieta delivered a much-needed positive outing against the Dodgers as he allowed two earned runs in five innings. Not only was it the first time in four starts that he made it through five, but only the third time this season where he surpassed the 90-pitch mark. The command continues to be an issue for Arrieta, as does hard contact allowed. This will be his third start against Milwaukee this season, where he has had mixed results thus far.
Looking to climb back to .500 is Burnes, who is somehow 3-4 as a starter. We are talking about a guy who had 0BB and 52K to start the season while posting an ERA under 1.00 in the process. Unfortunately, since his brief trip to the IL with a blister, things haven't been as good for Burns as his ERA has risen nearly two runs, and he has gone 1-3 overall.
The most significant transformation for Burnes success has been harnessing his command and limiting the long ball. For the season, Burns has just 14 walks to 115 punchouts and has allowed a total of two homers. This is coming from a starter who averaged to allow two homers or more in most starts, including serving up four to the Cubs back in 2018.
Since then, whatever changes and adjustments he has made have worked, and Burnes has emerged as a Cy Young candidate in the future. The Cubs are hoping Jason Heyward and Ian Happ can continue their great numbers off him, but they will need to capitalize off him early, especially if he is on the ropes.
Prediction: FLY THE W
The Brewers have been the Cubs Kryptonite since the end of the 2018 season and have gone 6-3 against them so far this season. This will be the fourth series between the two teams where the Brewers have taken two of three each time. Chicago has struggled to hit their pitching in virtually every game, and the one team Milwaukee has been able to consistently hit has been this Cubs staff.
The way both teams have been playing the past two weeks could be a nightmare matchup for the Cubs that comes with terrible consequences should they get swept. However, the Cubs are due against this team, even if it against their three best pitchers. As nice as a sweep would be to bring the Cubs back into first, I can't see them beating these three pitchers in consecutive games. However, I think the Cubs find a way to take two of three to win their first series of the season and pull a game closer in the standings.