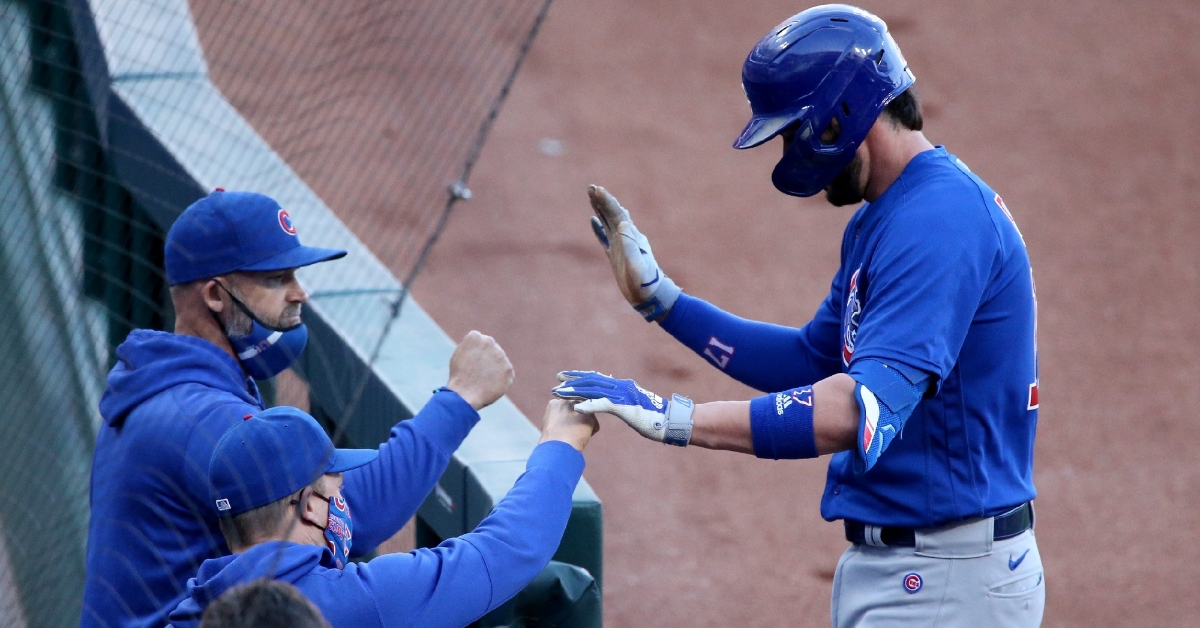 | | |
| --- | --- |
| Series Preview, TV info, and Prediction: Cubs vs. Cardinals | |
---
| | | |
| --- | --- | --- |
| Friday, May 21, 2021, 5:00 PM | | |
For the first time this season, the Cubs and Cardinals will renew their rivalry with a three-game weekend set at Busch Stadium. This is a massive series for both teams as the Cardinals could separate themselves from the rest of the division with a series sweep or win while the Cubs are trying to close the gap on the Red Birds.
The Cardinals are the best team in the Central Division, posting a 25-18 record and three games ahead of second-place Chicago, who is 22-21. A sweep for the Cardinals, and they will be taking a six-game lead into the end of May, which is a huge advantage. A sweep by Chicago, and suddenly you have two teams tied on top of the Central. It will be interesting to see what transpires as the Cubs haven't been good on the road this season, going back to that 2019 trend.
Friday, May 21, 7:15 CDT on Marquee Sports: Kyle Hendricks 3-4 5.27 ERA 38K vs. Carlos Martinez 3-4 4.35 ERA 22K
Hendricks continues to trend in the right direction as he seems to have turned the corner this season. After perhaps his worst month as a professional, Hendricks has rebounded nicely, posting a 2.70 ERA in his last three starts covering 20 innings. He has also struck out 17 hitters compared to just two walks as the Hendricks of old is finally coming back.
Even looking at his ERA, you take away his two terrible starts against Atlanta, and you have a guy whose ERA would be in the 3.3 range, and that would be very much looking like an ace. Hendricks has had tons of success against St. Louis in the past, including an 81- pitch complete game. Keeping guys like Yadier Molina, Nolan Arenado, and Paul Goldschmidt in check will be huge as they have crushed Hendricks.
Martinez will be returning to the rotation following a brief stint on the IL to nurse an ankle injury. This will be the first time he has faced the Cubs at Busch since 2019, as he bounced between starter and the bullpen last season. Martinez is coming off a rough outing in which he allowed five runs in five innings in his previous start. Before that, Martinez looked like an ace, once again posting a 0.84 ERA in three outings.
The Cubs are a team he knows very well and has had success and failures against him. There have been starts where he has pitched very well and starts where he has struggled to get through five. He does, however, keep the Cardinals in the game, which is crucial. Willson Contreras and Ian Happ are the two guys who see him the best in this lineup.
Saturday, May 22, 6:15 PM CDT on FOX and Marquee Sports: Adbert Alzolay 2-3 4.62 ERA 39K vs. Miles Mikolas 0-0 0.00 ERA 0K
Alzolay may not have been at his best on Monday, but he still held Washington to just three runs in five innings with all the runs coming off homers. That has been a problem for him in his recent outings as he has been serving up the long ball more than the Cubs would like. Fortunately, most of those homers have been either solo or two runs' shots, so he has been able to limit the damage.
Over his past four starts, which compile 22 innings, Alzolay has 22 strikeouts to his name and just two walks. This will be his second career start against the Cardinals, and a big start as this will be his first true test at solving a great Cardinals team. In a spot start last year, Alzolay limited the Cardinals to one run in five innings and hopes that continues Saturday.
Making his first start since the 2019 NLCS will be Mikolas, who is looking to return to 2018 form. After having surgery on his forearm last June, which forced him to miss 2020, Mikolas was slowed by a shoulder injury this spring but is finally ready to return. There is no indication of whether or not he will be on a pitch count, but he did throw six shutout innings in his rehab outing and looks good by all accounts.
The Cubs are one team he has done very well against, posting an ERA less than 3.00 in five career starts against them. However, outside of Anthony Rizzo and Happ, most of the Cubs struggle to make hard contact off him consistently. Chicago needs to continue their recent approach if they want to chase him early.
Sunday, May 23, 6:08 PM CDT on Marquee Sports and ESPN: Zach Davies 2-2 5.58 ERA 23K vs. Adam Wainwright 2-4 4.63 ERA 44K
Much like Hendricks, Davies has also turned the corner since the start of May, lowering his ERA by nearly three runs. Despite allowing three runs last time out in a no-decision against Washington, Davies has posted a 2.11 ERA this month, allowing seven walks and striking out nine.
The walk to strikeout numbers still is not that impressive, but Davies has been able to limit the damage this month, which has been crucial. His sudden stretch of success has seen him go back to throwing more changeups to keep hitters off his heater. The Cardinals are a team he does not fare well against, with Matt Carpenter, Molina, and Arenado all hitting north of 400 off him.
Opposing him will be the ageless wonder Wainwright, who elected to return for one more season after a great 2020. This will be the second consecutive nationally televised start for Wainwright, who wants to put his previous start well behind him. Not only did he allow six runs in three innings, but all six runs came via the home run.
That is becoming a disturbing trend if you are a Cardinal fan as he is allowing nearly two homers per nine innings which is the highest mark of his career. Wainwright has seen the Cubs more than any team in his career and has logged 51 career appearances against them, counting both as a reliever and starter. So far, Wainwright has gone 11-8 against the Cubs as a starter in his career while posting a solid 3.82 ERA.
He was 7-6 with a 4.47 at one point, showing that he has gotten better with age going 4-1 in his last seven starts against them while posting a sub 2.6 ERA. Up and down this Cubs lineup, and you can see the struggles of the hitters, especially to Kris Bryant and Rizzo. On the other hand, Happ has not struggled as he could be in line for a huge series.
Prediction: CARDS 2-1
The Cubs are fortunate enough to miss Jack Flaherty in this series, so kudos to them for that. Unfortunately, the Cubs face a scorching team right now and have a couple of pitchers who haven't faired well or have limited experience navigating this Cardinals team. This isn't a must-win series this early in the year, but the Cubs need to avoid a sweep at all costs.
Some of their big starts need to figure out how to hit Cardinal pitching consistently if they want to come away with a series win. However, I think Happ has a big series as he continues to trend in the right direction. The bottom line, this series is going to come down to the bullpens. I feel which the Cubs have done a great job with so far this year. I still think the Cardinals get the best of the Cubs the first time around and take this series 2-1.