| | |
| --- | --- |
| Series Preview, TV info, and Prediction: Cubs vs. Dodgers | |
---
| | | |
| --- | --- | --- |
| Monday, May 3, 2021, 1:01 PM | | |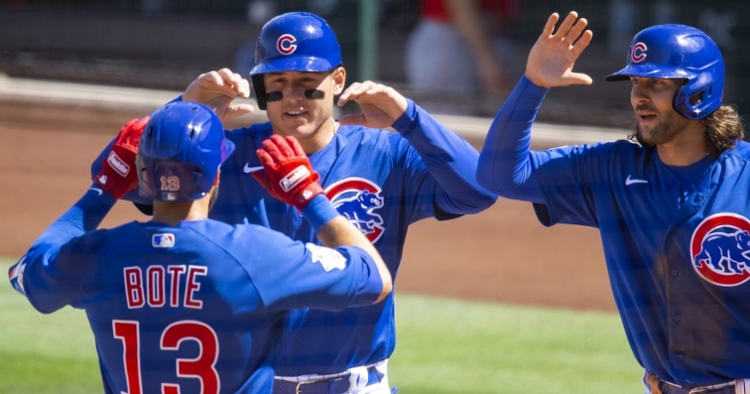 If you want to be the best, you must beat the best, and that is precisely who the Cubs will see to open this homestand. Despite a 17-12 record, the Los Angeles Dodgers have been the cream of the NL crop over the past four seasons, and there is a good chance they do it again this season.
A lineup constructed of high contact high power guys who can produce runs at a ridiculous clip mixed with a rotation that has three previous CY Young winners in it and two more potential Cy Young winners, and you can see why they are so hard to beat. Add in an improved bullpen, and this team doesn't have too many holes.
The Cubs are certainly going to have their work cut out for them as they will see three of the Dodgers top arms and will look to not only cool off a Dodgers offense that exploded yesterday but get the pitching to start delivering on the mound. These two teams have a rich history, especially during the playoffs in 2016 and 17.
For the most part, the Cubs held their own during the regular season, while the Dodgers seemed to have gotten the upper hand since 2019. We will see what is in store this week as the Cubs desperately need a series win. Here are the matchups fans will be on tap to see.
Monday, May 3, 6:40 PM CDT on MLBN, Marquee: Walker Buehler 1-0 3.16 ERA 31K vs. Kyle Hendricks 1-3 7.54 ERA 21K
The numbers say it all in this one as Buehler is going to be a tough customer. Coming off a start in which he struck out 10 Reds in 6 1/3 inning, Buehler also surrendered five runs in that game-ending a streak of four consecutive quality starts to open the year.
Armed with a 96-98 MPH heater, Buehler will make life tough on this Cubs offense as he can dominate them with his heater to set up his off-speed stuff. Buehler has seen some success against this team but has also pitched a couple of clunkers as the Cubs historically have attacked his heater early in the count. Look for that same approach here as Kris Bryant and Willson Contreras have seen the ball well off him.
Kyle Hendricks will be opposing him, and no one is happier to see the month of May besides him. He is coming off the worst April of his career and is still searching for answers to why he has struggled so much. His pitches are flat with little movement, and his mechanics are slightly off to the point where Hendricks can't figure out why.
Hendricks is also excited to see someone other than the Braves who tagged him for 14 ER in just 7 2/3 innings compared to the rest of the league getting 5ER off him in 15 innings. Not only does he bring his 2.65 ERA at Wrigley Field with him, but a 3.45 ERA against this Dodgers club which includes a 2016 NLCS game six win at this very park.
Twitter and the baseball writer-sphere wants to overanalyze Kyle Hendricks' problem. The problem is his 82.6% contact rate. Just saved y'all 1200 words and five useless gifs. You're welcome.

— Alex Sonty (@AlexSonty) April 29, 2021
Tuesday, May 4, 6:40 PM CDT on Marquee Network: Clayton Kershaw 4-2 2.09 ERA 39K vs. Adbert Alzolay 1-2 4.71 ERA 23K
Kershaw is going to go down as a first-ballot Hall of Famer but hasn't been as sharp as he once was in the past. That has changed this season as he is off to a great start and pitching like the previous CY Young winner he was a few seasons ago.
Take away a poor first start of the season, and Kershaw is looking every bit like the team's ace posting a 1.09 ERA in his last five starts, including a scoreless outing last time out against the Reds. While he has had success against almost every team, the Cubs are surprisingly the one team that gives him fits despite an above .500 record against them.
His ERA is north of 4.00 against this Cubs team, and several players in this lineup hit him hard and very consistently. Bryant, Contreras, Anthony Rizzo, and Javy Baez all hit above 400 against Kershaw, and it will be up to them to carry the team in this one.
Alzolay finally saw someone other than the Brewers last time out and was rewarded with his first win of the season. In that start, not only did he go a career-high in innings with six, but he threw a career-high 94 pitches, which was huge for his development. He walked one and struck out six as his command continues to get better with each start.
What is even more impressive has been that slider, as he has generated a 40.5 % whiff rate on that pitch while opponents are hitting a microscopic 114 off that pitch. For him to have the continued growth and success, the Cubs are expecting that pitch will be the biggest reason. This will be Alzolay's first-ever appearance against this Dodgers club, and he will have his work cut out for him.
Good morning my people , hope you guys a great start of the week ??????. "Never forget who you are"

— Adbert Alzolay (@adbert29) May 3, 2021
Wednesday, May 5, 6:40 PM CDT on ESPN and Marquee: Trevor Bauer 3-1 2.48 ERA 51K vs. Jake Arrieta 3-3 4.31 ERA 28K
As if the first two starters won't be tough enough, defending NL Cy Young winner Trevor Bauer takes the ball on Wednesday hoping to keep the party going for his team. Bauer may have been on the losing end of his last start, but he did give the Dodgers a 113 pitch eight-inning complete game as the bullpen got some much-needed rest.
Bauer is no stranger to this Cubs lineup, seeing them as a member of the Indians on several occasions before joining the Reds and seeing them plenty more. His overall record against this team is 5-2, but with a 1.95 ERA against them, runs will be hard to come by. Bryant and Rizzo are the only two hitters in this lineup with an average above 200 off Bauer.
Entering Friday's start with the Reds, Arrieta was posting a 2.57 ERA and was starting to look like the ace of this team. He then went on to lay a clunker and saw his ERA rise to 4.31 despite a 3-3 record. For the most part, Arrieta has been consistently solid this season, so there shouldn't be any lingering effects from that start.
Arrieta was also pitching through a cut on his thumb, which seemed to impact his pitches a lot. Not only does Arrieta have an ERA in the Mid-2.00 range at Wrigley, but he has been even better this season, posting a 1.59 ERA and 17K in his three home starts compiling 17 innings. Arrieta is very familiar with this Dodgers team, but they have hit him hard in the past.
Prediction: Dodgers win 2 of 3
On paper, you would think the Dodgers would roll into Wrigley and hand them an easy sweep. That is why the games are not played on paper as the Cubs have played the Dodgers tough in recent seasons. From a pitching and offensive side of things, the Dodgers are far superior to the Cubs, and Chicago will undoubtedly have their work cut out for them.
On the flip side, Chicago is sending a pair of pitchers to the mound who have seen some success against LA, so it may not be as easy as many think. I still think the Dodgers win this series 2-1, but it should be a highly competitive and potentially low-scoring series that will come down to a few key plays each night.