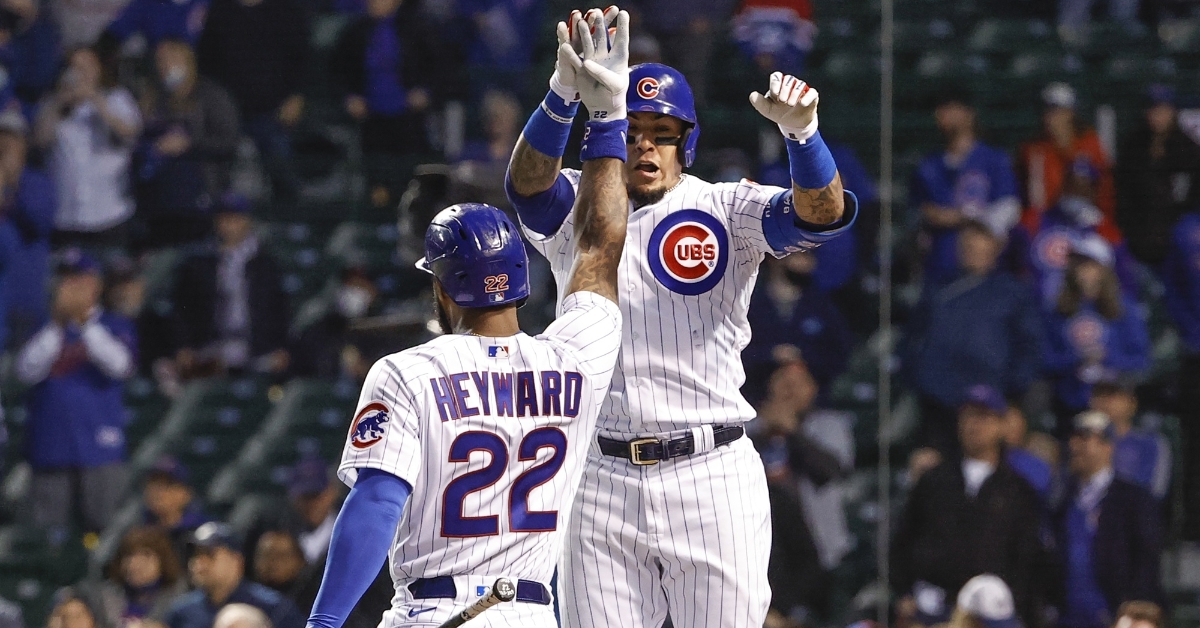 | | |
| --- | --- |
| Series Preview, TV info, and Prediction: Cubs vs. Giants | |
---
| | | |
| --- | --- | --- |
| Thursday, June 3, 2021, 3:00 PM | | |
The Cubs are riding high, coming off a three-game sweep of the Padres to complete a 5-1 homestand at Wrigley. They are now 9-1 in their last 10 and 11-3 in their previous 14 to surge into first place in the NL Central, holding a 1.5 game lead over the Cardinals. However, while their play over the past two weeks has been great, things are about to get a lot more challenging, and this time, they will find out what they are made of and exactly how good they are.
Over the next week, the Cubs will be heading out West to face both the Padres and Giants. The first, of course, will be a four-game set against one of the NL's biggest surprises in the San Francisco Giants. Historically, the Cubs have held their own in San Francisco, which isn't easy to do when considering all they have to overcome.
Not only is this one of the toughest hitter's parks in the game, but games out West start at roughly 9 PM central time, which is not something this team is used to. It doesn't matter how hot you are. Going out West will always be a challenge, and the Cubs are ready to face the Giants to see what they are made of.
Thursday, June 3, 8:45 CDT on Marquee Sports Network and NBCS BA: Zach Davies 2-2 4.65 ERA 29K vs. Anthony DeSclafani 4-2 3.56 ERA 54K
Talk about a difference in months, after posting what was the worst five-start stretch of his career in April, Davies had an incredible May lowering his ERA from 9.47 to 4.65 in the process. Davies made six starts in May, posting a 1.72 ERA despite pitching to more contact than he is used to.Series Preview, TV info, and Prediction: Cubs vs. Giants
Whatever adjustments he made, worked out and he is starting to look like the pitcher from 2020, which is who the Cubs were hoping to get. To keep this run of success rolling, he will need to beat a Giants team that has been impressive this season. Fortunately for him, he has posted a 2.25 ERA against them, although it has only been in two career starts.
Opposing him will be a familiar face in DeSclafani. Off to a great start again this season, DeSclafani has seen the Cubs a whole bunch in his career going back to his days with Cincinnati. In total, the righty has made 12 career starts against them, going 4-3 with a 3.91 ERA in the process. He is coming off a start in which he allowed two runs in 4 2/3 innings against the Dodgers. Anthony Rizzo and Kris Bryant have hammered him over their careers, so hopefully, that continues.
Friday, June 4, 8:45 CDT on Marquee Sports Network and NBCS BA: Jake Arrieta 5-5 4-41 ERA 41K vs. Logan Webb 4-3 3.86 ERA 54K
Arrieta will be looking to rebound from a rough outing against the Reds that saw him last just 3 2/3 innings. He allowed five runs in that start but was only charged with two earned runs as his defense didn't give him much help early on.
One thing that did lack in his last start was his command, as he couldn't locate his pitches. That is the biggest key to his overall success, and he will need to figure out a way to locate those pitches once again. Not only has Arrieta posted a 6.65 ERA in his last five starts after posting just a 2.57 in his first five, but he has struggled away from Wrigley, holding a 5.68 ERA in five road starts. Arrieta is hoping both of those trends come to an end.
One thing the Giants do well is pitch, and their starting pitching has been excellent. Webb will be another starter that the Cubs are unfamiliar with as he has looked strong to start the season. The 29-year-old has started games in each of the last three seasons, going 9-10 with a 4.85 ERA in the process. This will be his first look against the Cubs as Chicago will look to pounce on him early.
Saturday, June 4, 6:15 PM FOX, Kohl Stewart 1-0 0.00 ERA 2k vs. Kevin Gausman 6-0 1.40 ERA
In the wake of Trevor Williams having an emergency Appendectomy surgery, the Cubs needed a starter and called up former first-round pick Stewart. After opening the season with Iowa, Stewart was given the tall task of silencing the Padres lineup, which he did a great job of in his lone start.
He went five innings in that start allowing just one unearned run to go with two strikeouts. A big reason for his success was the location of his heavy sinker-cutter combination that he had working as he induced nine groundouts in the win. This will be his first career start against the Giants as he will fill the void by Williams until Williams is healthy.
Perhaps the most improved starter and one of the best starters in the National League at this point is Gausman. A pitcher with a 56-66 career mark with a respectable 4.07 ERA, Gausman has found something magical in San Francisco and has emerged as the Giants best pitcher. So far through 11 starts, Gausman has yet to drop a decision, and the team is 9-2 in games he pitches.
Chicago is a team that he has seen in the past, both with the Braves and the Reds, and he has had up and down success against them. In his two career starts against the Cubs, Gausman has posted a 5.40 ERA and has struggled to get through five innings on the mound. In relief, he has been much better, posting a 1.35 ERA against Chicago as a reliever. For the Cubs to be successful, they need to be patient and force him to throw more pitches than he would like.
Sunday, June 6, 3:05 PM CDT on Marquee Sports Network and NBCS BA: Kyle Hendricks 6-4 4.62 ERA 51K vs. Johnny Cueto 4-1 3.45 ERA 36K
Much like Davies, Hendricks endured a terrible April only to fix things and get back to his old self in May. In six May starts, Hendricks posted a 2.37 ERA, including four consecutive winning decisions in which his ERA 2.60.
Home runs continue to be an issue for him as his pitches have been flattening out in the latter stages of his starts. Despite that, Hendricks is
emerging as the Cubs ace once again but would like to get things figured out on the road where he posted a 4.26 ERA. However, Hendricks is 3-1 away from Wrigley as the offense has given him plenty of support this season. Buster Posey and Brandon Crawford have the most experience off him but haven't had much luck.
There once was a time when Cueto was one of the three best pitchers in the National League as a member of the Reds. However, once he signed his lucrative free-agent deal with San Francisco, Cueto was still consistent but not as dominating as he once was. Then the injuries started to settle in, turning his tenure with the Giants into a complete nightmare.
Now healthy and nearing the end of his deal, the 35-year-old Cueto looks the best he has in years as he has gotten off to a great start. He is also facing a team that he has fared very well against, holding a 9-6 mark against the Cubs with a 3.15 ERA. Look for him to attack the Cubs hitters with his fastball cutter combination to set up his change.
Prediction: SERIES SPLIT
While the Cubs have played well at San Francisco in the past, going out West is never easy, especially against a better Giants team than advertised. Chicago will have their work cut out for them as the current injury state of this team will come back to bite them sooner or later. Chicago is facing a Giants team that has one of the better starting staffs in the National League to go with an improving offense.
Their bullpen isn't terrible, but it is the weak link of this Giants club, while that is the strength of the Cubs team. Unlike years past, David Ross's goal this season is to get through five innings tied or with the lead and turn things over to the bullpen. That will most likely be his goal for a few of his starters here, as that plan has worked well so far. I expect the Cubs to get tested on this trip, and anything more than three wins should be considered a success. Look for them to get off to a 2-2 start as they split with the Giants.