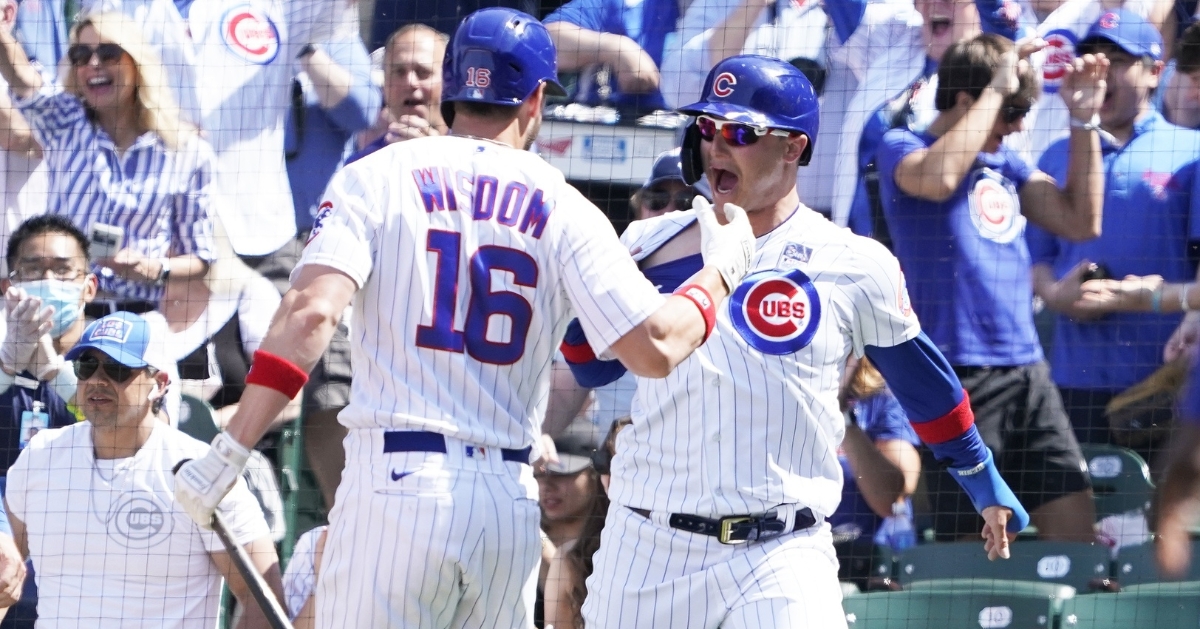 | | |
| --- | --- |
| Series Preview, TV info, and Prediction: Cubs vs. Padres | |
---
| | | |
| --- | --- | --- |
| Monday, June 7, 2021, 5:00 PM | | |
The Cubs will take on the San Diego Padres for the second time in a week, but this time out West at Petco Park. In their first meetings at Wrigley, the Cubs played long ball to dispose of San Diego, sweeping them in a three-game set.
Since then, the Cubs have lost three of four to open their West Coast trip, and this will be a much tougher series this time around. I don't expect the Cubs to sweep the Padres at their place, but I do expect another competitive series against them even if they wind up losing the series altogether. West Coast trips are always difficult, so to get one of their two out of the way early in the season is always a plus.
Monday, June 7, 9:10 PM CDT on Marquee Sports Network and ESPN: Adbert Alzolay 4-4 3.62 ERA 58K vs. Ryan Weathers 2-2 2.06 ERA 29K
Making his second start in as many turns against the Padres, Alzolay will look to continue a strong run of pitching as he continues to emerge as a front-line starter. In his last start, Alzolay went five innings against the Padres, in which he allowed just one run to go with seven strikeouts.
That continued a strong run of starts that has seen him post a 1.59 ERA over his last three starts, striking out 19 hitters compared to just four walks in 17 2/3 innings of work. Alzolay has been one of the bright spots in the Cubs rotation, and if he continues to pitch the way he has, look for him to be the ace of the future.
Like Alzolay, Weathers will also be making his second straight start against the Cubs, and his last one didn't go well. Not only did he go just five innings, but he surrendered four runs in that outing which was by far the worst start of his young career. However, this will be an entirely different outing as Weathers continues to be one of the better rookies in the sport.
A big reason for his success has been his ability to pitch at home, where he has been one of the best in baseball. In four starts at Petco, Weathers has allowed a total of four earned runs, so scoring won't be easy to come by. Chicago needs to capitalize when they can so they can avoid the bulk of the strong Padres pen.
Tuesday, June 8, 9:10 PM CDT on Marquee Sports Network and MLB Network (out-of-market only): Zach Davies 2-3 4.94 ERA 33k vs. Dinelson Lamet 1-0 2.50 ERA 21K
Coming off an incredible month of May, June hasn't gotten off to a great start as Davies lost last time out against the Giants. In that start, Davies labored through 4 1/3 innings of work, serving up eight hits and allowing four runs.
Even with that outing, Davies has been on a roll in which he has posted a 2.52 ERA over his past seven starts. This will also be sort of a homecoming start for Davies as he returns to a park where he posted a 2.25 ERA during the 2020 season. Hopefully, that version of Davies is the one that shows up as the road hasn't been kind to him this season. So far, the right-hander has compiled a 6.75 ERA away from Wrigley.
This will be the second start in a week for Lamet against these Cubs as he was handed a no-decision last time out. Lamet looked like his vintage self on Wednesday, even if he was on a 75-pitch count limit. His fastball was lively, sitting in the 97 MPH range, while his slider was simply unhittable. So far this season, no one has used the slider more than Lamet, so the Cubs better be ready for it.
Even though he has looked better with each outing, the Padres continue to monitor his workload after undergoing elbow surgery in September. He has yet to throw more than four innings this season, and if the Cubs can rack up his pitch count again, that trend should continue at least one more time.
Wednesday, June 9, 3:10 PM CDT on Marquee Sports Network and Bally San Diego: Jake Arrieta 5-6 5.26 ERA 42K vs. Yu Darvish 6-1 2.25 ERA 84K
After the way, Arrieta started the season, no one expected him to be in the position he is now. Well, over the past month-plus, Arrieta has suddenly become the weak link of the rotation as his ERA has risen to 5.26 on the season.
That continued over the weekend against the Giants, where Arrieta was chased after just two innings giving up six runs in the process. Arrieta did say he was pitching through some sickness last time out, but when you have an 8.28 ERA over your past six starts, there is a lot more going on than that. A big reason for his struggles as of late has been command, which will always be his undoing. Couple that with the inability to perform well on the road, which is a recipe for disaster.
It was only a matter of time until the Cubs would see Darvish again, and that will happen on Wednesday. After being the best pitcher in the National League during the second half of the 2019 season and then performing at a Cy Young level last year, Darvish has continued to build off his previous two seasons and is looking like a Cy Young contender once again.
Not only is he looking like a Cy Young contender once again, but take away his two rough starts early in the season, and he has posted an ERA around 1.40 since. San Diego is also 11-1 in his 12 starts, so the Cubs better be ready for his best stuff, as he will almost certainly be looking to use this as motivation. Eric Sogard and Anthony Rizzo are the lone players with a hit-off Darvish in this lineup.
Prediction: Padres win series
As great as a sweep would be for this team, it is unrealistic to think that will happen. When this trip started, I said anything better than 3-4 would be considered a win on this trip. Unfortunately, the only way that can happen is for them to sweep, so it looks like this will be a losing trip. Even if the Cubs go 2-1 in this series to finish 3-4 on the trip, fans should be happy with that when you look at the quality of opponents the Cubs have seen.
This will be a tough series despite the Cubs seeing two starters they had success with a week ago. The Padres are a better team than what they showed at Wrigley, and the Cubs are a better team than what they showed in San Francisco. Outside of Darvish possibly going the distance against the Cubs, I look for this series to come down to a battle of the bullpens in which these are the two best in the business.
If I had to pick right now, I am looking at the Padres taking this series 2-1, which would send the Cubs home with a 2-5 trip. Even if that is the case, the Cubs would still finish the season 4-2 against the Padres, which could be used as a confidence booster.