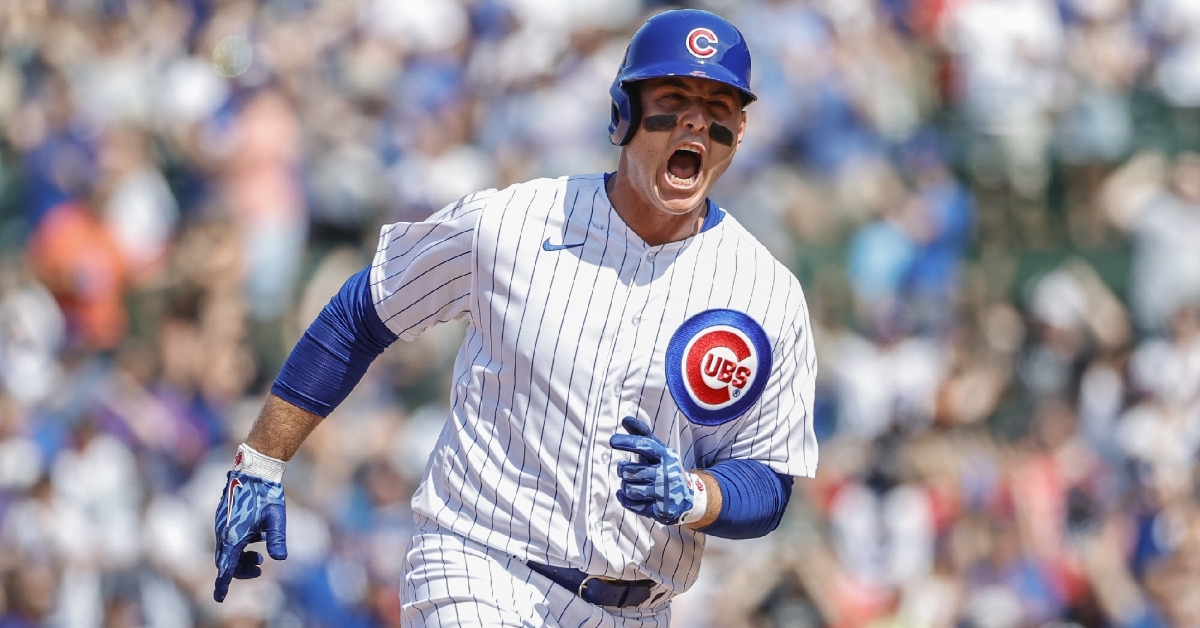 | | |
| --- | --- |
| Series Preview, TV info, and Prediction: Cubs vs. Mets | |
---
| | | |
| --- | --- | --- |
| Monday, June 14, 2021, 4:15 PM | | |
The Cubs continue to roll, coming off a three-game sweep of St. Louis, and have won five of their last six. At 38-27, the Cubs remain tied for first in the NL Central as they continue to battle it out with the suddenly streaking Milwaukee Brewers, who have won 17 of their last 21.
Coming into June, we highlighted the schedule, which consisted of 17 games out of 20 against teams with a winning record. Through the first 13 of those games, the Cubs have posted a 9-4 record and now turn their attention to an ever-improving first-place Mets team who the Cubs swept earlier in the season at home.
This isn't the same Mets team that the Cubs swept earlier in the season, and this time around, the Cubs will head to Citi Field, hoping to be more consistent on the road. Add in the fact that the Mets are the only NL team with a better home record than the Cubs, and it will be a tall task for the Cubs to keep this great stretch of play going.
Monday, June 14, 6:10 PM CDT on ESPN, SNY, and Marquee Sports Network: (Jake Arrieta 5-6 4.97 ERA 48K vs. David Peterson 1-5 6.32 ERA 53K)
No game in major league baseball is a give-me game, but if there was a should-win game in this series, Monday is it for the Cubs. Coming off a great start last time out against San Diego, Jake Arrieta will open the series for the Cubs.
The veteran righty posted an 8.08 ERA over his past six outings, so his win at San Diego was much needed. Add in his 6.40 ERA away from home this season, and you can see how vital a strong road outing was for him. Arrieta is hoping his last start was the beginning of a great rest of the season as the Cubs need him to get going.
Opposing him will be the struggling lefty who is desperate for a win. Despite his 9.88 ERA across his last four turns, the Mets insist on keeping him in the rotation mainly because they don't have plenty of options. However, if he wants to stick in the rotation long-term, Peterson needs to turn it around quickly. Peterson has faced the Cubs one time in his career as they have picked up four hits in 10 at-bats off him with an RBI.
Tuesday, June 15, 6:10 PM CDT ESPN (out-of-market only), SNY, and Marquee Sports Network: (Alec Mills 2-0 6.08 ERA 15K vs. Taijuan Walker 5-2 2.07 ERA 60K)
Mills will be making just his second start of the season as he will occupy the spot of Adbert Alzolay this time around. In Mills only start of the season, he allowed two runs on four innings against Milwaukee but has otherwise spent the rest of the season in the pen.
This won't be the first go-around for Mills in the rotation, as he posted a 5-5 record with a 4.48 ERA in 2020. That included a no-hitter against Milwaukee in September. Mills has gone 8-7 as a starter for his career while posting a respectable 4.15 ERA over that time.
Walker will get his second look at the Cubs this season as his great comeback season continues. Throughout this season, Walker has dealt with some control issues now and then, but that has been the most of his problems as he has been solid.
Not only has he been one of the best free-agent pickups this season, but he has been one of the best pitchers in the National League, posting a 1.32 ERA over his last six starts. Walker took the loss against the Cubs back in April, allowing two runs on two hits in 3 2/3 innings. Command was an issue for him in that start as he walked six and struck out seven.
Wednesday, June 16, 6:10 PM CDT on Marquee Sports Network and SNY: (TBD vs. Jacob deGrom 6-2 0.56 ERA 103K)
While the Cubs have yet to name a starter for Wednesday, look for it to be either Kohl Stewart, Keegan Thompson, or some other AAA arm as they wait for Trevor Williams to be cleared to return. For now, the Cubs will have to figure out what they want to do as they have a tall task on Wednesday.
After missing him in their first meeting of the season, the Cubs won't have the luxury to avoid DeGrom this time around as he is slated to pitch on Wednesday. The two-time Cy Young winner continues to go about his business lowering his ERA to 0.56 after winning against San Diego. DeGrom did exit that start due to right flexor tendinitis, but he is expected to make the start Wednesday.
That could be a good thing for the Cubs, too, as the Mets may monitor his workload given the injury scare. The Cubs are also the one team that DeGrom has struggled with in the past, posting a 3-4 record despite a 3.02 ERA. For one reason, the Cubs have hit him in the past, so it will be interesting to see if that can continue.
Thursday, June 17, 6:10 PM CDT on Marquee Sports Network and SNY: (Kyle Hendricks 8-4 4.46 ERA 58K vs. Marcus Stroman 6-4 2.33 ERA 67K)
Coming off another solid performance against the Cardinals on Saturday, Hendricks will put his six-game winning streak on the line Thursday against the Mets. That win has moved him to 6-0 with a 2.93 ERA across his last six starts as he continues to look like the Hendricks of old.
The one issue he has had all season has been the long ball as he leads the majors with 19 homers allowed. The Mets have plenty of guys who can go deep in this lineup, so Hendricks needs to avoid the home run ball and get after these hitters.
As good as DeGrom has been, Stroman may have been better as he has been the most consistent Mets pitcher in history to start a season. Across his last seven starts, Stroman has lasted between six and seven innings in each start allowing three or fewer runs in six of those seven starts. Stroman has posted a 2.49 ERA over that span as his great season continues.
The hard-throwing sinkerballer has always been a strikeout pitcher but has the lowest strikeout percentage of his career so far. What he has done is induce a top-three rate of ground ball outs as his sinking fastball has been lethal this season. Although limited experience, the Cubs have had some success off him, with several players posting solid numbers.
Prediction: SERIES SPLIT
This series won't be easy as the Mets are a great home team. While the Cubs pitching has dramatically improved since April, the Mets have the advantage in this series as they will throw three of their best guys throughout this series. However, should the Cubs keep things close and turn it over to a battle of the bullpens, then Chicago will have the advantage.
When you look at their series from April, the Mets played the Cubs tough in two of the three games with a 16-4 blowout making the series look much more lopsided than it was. Since then, both these teams have been different, so look for a much different series top to bottom. This is a battle of first-place teams and could be a potential postseason matchup depending on how things finish this season. I look for a series split 2-2 before the Cubs head home for a brief five-game stay.