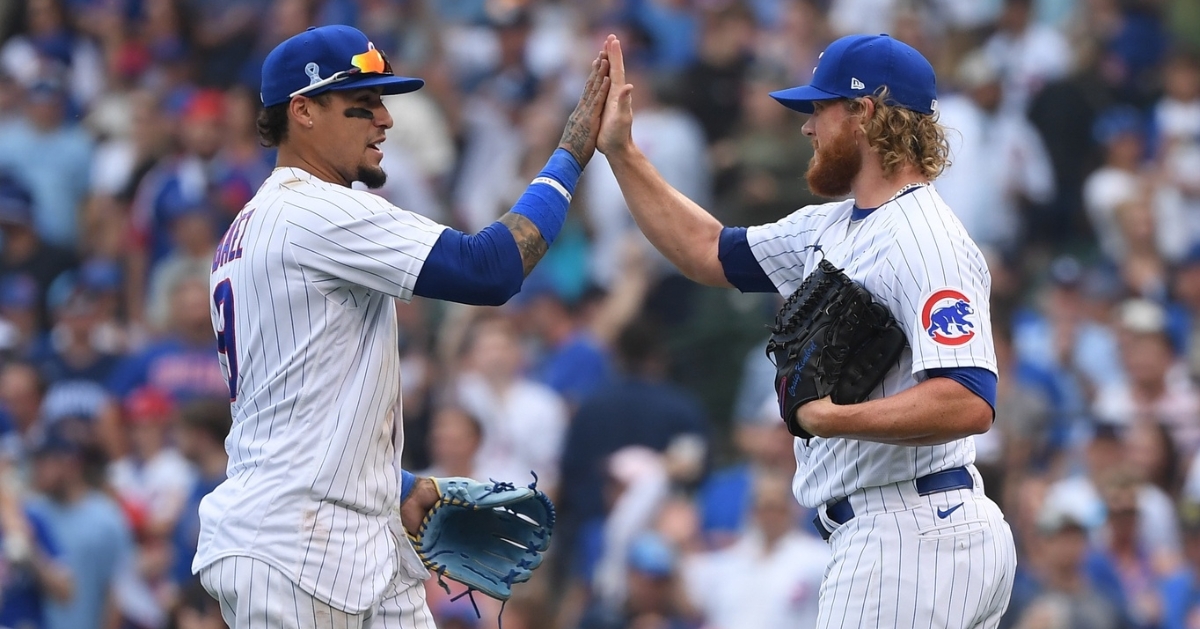 | | |
| --- | --- |
| Series Preview, TV info, and Prediction: Cubs vs. Phillies | |
---
| | | |
| --- | --- | --- |
| Monday, July 5, 2021, 3:00 PM | | |
The Cubs return home limping from a brutal road trip as they are now 42-42 on the season and third place in the NL Central. Not only did they go 1-9 on that trip, but they have lost a season-high nine straight games, second-longest behind their 12 straight in 2012.
The same problems that have hampered this team since the end of 2018 have continued to show their ugly heads. Inconsistent hitting and starting pitching, too many strikeouts, and the team's lack of ability to bring runners home in scoring position. All that has translated into their recent struggles, and the Cubs hope they didn't waste a promising start this season.
Fortunately, the Cubs do return home for a seven-game stretch where they do have one of the better records in the National League. This next week will give the Cubs a chance to gain some momentum heading into the all-star break and hopefully put them in a buying position once again. First on the docket is a four-game set with the Phillies that starts Monday evening.
Monday, July 5, 7:05 PM CDT on Marquee: (Matt Moore 0-1 19K vs. Zach Davies 5-5 4.32 ERA 55K)
The Phillies will be calling on southpaw Matt More to take the ball in the series opener against the Cubs. Not known as a great pitcher, Moore has had some excellent seasons in the past, especially as a member of the Tampa Bay Rays.
Moore is also familiar with this Cubs roster, seeing them several times over his career and putting together some impressive starts, including game four of the 2016 NLDS. Since then, injuries have derailed his career as he is looking to complete another comeback to give the Phillies a much-needed starter. Four Cubs in this lineup have averages north of 333 off Moore.
Opposing him will be Davies, as he continues to pitch well after a rough month of April. Davies was impressive in his last outing against his former team, allowing just two earned runs in four innings of work. The Brewers were extremely patient and ran up his pitch count, which led to the early exit. Before that, Davies walked five Dodger hitters, but was part of a combined no-hitter. That was the last win for the Cubs.
Davies hopes his recent run of strong starts continues as the Cubs desperately need more consistency out of their starters. Not many of the Phillies have long-term success off him, but Bryce Harper and Andrew McCutchen have hit him well.
Tuesday, July 6, 7:05 PM CDT on Marquee: (Aaron Nola 5-5 4.44 ERA 118K vs. Jake Arrieta 5-8 5.57 ERA 62K)
Nola may not be posting the typical numbers he is accustomed to, but he is still an ace who can make offenses look silly. Not only is he someone who can turn in a seven-inning start on any given day, but he can rack up double-digit strikeouts.
After a shaky start to his career against the Cubs, Nola has turned it on over the past three seasons and has proven to be a tough out for them. Given the run of great starters the Cubs have seen, they could have done without Nola in this series.
On the other hand, Arrieta may be nearing the end of his tenure in the Cubs rotation, especially after hitting rock bottom last time out. The right-hander was spotted a 7-0 in the first inning against Milwaukee, only to give up that lead in less than two innings on the hill.
That has been an all-too-common theme for Arrieta this season, as his inability to locate his pitches has led to less than appealing command and short outings on the bump. This will be the first time he will be taking on the Phillies since returning to Chicago and will be looking to keep plenty of the Phillies bats in check, especially that of JT Realmuto.
Wednesday, July 7, 7:05 PM CDT on Marquee: (Zack Wheeler 6-4 2.05 ERA 139K vs. Alec Mills 3-2 4.85 ERA 35K)
As if facing Nola wasn't challenging enough, why not face him and then follow that up with Wheeler who continues to be the Phillies ace. Ever since signing a free-agent deal with Philadelphia, Wheeler has turned his career around and has looked like the ace the Mets hoped he would for years.
Not only has his command greatly improved, but Wheeler has seen his fastball velocity reach the highest it has ever been. That has led to Wheeler being ranked in the top five in strikeouts the past three seasons, and the Cubs better be ready for a lot of swings and misses.
Opposing him will be Mills, who deserved much better luck last time out. In his previous start against the Reds, Mills allowed two runs in 5 2/3 innings of work while striking out nine. Unfortunately for him, the Cubs offense was held in check as they scored just one run in a 2-1 defeat.
Mills fits the same mold as both Kyle Hendricks and Davies as someone who prides themself on location instead of velocity. He has done a great job since returning to the Cubs rotation, and if he continues to pitch the way he did on Friday, there is no reason why David Ross should take him out of the rotation.
Thursday, June 8, 7:05 PM CDT on ESPN: (Zach Eflin 3-6 4.13 ERA 89K vs. Adbert Alzolay 4-8 4.48 ERA 76K)
Once a top prospect in the Phillies system, Eflin has struggled to put that consistency on the field at the major league level. Always seen as someone who could be a staff ace, Eflin has been more of a middle-of-the-road starter and has struggled to live up to previous expectations.
Opposing him will be the Cubs former top-pitching prospect in Alzolay, who is looking for his first win in quite a while. After showing a ton of improvement in his last start, Alzolay continues to be bitten by the home run ball as he allowed two homers to the reds. That makes five straight starts and eight starts on the season where he has given up at least two homers in a game.
If he is hoping to pick up another win, he needs to not only command his fastball, but avoid the long ball against a Phillies team that can hit a ton of them. Hopefully, Alzolay continues to do what works for him and doesn't try to change too much.
Prediction: SPLIT SERIES
This is going to be an interesting series as both teams' matchup well. You have a Phillies team who have yet to meet Joe Girardi's expectations, while the Cubs are floundering to get anything going. If you look at preseason expectations, these were two teams who were supposed to be battling for a playoff berth.
Now, it looks like both could be sellers as neither of them seems to have the horses to get it done this season. As important as a series this is for the Cubs to get a win, they will still see some of the best pitchers in the National League, which will hurt an already struggling offense. Look for the Cubs to split this series 2-2.