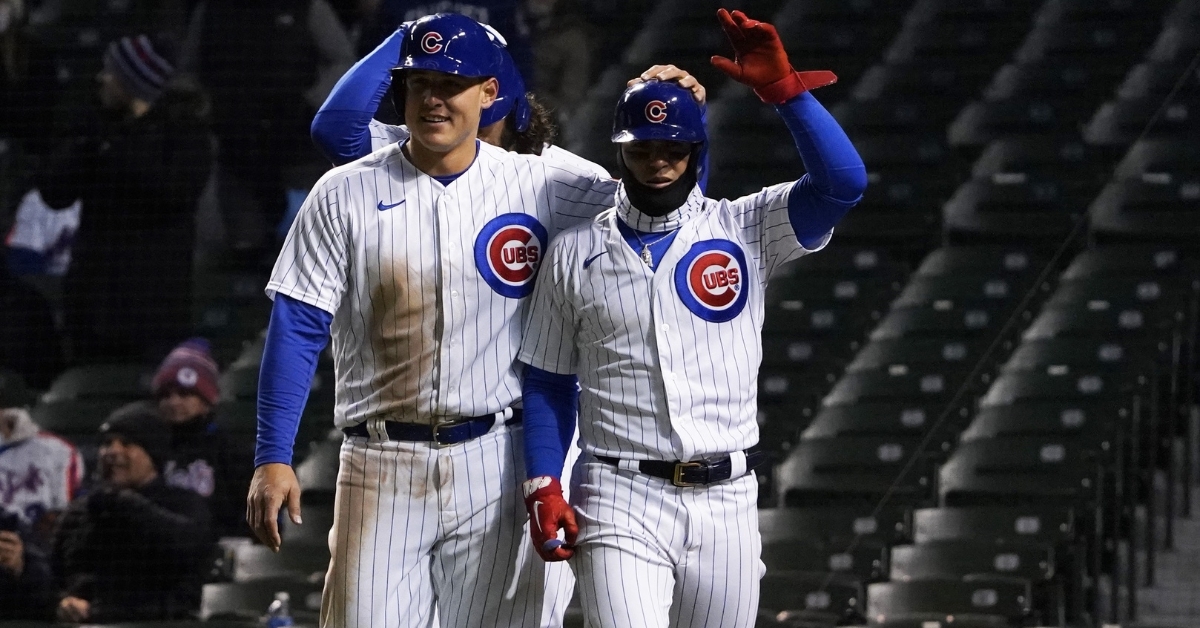 | | |
| --- | --- |
| Series Preview, TV info, and Prediction: Cubs vs. Pirates | |
---
| | | |
| --- | --- | --- |
| Friday, May 7, 2021, 8:18 AM | | |
The Cubs are not only coming off a series sweep of the Los Angeles Dodgers but are coming off their first off day in two weeks as this should be an excited and well-rested team this weekend. As good as things went against the Dodgers, that series is in the past, and it is time to focus on Pittsburgh to keep the train rolling.
Chicago is starting to play better baseball, and now is not the time to let up as the Pirates are struggling. Despite surprising many by the start they got off too, the Pirates have fallen back into last place and have looked like one of the worst teams in baseball of late. However, they have played the Cubs tough this season and have put together a 3-3 record across two series this season. These are the series Chicago needs to have, and they need to keep the train rolling.
Friday, May 7, 1:20 PM CDT on Marquee Sports Network, ATT SportsNet Pit, and MLB Network (out-of-market only): Trevor Cahill 1-3 7.40 ERA 24K vs. Zach Davies 1-2 8.22 ERA 17K
The Cubs will see an old friend take the mound on Friday as Trevor Cahill gets the ball for Pittsburgh.
Part of the bullpen during the Cubs world series run, Cahill has bounced around since then and has seen time as both a starter and reliever.
Not only did he have a rough outing last time out when he gave up four runs in the first inning, Cahill has had an up and down 2021 so far as he has allowed five or more runs in three of his starts with the other two outings one run or less. There aren't many guys who have experience with him but the ones that do have hit him well.
Speaking of someone struggling, Zach Davies continues to pitch through the worst stretch of his career as he is looking to turn things around. Davies has yet to complete for innings since his only win against Pittsburgh this year but did look better last time out against the Reds. In that start, Davies allowed just one earned run but once again was pulled after four innings.
Davies had his worst start of the season in April against this same Pirates team and is hoping the rough stretch is behind him as he aims to prove his worth. Keeping Adam Frazier and Bryan Reynolds off the bases will be the key for him as they have done the most damage off him in this lineup.
Saturday, May 8, 1:20 PM CDT on Marquee Sports Network and ATT SportsNet Pit: Wil Crowe 0-1 4.66 ERA 7K vs. Trevor Williams 2-2 6.00 29K
The Cubs will see an unfamiliar face on Saturday as Crowe will make his first-ever start against the Cubbies. This could be an interesting matchup as the Cubs haven't had the best luck against pitchers they haven't seen.
Crowe served up a three-run homer in his last start, but he was still able to get through five innings despite lacking overall fastball command. Listed as the Pirates no. 23 prospect in the system, this will be his third start with the big club as he is still searching for his first win.
On the other hand, Williams is coming off a terrible outing as he labored to get through 2 2/3 innings. Thankfully, the offense backed him up as both the Cubs and Reds combined for 10 homers in a 13-12 Cincinnati win. Take away that outing, and Williams was rolling right along, posting a 3.00 ERA over his past three starts without going very deep into games.
This will be his second career start against his former team, and the first one didn't go so well. Should Williams go back to the drawing board and work off his slider, he can shut this offense down and get through six innings. He now must execute that plan and get back to the Williams the Cubs saw most of April.
Sunday, May 9, 1:20 PM CDT on Marquee Sports Network and ATT SportsNet Pit: Tyler Anderson 2-3 3.24 ERA 31K vs. Kyle Hendricks 2-3 6.07 ERA 27K
Anderson is getting used to seeing the Cubs a lot this season as this will be his third start in as many series against them. Sporting a 1-1 record in those starts, Anderson was phenomenal last time out, getting through six innings and keeping the Cubs in check. This will be his sixth career start against Chicago as the Lefty has posted a 4.45 ERA thus far.
Not only was Anderson on point last time out, holding the Padres to just two runs in 6 2/3 innings, but that marks two straight quality starts for him as he has been the Pirates best and most consistent pitcher thus far. Unfortunately, outside of Kris Bryant, who has touched him up for three home runs, the Cubs haven't been able to generate the type of offense they would like to off him.
Hendricks was brilliant on Tuesday afternoon and pitched like the Hendricks of old in a win against the Dodgers. In fact, take away his two terrible starts against the Braves, and Hendricks has pitched to a 2.42 ERA against the rest of the league, so you can see how bad it was against the Braves to have his ERA still be north of 6.00.
Hendricks has struggled with his location at times this season but was locked in last time out. That has been a trend since day one as Hendricks struggled against Pittsburgh in his only outing this season as the command that day was also a big issue. Frazier, Colin Moran, and Jacob Stallings have very good numbers off him, so he will need to limit their damage if he wants to win again.
Prediction: FLY THE W
Sometimes, one series can change the feel of an entire series, and maybe the Dodgers series will do that for the Cubs. Regardless, it is time to move on and face a Pirates team who is not intimidated by this Chicago team. They have outplayed Chicago this season, and the Cubs are fortunate enough to be 3-3 at this point.
As much as I would love to see the Cubs sweep them, I think Crowe gives them a fight, and it will be tough to get the offense going if they are held in check early. Either way, the Cubs have some excellent matchups lined up in their favor, and I like them to win two of three to take a 5-1 homestand.