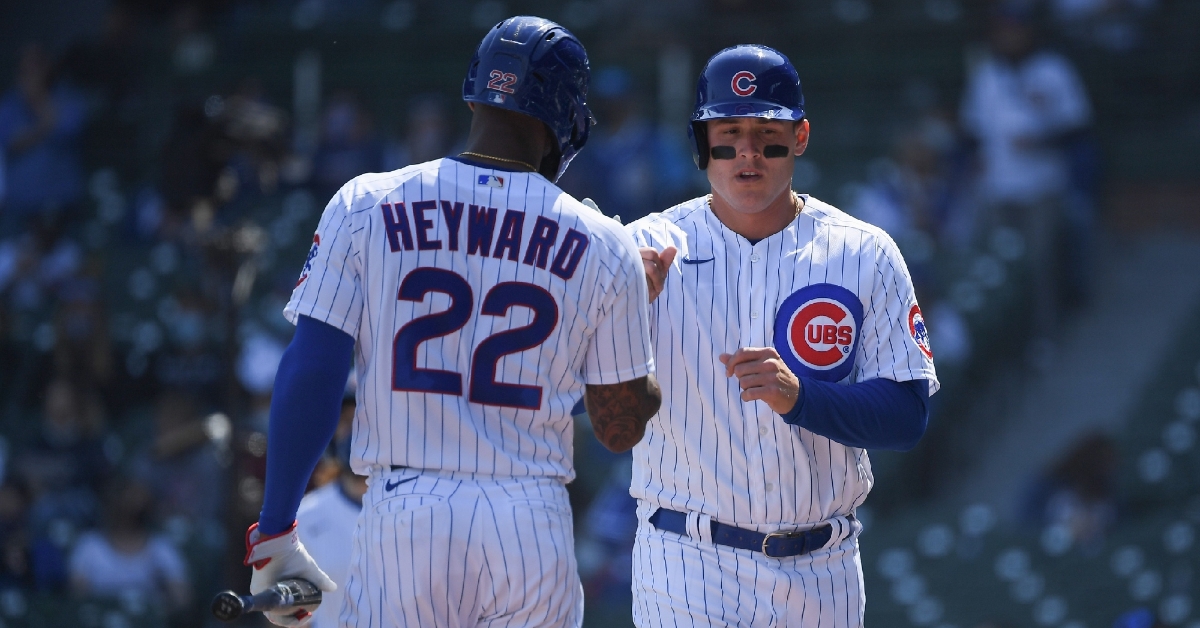 | | |
| --- | --- |
| Series Preview, TV info, and Prediction: Cubs vs. Reds | |
---
| | | |
| --- | --- | --- |
| Friday, April 30, 2021, 12:40 PM | | |
Following another series loss to the Atlanta Braves, the Cubs will finish off the month of April with a losing record for the first time since 2014. Things haven't gone smoothly for this team as they rank dead last offensively while their starting pitching hasn't been too good as of late.
Hopeful to end the month of April on a positive note, the Cubs couldn't be happier to see the calendar turn to May as they hope a new month brings better success. Unfortunately, it won't get any easier as the Cubs hit the road to take on a Cincinnati Reds team who may be struggling a little bit but can break out at any moment.
Of all the teams in the NL Central, only the Reds are hitting above .240 coming into the series with a .248 average. Their pitching may not be what they expected, but with guys like Sonny Gray, Luis Castillo, and Wade Miley, they are capable of shutting this Cubs offense down like most of the league already has. If the Cubs want to get back to being competitive, they need to win some of these series.
Here are the pitching matchups:
Friday, April 30, 6:10 PM CDT on Marquee Sports Network: Jake Arrieta 3-2 2.57 ERA 26K vs. Wade Miley 2-2 2.45 ERA 16K
Of all the starting pitchers in the Cubs rotation, only Jake Arrieta has been consistently getting through five innings as he has been better than expected so far. Not the same pitcher he was in his last go-around, Arrieta is reinventing himself as a ground ball pitcher as his command hasn't been as sharp in recent outings.
Arrieta did, however, look much better last time out in a losing effort against Milwaukee as he struck out a season-high eight batters while walking three. All three of those walks came in the first few innings before he settled in. Arrieta has had some success against this Reds team in the past, including a no-hitter against them in April 2016.
Pitching for the Reds will be Wade Miley, who is off to a great start. One of the slower pitchers in terms of average fastball velocity, Miley makes up for that by working fast and has gotten off to a great start. Miley is very familiar with the Cubs team, posting a 6-4 career mark with a 4.50 ERA against them. Chicago has had better luck against him lately as he did have a six-start stretch of an ERA of 2.55.
The two batters in this lineup who have seen him the best are Kris Bryant and Willson Contreras. Ironically, those are the two players off to the best start this season, and they will continue their success off Miley.
OTD in 2016, Jake Arrieta became the first @Cubs SP since Greg Maddux to win his first five starts of the season.@Prevagen | https://t.co/F4tcBhoBIY pic.twitter.com/ZZixvp8ME4

— Marquee Sports Network (@WatchMarquee) April 28, 2021
Saturday, May 1, 3:10 PM CDT on Marquee Sports Network: Zach Davies 1-2 9.47 ERA 14K vs. Luis Castillo 1-2 6.29 ERA 19K
If there were one pitcher in desperate need of a solid start, Zach Davies would be it. Acquired in the Yu Darvish trade this winter, Davies has been anything but impressive and has been serving batting practice for three weeks.
After an impressive first start of the season, Davies has yet to make it through the fourth in his last four outings, pitching to a 14.15 ERA in the process. Not only has he been serving up hard contact, but his command has been terrible as he now has more walks than strikeouts on the season. Davies has also struggled against the Reds at Great American Ballpark, so it could be another long afternoon for the righty.
Struggling in his own right is Luis Castillo, as he too is in desperate need of a win. The former ace of the Reds staff, Castillo, has been struggling since last August and is not looking like the pitcher from 2019. Armed with a 97 MPH heater and great changeup, Castillo is struggling to find a pitch combination to keep hitters off balance and continues to search for that.
Lucky for him, he will be facing an offense that not only struggles to hit high velocity but has struggled to hit him in recent seasons. Going back to his last six starts against the Cubs, Castillo may only be 2-2, but a 3.12 ERA shows that he does a great job keeping the Cubs hitters off-balance while overpowering them with his heater. Both Jason Heyward and Contreras have seen the ball well off him, as has
href="/cubs-baseball/player/ian-happ-165">Ian Happ, who could use a big game to boost his confidence.
Zach Davies Innings 1-3 ERA over the years:

2015: 3.00 ERA
2016: 3.67
2017: 5.36
2018: 3.69
2019: 3.98
2020: 1.50
2021: 9.88

— Michael Cerami (@Michael_Cerami) April 27, 2021
Sunday, May 2, 12:10 PM CDT on Marquee Sports Network: Trevor Williams 2-2 4.44 ERA 27K vs. Tyler Mahle 1-1 1.75 ERA 36K
Much like Arrieta, Williams has been very consistent this season and a pleasant surprise in the rotation. Take that 4.44 ERA out of the equation as one rough start in Pittsburgh inflated what has been a strong string of starts.
Williams is having a tough time getting into the sixth inning as his pitch count has been higher than he would like. Fortunately, Williams continues to keep his team in the game, allowing three earned runs or less in all but one start. Chicago will need him to keep that streak going on Sunday as Cincinnati is one of those teams who is very familiar with his stuff.
The Cubs dodged a bullet by avoiding Grey in this series, but Mahle is no joke himself. The former spot starter who finally earned a rotation spot last season, Mahle is off to an impressive start and has looked the best in the rotation thus far. He continued his strong run of starts on Monday by working five innings of one-run ball against the Dodgers as part of a no-decision outing.
Mahle hasn't seen the greatest success against the Cubs, posting an ERA around 4.00, but he has gotten better against them the last two times, where his ERA is under 2.00. If the Cubs see the Mahle of this season, it could be a long afternoon, but if the Mahle of old shows up, the bats could come to life with Javy Baez having the best success against him.
Trevor Williams, Filthy 84mph Slider. ??

Dansby performs a jump from his new ballet: "Swans Lake." ?? pic.twitter.com/i9sF1S6fD6

— Rob Friedman (@PitchingNinja) April 28, 2021
Prediction: FLY THE W
It is so tough to predict how the Cubs will do on a daily basis as fans don't know what team will show up. They have the talent to be great on paper but on the field, they continue to struggle hence why they are sitting in last place in the NL Central.
The best way to move up is to beat the teams in front of you within your division, which will be the case this weekend. It won't be easy, but I think the Cubs find a way to take two of three from the Reds this weekend as they are not happy with how they played in Atlanta.