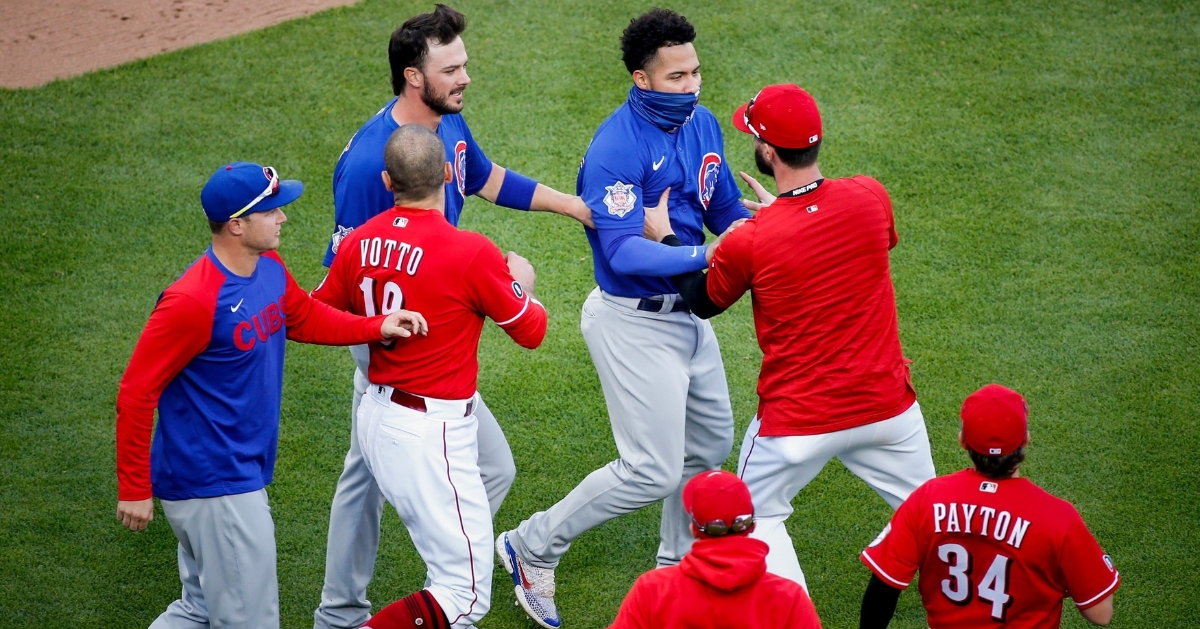 | | |
| --- | --- |
| Series Preview, TV info, and Prediction: Cubs vs. Reds | |
---
| | | |
| --- | --- | --- |
| Friday, July 2, 2021, 1:00 PM | | |
Hoping to end their 10-game trip on a positive note, the Cubs will head to Cincinnati for a weekend set with the Reds. Already with a 1-6 record on this trip, the Cubs will walk away with a losing record regardless of what happens this weekend. Still, 3-7 or even 4-6 looks a lot better than 1-9, and one win over the Reds keeps this team above .500 heading home.
Everyone knew the month of June would be a challenge for this team, and through the first half of the month, the Cubs took that challenge head-on. However, since their original west coast trip with the Giants in the middle of the month, things have not gone the Cubs way as they are excited to erase the struggles of June and turn the page to July.
Friday, July 2, 6:10 PM Marquee: (Alec Mills 3 -1 5.11 ERA 26K vs. Sonny Gray 1-4 3.42 ERA 65K)
Ever since rejoining the rotation in place of the injured Trevor Williams, Mills has seen mixed results. Not only has he yet to go more than five innings, but he has seen one good start, one bad start, and one mediocre. That inconsistency is not something this rotation needs when you look at their struggles.
I expect Mills to get better with more innings as he has to build up his arm strength after spending most of this season in the pen. Mills will never blow you away, but his ability to change speeds can make it difficult at times as long as he can locate. The Reds are a team that he has had some success against in the past but has also been shelled. Joey Votto and Eugenio Suarez have done next to nothing off of him, and Mills needs that to continue.
As if the Cubs haven't seen enough top pitchers lately, the Reds will be throwing their ace at them in Sonny Gray. Record aside, which sits at 1-4, Gray has deserved much better fortune than that as his 3.42 ERA is way better than his record indicates. Gray has been one of those pitchers that has dealt with his fair share of injuries in recent seasons but appears to finally be healthy.
Last year, and going back to 2019 for that matter, and Gray was looking like the ace the Reds had hoped for when they made the trade to acquire him before extending him. His fastball sits in the 93-95 range, but his 87 MPH slider continues to be his out pitch. The Cubs are one team he tends to have a ton of success against, posting a 2.65 ERA against them for his career as most of the players have averages below 200 off him.
Saturday, July 3, 3:10 CDT PM on Marquee: (Adbert Alzolay 4-7 4.55 ERA 70K vs. Tyler Mahle 7-3 3.74 ERA 105K)
This is a big start for Alzolay as he needs to get back on track. After being one of the best if not the best starter in the rotation for the better part of a month, Alzolay has not looked good in his last few outings, especially since coming off the IL.
The home run ball continues to bite Alzolay, and the Reds certainly have the pop to make him pay again. Alzolay also continues to use his slider more than any other starter in the game, so he needs to command his fastball better to get hitters guessing. Cincinnati hasn't had a ton of success against Alzolay, but they have been able to take him deep.
After the Reds lost Trevor Bauer in the off-season, the Reds needed someone to pick up his slack in the rotation. Mahle has been that guy as he has
performed better than most expected. Mahle has always been a pitcher with starter potential, but bounced between the bullpen and rotation the first few years of his career. Now fully entrenched in the rotation, Mahle is showing what he can do, and the Reds have loved what they have seen.
Not only is he second on the team in strikeouts behind Luis Castillo, but he is approaching eight wins and could be at 10 by the all-star break. Mahle has proven to not only be a starter in the league but has emerged as a front of the rotation guy the Reds could build around in the future. After a rough first two starts against the Cubs, Mahle has pitched very well his last three times against them and will be looking for that to continue. Kris Bryant and Javy Baez have hit him well, and it would be an excellent series for that to continue.
Sunday, July 4, 12:10 PM CDT on Marquee (Kyle Hendricks 10-4 3.98 ERA 74K vs. Wade Miley 6-4 3.09 ERA 69K)
Get your stopwatches ready as this could be a very fast game. Not only do Hendricks and Miley possess two of the slowest fastballs in the game, but they are also two of the fastest workers on the mound, so the game should move quickly.
Hendricks's streak of eight consecutive wins came to an end against the Brewers on Monday, but he was still able to record a no decision making that nine straight starts without a loss. His ERA is still sitting near 4.00 as home runs continue to bite him, but he has been able to limit the damage to record 10 wins so far. Hendricks typically does ok against this Reds lineup, but Great American Ballpark has not been too kind to him, and Votto will be looking to take advantage of that.
Miley isn't the type of pitcher you think has a ton of success, but he has transformed his career over the past four seasons. Not only has he been the most consistent starter in the Reds rotation, but Miley logged his first career no-hitter this season, proving that high velocity doesn't always matter. Much like Hendricks, Miley pitches backward as he has one of the lowest fastball velocities in the game.
Take away his first start against the Cubs this season in which they pounded him in the first inning, and he has had great numbers against this team. Bryant and Jason Heyward have hit north of 400 against him, but Anthony Rizzo and Baez hit below 200.
Prediction: FLY THE W
I hoped that this team could finish this trip 5-5 or, at worst, 4-6. Well, 4-6 is still doable, but the only way that can happen is to sweep the Reds, which is a lot easier said than done. With the off-day yesterday, it came at the perfect time for the Cubs as it gave them a chance to clear their heads and reset.
Chicago will have their work cut out for them again this series as all three pitchers going for the Reds have had a ton of success against this Cubs roster. If Chicago can keep things close and chase the Cincinnati starters early, they have a great chance to win games as the Reds bullpen continues to be the worst bullpen in the league. That alone will be the difference in this series as the Cubs end the road trip on a positive note by taking 2 of 3.