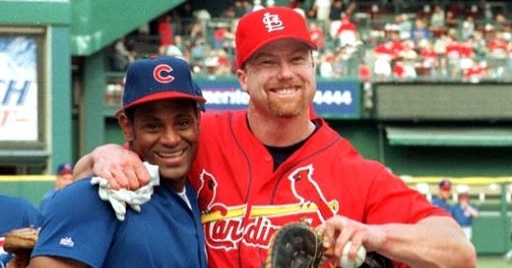 | | |
| --- | --- |
| Cubs News: Should Steroid users be in the Hall of Fame? | |
---
| | | |
| --- | --- | --- |
| Friday, January 28, 2022, 4:08 PM | | |
After another year of Hall of Fame voting that has kept Barry Bonds, Sammy Sosa, Mark McGwire, Manny Ramirez, Gary Sheffield, Rafael Palmeiro, Alex Rodriguez, and Roger Clemens out of baseball's Hall of Fame. So let's dive into one of baseball's biggest debates: should steroid users be inducted into the Hall of Fame?
It certainly is a complicated question. I do not think there is a clear yes or no to this question.
However, I think it is silly that:
* Baseball's all-time home runs leader
* Two of baseball's top four home run hitters
* Three of the nine players to hit 600 home runs
* The only player to hit 60 home runs in 3 separate seasons
* The record holder for most home runs in a season
* The record holder for most career Cy Young awards
* 1 of the 24 players with 300+ wins
* And finally seven of the 28 players in MLB history with 500 homers are all not in the Hall of Fame.
Not to mention baseball's all-time hit leader Pete Rose is not in the Hall of Fame due to gambling.
As Jeff Passan said, For an organization and museum to exist to tell the story of baseball — not including players like this with numbers and careers like this can not be right.
This does not even go into the proper depths to explain the work that Barry Bonds, Sammy Sosa, and Mark McGwire did specifically from 1999 to 2003 to save baseball. In 1994, baseball went on strike, and attendance and viewership were at record lows. Then, when Sosa, McGwire, and Bonds were on steroids (allegedly in the case of Sosa), fans were flocking to see booming home runs and the epic home run race. All of this drew attention to the game, brought a new generation to the sport, and essentially saved baseball and its business. This, of course, opened doors for the future of baseball to grow into the game we have today.
That alone seems like Hall of Fame-worthy accomplishments, right?
While that answer is a resounding yes, the whole debate is not that easy.
What about players who were good but not great but did not use steroids to achieve record numbers and statistics? By allowing PED users into the Hall of Fame, aren't you also encouraging cheating to get into the Hall of Fame.
At the time, were these substances illegal yet is another interesting question?
What if these players did not use steroids.
1) Would they have put up Hall of Fame numbers without them?
2) Would baseball be what it is now without them?
How come other players who have used PEDs haven't put up the numbers that these players did? Melky Cabera and Robinson Cano never hit 60 plus home runs in a season.
There are so many questions to ask. Did these players likely disrespect the integrity of the sport by using performance-enhancing drugs? Yes. But did these players likely save the sport's trajectory by using performance-enhancing drugs? Also yes.
So…should they be in the Hall of Fame?
My thought is to have a steroid-era wing in the Hall of Fame to commemorate these players' achievements that you cannot tell the story of baseball without. Pete Rose should be in too.

Upgrade Your Account
Unlock premium boards and exclusive features (e.g. ad-free) by upgrading your account today.
Upgrade Now