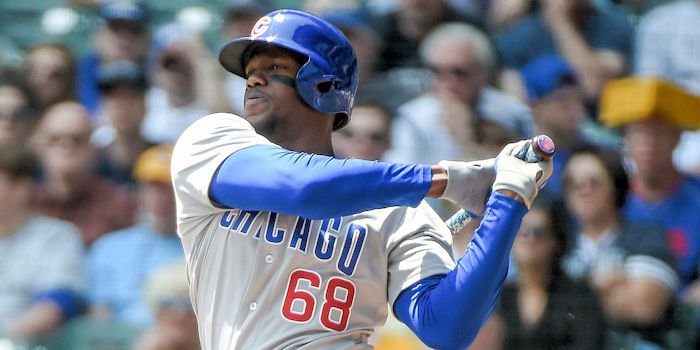 | | |
| --- | --- |
| Soler, Ross hit homers in win vs. Brewers | |
---
| | | |
| --- | --- | --- |
| Wednesday, August 17, 2016, 11:05 PM | | |
CHICAGO -- The Cubs started the game off with a bang, and they never looked back. The first inning showed the Cubs scoring five runs as outfielder Jorge Soler cranked a three-run homer that went an estimated 450 feet. The Northsiders won with a margin of 6-1 against the Milwaukee Brewers on Wednesday night and are a season-high 33 games over .500.
The Cubs struck early in the first inning as Ben Zobrist singled to right field scoring Dexter Fowler, giving the Cubs the 1-0 advantage early.  Addison Russell added another run as he hit a blooper into right field to score Kris Bryant, giving the Cubs a 2-0 lead.  As if things couldn't get worse for the Brewers pitcher Jimmy Nelson, Jorge Soler cranked out his 9th home run that went an estimated 450 feet and gave the Cubs the 5-0 lead, all within the first inning.  
Grandpa Ross crushed a ball in the 3rd inning earning himself a home run and giving the Cubs a 6-0 lead.  The Brewers were able to get on the board in the 6th inning with a RBI groundout by Orlando Arcia making the score 6-1.
Jon Lester exited the game in the 7th inning with two outs to a standing ovation as he pitched 6.2 innings while allowing only three hits and one run while striking out seven.  Reliever Carl Edwards Jr. was able to get the Cubs out of the 8th inning with no damage done.
Veteran lefty Travis Wood was able to get the last three outs of the game as the Cubs won 6-1, making it their third win against the Brewers in the series.  
The Cubs will play game four against the Brewers on Thursday as ace Jake Arrieta will face off against Zach Davies at Wrigley Field.
Jorge Soler delivers a 3-run HR as the Cubs have now won 14 of their last 16 games.
- Jon Lester: 6.2 IP, 1 R pic.twitter.com/SQdyjaZc02

— Baseball Tonight (@BBTN) August 18, 2016
Cubs win!

Final: #Cubs 6, #Brewers 1. #LetsGo pic.twitter.com/5pOcpC3Vcj

— Chicago Cubs (@Cubs) August 18, 2016
.@JLester34 is 12-for-12 in quality starts at Wrigley Field this year (2.02 ERA). ?? pic.twitter.com/VKLt1OmsJd

— Chicago Cubs (@Cubs) August 18, 2016
Grandpa Rossy gets in on the action!@D_Ross3's solo homer makes it 6-0 #Cubs, bottom 3! #LetsGo pic.twitter.com/gCSixMGWPm

— Chicago Cubs (@Cubs) August 18, 2016
A #Statcast-projected 450 feet?

Yeah, @JorgeSoler68 is ALL about that.https://t.co/xHqtS8pQqX pic.twitter.com/KMhO7k7N2V

— #Statcast (@statcast) August 18, 2016
RIP our left field depth chart. pic.twitter.com/Bzv0MIx725

— Chicago Cubs (@Cubs) August 18, 2016