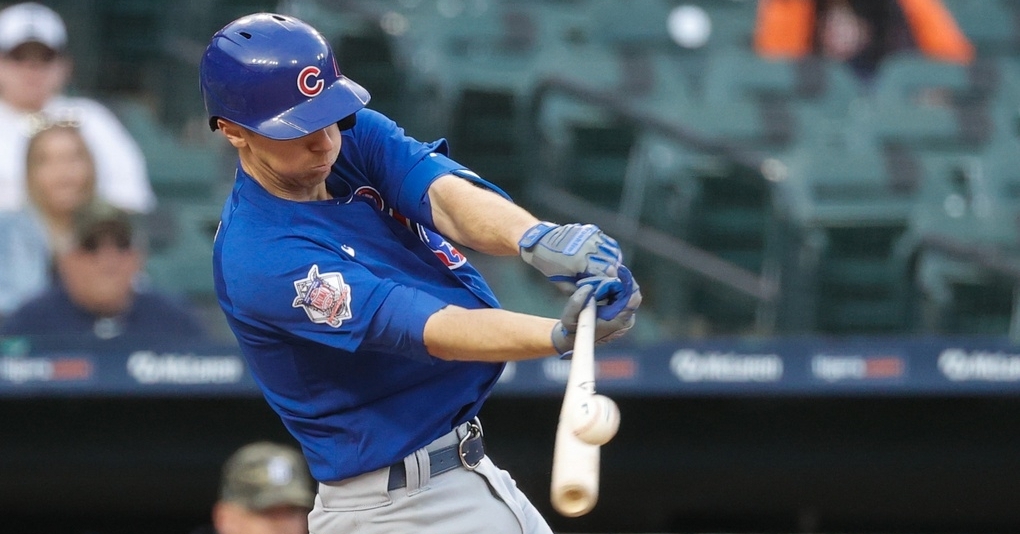 | | |
| --- | --- |
| Takeaways from Cubs at Tigers: Duffy comes through, Williams' road woes, Thompson legit | |
---
| | | |
| --- | --- | --- |
| Sunday, May 16, 2021, 8:40 AM | | |
The Cubs have been involved in a lot of close games lately, and this weekend has been no exception. After picking up a 4-2 win on Friday, the Cubs and Tigers were locked into a back-and-forth battle with both offenses coming to play.
For the Cubs, it was a two-man game as Anthony Rizzo (3), and Matt Duffy (5) provided all the offense for the team. Rizzo grabbed two of his RBIs in the first inning with a double before adding another later, while Duffy picked up his first homer of the season to give the Cubs a 7-6 lead before putting them back in front 8-7 in the 10th.
Give the Tigers some credit; they had an excellent game plan put in place and forced Trevor Williams to throw a lot of pitches, chasing him in two innings after three first-inning runs had him reeling. The Tigers added three more runs off Alec Mills before tying things up off Rex Brothers in the seventh. With the game heading to extra innings, the Tigers had the tying run on third with Craig Kimbrel on the mound.
Kimbrel got Miguel Cabrera to ground out and had Nomar Mazara down in the count. However, Mazara had the last laugh bouncing a pitch up the middle to tie things up 8-8. With two outs and a man on second, Harold Castro played the hero for Detroit as his liner down the third baseline gave the Tigers a walk-off 9-8 win.
Have a day, Matt Duffy!
Six years and three days ago, Duffy had a career game when he notched five RBIs as a member of the Giants. Well, he can now say he matched his career-high as he led the way for the Cubs today with five RBI's.
Duffy has gone from a non-roster invitee to practically an everyday starter this season, starting 16 of the team's last 22 games. He is a high-contact hitter who brings a professional approach, and he is beginning to look like a sneaky good signing by Jed Hoyer. Duffy collected three hits in his five at-bats on Saturday, with all three contributing to at least one RBI.
His big blow was, of course, his three-run go-ahead homer as that was his first homer as a Cub. When the season started, no one ever expected Duffy to be anything more than a pinch hitter or role player who may get a few starts here and there. It is hard to imagine him not in the Cubs lineup as he is becoming as reliable as they come.
Trevor Williams' road woes continue
When the Cubs picked up Trevor Williams this offseason, they basically signed him as a flyer-type pitcher, hoping a change of scenery could do him well. When you look at his numbers this season, Williams sits with a 2-2 record to go with a 6.27 ERA. Those numbers are a bit deceiving when you look at his home and road splits.
At home, Williams has pitched well and has kept the Cubs in most games. Although he is having a tough time getting through the fifth, Williams has posted an ERA south of 3.50 at Wrigley, which is all you can ask for. On the road, however, that is a different story as his road struggles are becoming concerning.
Not only did he last just two innings today, but his ERA away from Wrigley is hovering around 13 with no answers to his struggles. His pitch counts have been high, contact has been hard, and his struggles have been visible since making his first road start of the year. If Williams could pitch every game at Wrigley, the Cubs would have something in him.
That is just not possible, and Williams needs to figure something out in a hurry if he wants to remain in the rotation. He has the potential to be a decent back of the rotation starter as long as he can consistently get outs. Unfortunately, he has lacked that on the road all season, and it has hurt this team.
We have touched on this the past few days about the Cubs starting to show in-house pitching help. From the maturation of Adbert Alzolay to the impressiveness of Justin Steele out of the pen, there is a lot to like about these young arms who are calling the North Side home.
Thompson is suddenly making a case for himself to remain on this team following a dominating relief appearance. Thompson has made four appearances this season, including one start, but none were more impressive than today. Not only did he strike out the side in the eighth, but he went on to pick up another punchout in the ninth and finished his outing with four strikeouts in two innings.
The top 15 prospect in the Cubs system has spent his minor league career as a starting pitcher where he has posted a 3.04 ERA in 36 career appearances. Since coming to the majors, the Cubs are using him primarily in relief, hoping to preserve his arm a little bit. However, given the struggles we have seen from both Zach Davies and mainly Williams on the road, Thompson could soon have his name inserted into the rotation.
He started against the defending World Series champs and held them scoreless through four innings of work. That right there shows that he has the Moxy to be a starter in this league. Thompson has been fun to watch and will be a massive part of this team moving forward. He and Alzolay will look very good in the middle of the rotation next year as they are the first of what will hopefully a long and lengthy pitching wave.