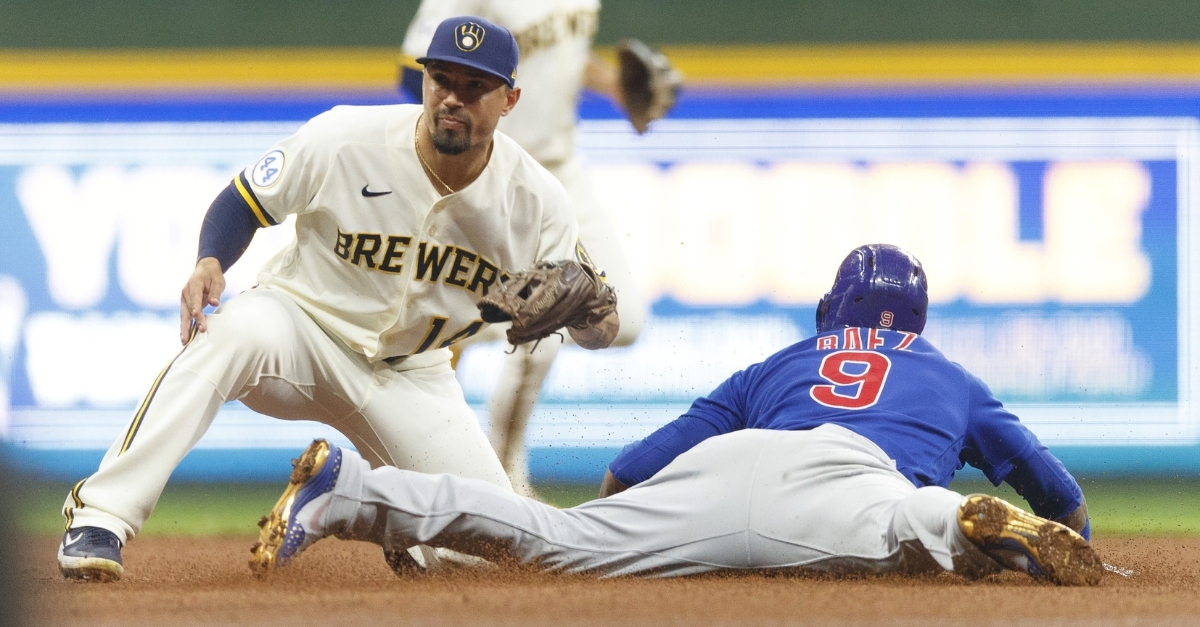 | | |
| --- | --- |
| Takeaways from Cubs' blowout loss to Brewers | |
---
| | | |
| --- | --- | --- |
| Tuesday, June 29, 2021, 8:52 AM | | |
The Cubs continued their 10-game road trip with perhaps their biggest series of the season on Monday. Trailing the Milwaukee Brewers by three games in the NL Central Standings, the Cubs had a chance to pull even with Milwaukee should they have been able to pull off a sweep. At worst, this series needs to be a win for the Cubs to gain even the slightest of ground on Milwaukee.
In a matchup of Polar opposites in terms of starting pitching, the streaking Kyle Hendricks took the ball against Freddie Peralta. It was the Cubs who struck first, capitalizing off the leadoff walk to Joc Pederson by playing long ball with Ian Happ going deep for a two-run shot.
However, those were the only two runs Peralta allowed as he overcame a four-walk performance with eight strikeouts and pitched six more strong innings.
On the other hand, Hendricks was a little bit bumpy despite making it through six innings of his own. Not only did he allow Avisail Garcia to tie things up with a two-run single in the bottom of the first, but Garcia got to him again in the fourth, ripping a solo shot down the left-field line to put Milwaukee in front. Keston Hiura added to that lead with a seeing-eye single in the sixth as Hendricks left trailing 4-2, but still gave the offense a chance.
In what became a battle of the bullpens in the seventh, the Cubs felt they had the advantage considering they led the MLB in bullpen ERA. Early on, it appeared they were right as Patrick Wisdom connected for a long pinch-hit two-run shot off Brad Boxberger, and just like that, the game was tied 4-4. Following a scoreless seventh by Andrew Chafin, the Cubs had a chance to take the lead as they loaded the bases against Devin Williams.
Unfortunately, Williams was able to pitch out of that jam, getting Rafael Ortega to ground out to first to end the threat. That was the momentum shift the Brewers needed as their offense came to life in the bottom of the eighth. Not only did they push across four runs against Ryan Tepera, whose ERA is now 3.34, but they pushed in six runs off Trevor Megill in that frame, with Hirua and Willie Adames connecting for homers. In total, Milwaukee scored 10 runs off the Cubs pen in the eighth, which was the difference in their 14-4 win.
The bullpen is showing signs of fatigue
No one will argue if you say the Cubs bullpen is the reason for the team's success this season. Not only have they posted the best ERA in the majors, but with a starting rotation that ranks near the bottom in innings pitched, David Ross has had to use them far more than he would like.
Yes, using them as often as he has worked in his favor, but at some point, you would think that fatigue will set in. Well, it looks as if the exhaustion may be setting in on some of these pitchers as the once unhittable bullpen is starting to show signs of fatigue. Tepera is an excellent example of what happens when you are often overworked.
Granted, he hasn't been on the mound as much lately, but Tepera has been one of the most frequently used arms in the pen all season. Pair him with Chafin, and Craig Kimbrel, and the Cubs have had a three-headed monster they could turn to when they need a win. Unfortunately, Tepera is showing some wear as he has allowed six earned runs on this road trip this far. That is coming after not allowing an earned run for 20 plus innings, and his ERA has risen from 1.72 to 3.34 in the process.
How do the Brewers do it?
Say what you want about the Brewers being a small market team, but GM David Stearns somehow makes it look like a big market team. Paired with one of the more underrated managers in baseball in Craig Counsell, the Brewers continue to make under-the-radar trades and signings during the offseason that they seem to hit on every time.
A lot of it is luck, but when you have guys like Justin Smoak, Travis Shaw, Garcia, and Omar Navarez having breakout seasons over the past two years, you begin to think about the coaching and how the Brewers organization is brought up. American Family Insurance Field has always been a hitter's park, so many times, players have career numbers when they come to Milwaukee. That's what makes this team more impressive, as they seemingly lose pieces every season but haven't missed a beat.
While I would still take the Cubs offense over the Brewers at times, the pitching for Milwaukee is second to none, and that has saved the Brewers this season. Whoever found these guys and developed them the way they did deserve a ton of credit because they have three front-line starters. Add in Williams and Josh Hader in the back of the bullpen, and this is a playoff-contending team for years.
Ross needs to get the Cubs out of their old way of being a home run or bust team and focus on being a small ball team once again. That is what this team was doing when they were winning games, and they need to get back to that again.
A must-win game Tuesday
I never like to look at games in June as must-win games, but Tuesday night is a must-win game for the Cubs. Not only do they see Brandon Woodruff on Tuesday, but should the Brewers win, the Cubs will have to go through Corbin Burnes to avoid the sweep.
As mentioned earlier in this column, the Cubs need to win this series to gain one game in the standings against Milwaukee. A loss tonight guarantees them a series loss, meaning they fall another game behind the hottest team in the NL Central. With the Trade Deadline only a month away, each loss brings the question of what this team will do?
Three weeks ago, you had a team that looked like a sure thing when it came to being buyers, and now it seems like they could be sellers if this stretch of play continues. However, there is some light at the end of the tunnel as the Cubs schedule is much easier in July than in June. Hopefully, it isn't too late by then.

Tags: Cubs Baseball
,
Kyle Hendricks
,
Joc Pederson
,
Ian Happ
,
Patrick Wisdom
,
Andrew Chafin
,
Rafael Ortega
,
Ryan Tepera
,
Trevor Megill
,
David Ross
,
Craig Kimbrel