| | |
| --- | --- |
| Takeaways from Cubs' blowout win over Dodgers | |
---
| | | |
| --- | --- | --- |
| Tuesday, May 4, 2021, 6:36 PM | | |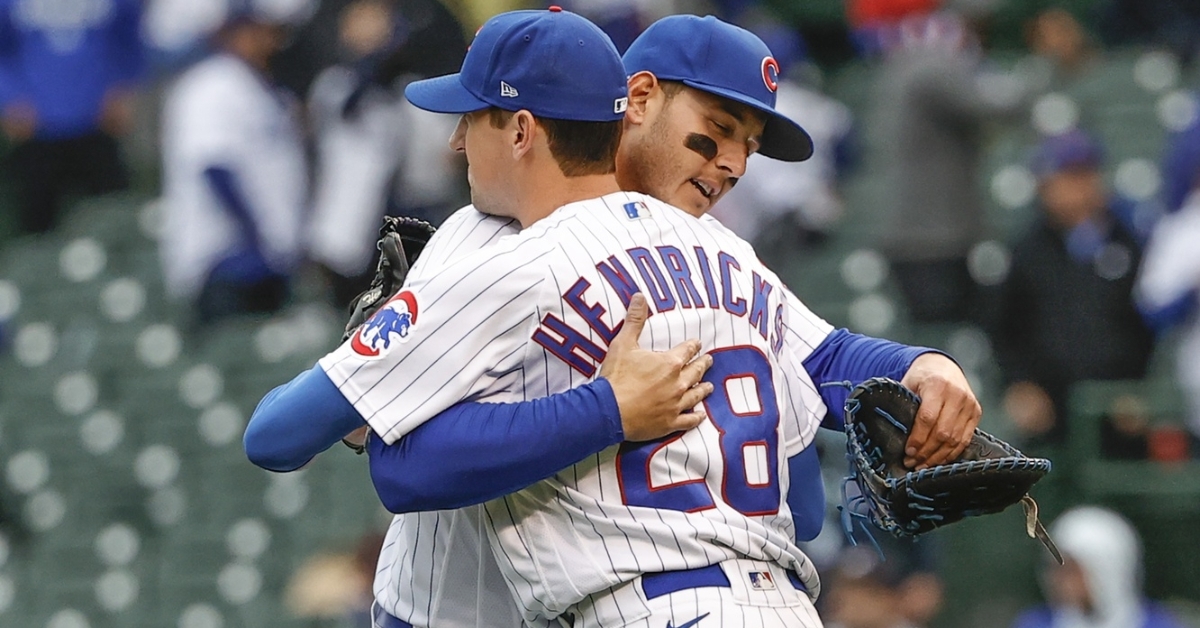 After not having a day off in nearly two weeks, the Cubs returned to Wrigley Field, where a rainout greeted them on Monday. Not only did that give them the off day they were waiting for, but with another off-day on Thursday, it gives the Cubs a chance to rest some key bullpen arms despite a double header on tap for today.
It will be the same pitching rotation as initially planned, but just in a different order as Clayton Kershaw took on Kyle Hendricks in game one. Given that the seven-inning doubleheaders will be around a while, there is a real possibility that more and more of these games see their starters go six if not all seven innings to save their arms.
Hendricks did his part by going the distance and earning the win as the Cubs offense backed him with four first-inning runs. Three of those came off the bat of David Bote as the Cubs struck early and often. Kershaw was not only on the receiving end of that rough inning, but it was the shortest outing of his career as the Cubs chased him after just one inning.
Chicago added a pair of runs in the third when both Jake Marisnick and Illderamo Vargas came home to score on a wild pitch extending the lead to 6-0. Marisnick then went deep for his third homer of the season to put the Cubs up 7-0 with just three out left.
This was an excellent time for Hendricks to look like his old self as the Keibert Ruiz homer in the seventh was the lone blemish on what was a great 7-1 win.
I know the .137 average to go with one homer, and four RBI's is not what the Cubs were hoping for, but Pederson is back from his IL stint and is returning to face his old mates. Coming off the spring he had, the Cubs were expecting big things from him, and I am sure he was too.
However, once he arrived in Chicago, something changed, and he wasn't the same player we saw all spring. Instead, he looked like the platoon player of old and someone who left a great spring showing so far behind that he became lost at the plate. It then became apparent that something else was wrong with him as he hit the IL with a wrist injury.
That injury makes me wonder if it was bothering him for much longer than anyone realized hence for his offensive struggles. Pederson has never been the greatest in hitting, but even then, he wasn't as bad as he showed this season. He has the power potential to give you 30 plus homers a season and bats from the left side.
Both of those elements are something this Cubs lineup desperately needs. Hopefully, his timing isn't too far off after not seeing game action for a couple of weeks. This was the series he wanted to return in, and now that he returned, he is hoping to show the Dodgers why they should have kept him instead of the Cubs getting him.
The #Cubs today activated OF Joc Pederson from the 10-day IL and optioned RHP Keegan Thompson to the South Bend Alternate Site. pic.twitter.com/XYeErkORi2

— Chicago Cubs (@Cubs) May 3, 2021
A rough pre-game for the Cubs
Even before game one of the doubleheader started today, it was a rough afternoon for this team and will be for the foreseeable future. As if facing the Dodgers in a doubleheader isn't bad enough, the Cubs also lost three significant pieces for the next three days, and two of them are significant contributors.
Jake Arrieta has been placed on the 10-Day IL as he deals with a cut on his thumb. Arrieta had a cut in his last start and had the worst start of his season thus far. He has been their most consistent pitcher this year, so to see that kind of an outing was certainly shocking. Instead of letting him pitch through it again, the Cubs take the smart approach and placed him on the IL.
Taking his place will be Keegan Thompson, who was recalled from the Alternate Site. After making his MLB debut on Sunday, Thompson will now make his first major league start in game 2. Welcome to the show, kid here is your first test. Thompson is a top 15 prospect in the system, and his outing today will determine if he stays with the club for a while or if Alec Mills heads back to the rotation.
Speaking of pitchers, Dan Winkler will also be heading to the IL as he is dealing with some arm tightness. Winkler has been a pleasant surprise this season as he has pitched the Cubs out of major jams without having the best command. He will be missed, that is for sure, but lefty Kyle Ryan returns once again as he will provide a fresh arm in relief.
Perhaps the toughest name to see on this list is Nico Hoerner, as he is suffering from that collision with Ian Happ. While it looked like Happ took the brunt of it, he is listed as Day to Day while Hoerner is now on the IL. Hoerner has been an enormous factor in the Cubs offense since returning to the show, and hopefully, his brief stint doesn't affect his production at the plate. Ilderamo Vargas returns in his place and will give the Cubs some much-needed depth for now.
BREAKING NEWS: #Cubs make several roster moves including Arrieta, Hoerner on IL https://t.co/BC3kGYIGta

— CubsHQ.com (@ChicagoCubsHQ) May 4, 2021
Seven inning doubleheaders are weird but nice
I know this is one of those rule changes that not too many people were fond of, but seven-inning doubleheaders are here to stay. Honestly, I like that idea, and so do the players. I get baseball is supposed to be a nine-inning game, but with COVID and so many other things going on, I don't see nine-inning doubleheaders being back for a while.
Cutting down on innings gets the games to move along faster, allows teams to potentially useless pitching each game, and keeps the players a lot fresher as they are playing fewer innings in a day. This is one of the newer rules I am ok with and something that I hope sticks for a while.
The players like it also hence why they pushed for it to return this season. Whether you are for or against this rule, the bottom line is that it is good for baseball right now. Maybe they will go back to nine innings in the future, but seven innings doubleheaders are here to stay until the new CBA is agreed upon.
Miss it. Love it. Even in the 5th inning. pic.twitter.com/dDc229CwLF

— Bleacher Nation Cubs (@BleacherNation) May 4, 2021

Tags: Cubs Baseball
,
Kyle Hendricks
,
David Bote
,
Jake Marisnick
,
Joc Pederson
,
Jake Arrieta
,
Keegan Thompson
,
Alec Mills
,
Kyle Ryan
,
Nico Hoerner
,
Ian Happ