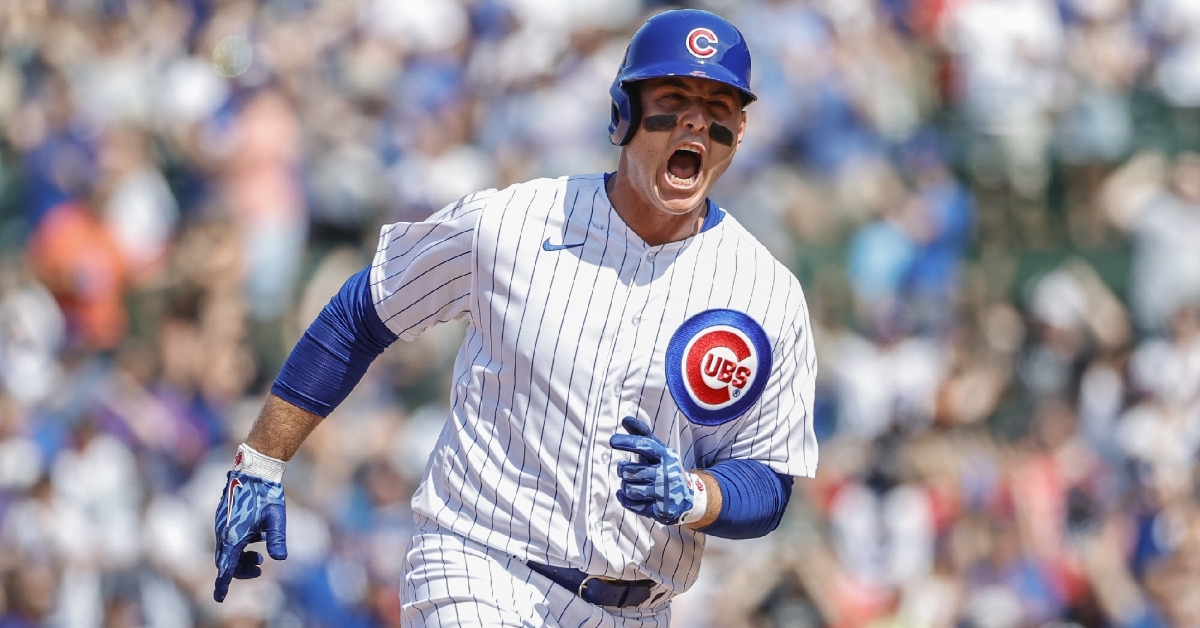 | | |
| --- | --- |
| Takeaways from Cubs' comeback win over Cardinals | |
---
| | | |
| --- | --- | --- |
| Saturday, June 12, 2021, 8:36 AM | | |
All is right in the world again as Opening Day 2.0 returned to Wrigley Field on Friday, June 11th. With the St. Louis Cardinals in town, Wrigley Field was back at 100% capacity and even had Bill Murray back in the stands. This was as close to normal as normal could get since the end of 2019.
With Kohl Stewart taking the ball for the cubs against Johan Oviedo, it would be interesting to see who would emerge the better of the two. Early on, it was all St. Louis as the Cardinals raced out to a 2-0 lead on Chicago before Joc Pederson tied things up with his eighth homer of the season. Following that homer, the Cardinals offense went to work as they tagged Stewart for three more runs chasing him in the top of the fourth inning.
It was his shortest outing of the season, and his worst in his three starts this season as the Cardinals jumped out to a 5-1 lead on Chicago. However, once things moved to the bottom of the fifth, the game changed in the Cubs favor, with the offense starting to claw back into the game. Willson Contreras made things 5-2, scoring on a wild pitch before Sergio Alcantara ignited the crowd with an RBI triple to make things 5-3. Alcantara then came home to score on a Yadier Molina throwing error, closing the gap to 5-4.
The play of the game happened in the bottom of the sixth when Anthony Rizzo went deep to cap off a 14 pitch at-bat, tying things up 5-5. Add in a Pederson RBI double in the seventh followed by a Contreras homer in the eighth, and the Cubs capped off a comeback win by scoring seven unanswered runs to win 8-5.
Anthony Rizzo's at-bat
Sometimes all it takes is for one play to change the game, and the Rizzo at-bat in the sixth was that play. Facing two strikes in the count, Rizzo fouled off nine consecutive pitches and a total of 10 pitches in the at-bat. That forced Daniel Ponce De Leon to throw everything and anything in hopes of getting him out.
Eventually, something had to give, and Rizzo came out on top in this one. Hoping to sneak one past Rizzo, De Leon missed his spot and threw a fastball down and in. Rizzo not only shortened up his swing but dropped the head of the bat down, ripping a line drive over the right-field fence and tying things up 5-5.
That homer was the decisive moment in this game as Wrigley was as loud as it has been in years. This may have only been a regular-season game, but it certainly felt like a playoff atmosphere all game long.
Here's the full 14-pitch Anthony Rizzo AB. Absolutely unreal scenes at Wrigley. pic.twitter.com/Pxvs7Kp8bl

— The Baseball Newsletter (@bbletter) June 11, 2021
Another backup catcher bites the dust
Thank God Contreras is as durable as they come. Not only does he lead the league in games started by a catcher, but he leads the league in total innings caught, and it isn't even close. As nice as it is to have a reliable catcher, there comes a time when you have to worry if he will get burned out.
The problem is, the Cubs haven't been able to give him a breather as the backup catcher situation has been a revolving door all season. Austin Romine was brought in to be the backup, but he has played a total of four games missing time with both knee and wrist injuries. Chicago then took a chance on Tony Wolters, and although he saw time in 10 games, he still didn't amount to much, which allowed the Cubs to DFA him.
P.J. Higgins was the next to be given a shot, and much like Wolters, didn't amount to much. He saw action in nine games, four of which were starts, and accumulated one hit. He is now on the IL dealing with a forearm strain. That leads us to the newest backup catcher as Jose Lobaton joins the club.
While it is unclear how many innings or games Lobaton will see action in, he is the perfect backup catcher for this team. Not only does he come with loads of MLB experience at age 36, but he is at the point in his career where he knows his role on a team. He knows Willson is the guy, and he will do whatever he needs to do to help this team win.
Today's #Cubs roster moves:
- Placed catcher PJ Higgins on 10-day IL with a right forearm strain
- Selected catcher José Lobatón from @IowaCubs
- Designated RHP Dakota Chalmers for assignment pic.twitter.com/mOMQMmkdu4

— Chicago Cubs (@Cubs) June 11, 2021
Seeing that Wrigley crowd was amazing
For the first time since late 2019, Wrigley Field was at full capacity, and man, was it memorable. The atmosphere, the noise, and just everything about seeing Wrigley Field packed to the brim are what makes baseball special in Chicago.
Add in a Bill Murray seventh-inning stretch as he was the first in-person guest to conduct that song this season, and every this was as close to normal as normal could be. Today was June 11th, and with the win, the Cubs improve to 22-10 at home for one of the best marks in the majors. They could be just getting started, too, as the team still has 49 games remaining at home.
With the attendance 100% for the rest of the way, Wrigley Field will play one of the most significant home-field advantages in all of baseball. It has been that way all season, even with 25 and 60% capacity. Now that it is 100%, home-field advantage will take on a whole new meaning, and the fans let that be known Friday.
ICYMI: The great Bill Murray singing "Take Me Out to the Ball Game" at Wrigley Field! #MLB #Cubs #Baseball pic.twitter.com/NlEtll0ad0

— Baseball by BSmile (@BSmile) June 12, 2021