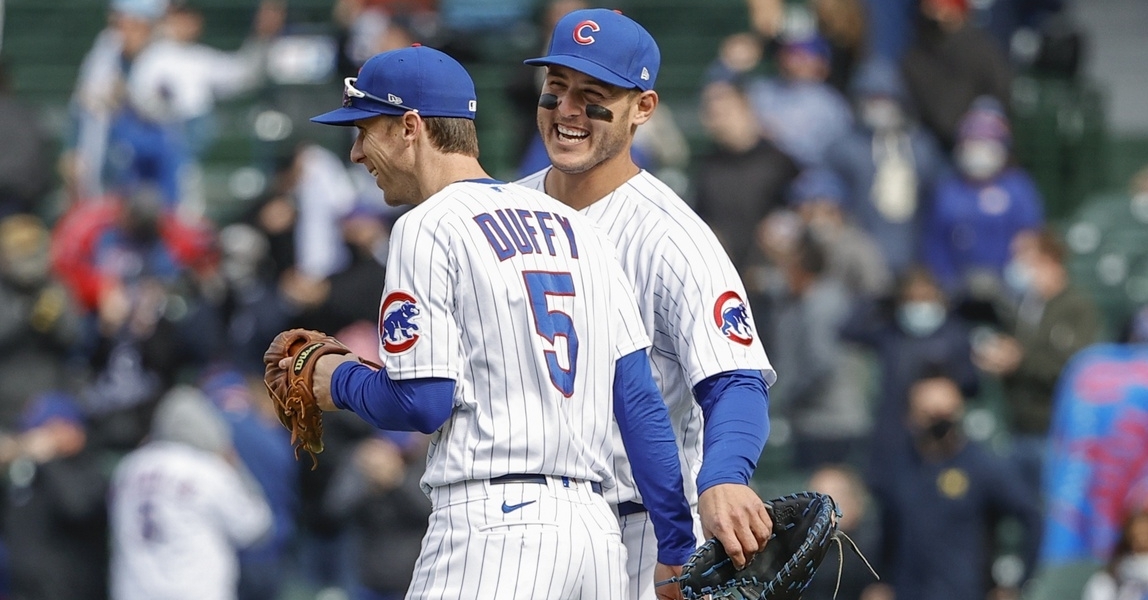 | | |
| --- | --- |
| Takeaways from Cubs loss to Indians: Duffy and Sogard, Interleague record, more | |
---
| | | |
| --- | --- | --- |
| Wednesday, May 12, 2021, 9:38 AM | | |
The Cubs returned to the site where they won the 2016 World Series for a brief two gamer against the Cleveland Indians. For the second time in eight days, it would be Adbert Alzolay taking on a Cy Young winner. This time it was 2020 AL winner Shane Bieber who is off to another great start.
Once again, Alzolay continues to impress on the mound as he went pitch for pitch with Bieber for most of the night, getting through six innings for the second time in two starts. He allowed just five hits to go with six strikeouts and no walks. Alzolay did allow three runs, but both came on a pair of homers from Jose Ramirez and Cesar Hernandez.
Three runs are all the Indians would need as Bieber got past a non-Bieber start to the game and finished strong. In his 6 2/3 innings, Bieber allowed just two earned runs to go with a season-high nine hits allowed. Bieber also walked three but did finish with eight strikeouts as he now has eight or more strikeouts in 20 consecutive starts extending his ML record. The bullpen took care of the rest as Emmanuel Clase got Matt Duffy to ground out to an inning-ending double play in the ninth to secure the 3-2 Indians win.
After scuffling for the better part of three weeks, it was great to see Willson Contreras have an excellent game as he collected a pair of hits in his first two at-bats off Bieber. The first of those hits came in the second inning when he gave the Cubs a 1-0 lead with an RBI single. Unfortunately, that proved to be enough in the early going for Alzolay as the young righty was dealing through three.
Still up 1-0 in the bottom of the fourth, Ramirez made sure to capitalize on the opportunity he got launching a solo shot to right to tie things up 1-1.
Speaking of capitalizing, Eric Sogard was added to the lineup as Javy Baez was a late scratch. After Bieber missed on a boarder line pitch, Sogard made him pay as the next pitch saw him crank his first homer of the season to right to give the Cubs the lead once again 2-1.
Just like when the Cubs took the lead the first time, Cleveland had an answer, and it came in the variety of a big fly once again. Hernandez entered the game hitting under 200, but with one swing, he saw his average not only get above 200, but it gave the Indians the lead as his two-run shot in the bottom of the fifth proved to be the game-winner in the Indians 3-2 win.
64-37 record
Since 2016, the Cubs have played 101 interleague games, including their game last night. Over that time frame, they have compiled a 64-37 record, which is by far the best record in baseball. Something about playing the American League brings out the best in the Cubs, especially since they won it all in 2016.
It doesn't seem to matter what division they play at this point, as the Cubs have played no worse than .500 against AL foes every season since 2015. I have loved the adoption of Interleague play, and I wish they would have the opportunity to face all 15 American league teams at least one series a season.
If you look at the NBA and NHL, they play every team in the opposite conference twice each, which accounts for 28-30 games on their schedule. If the MLB adopted a way to play every team one series at each park, you are looking at a 90-game set just in the American League. Of course, that would never happen, but playing 45 games against AL opponents, now I would love that. It would give fans a chance to see Mike Trout, Vladimir Guerrero, Aaron Judge, J.D. Martinez, and the rest of the American League stars once a year instead of every three.
Even if it is one series only, you could play each team one series each for 45 games, play the NL EAST and West six times each for 60 games to make 105. The remaining 57 games can come from the NL Central, where they would play everyone 13-14 times compared to 19.
Got to love the non-roster invitees
When Spring training is about to begin, it is always interesting to look at the non-roster invitees and see who teams are giving a shot to. For the Cubs, they not only had one but several non-roster invites this spring who could make the club. Duffy and Sogard not only did that based on the spring they had, but they have been huge parts of the Cubs offense thus far.
Duffy has suddenly turned himself into an everyday player in this lineup, covering third base duties while Kris Bryant fills in for the injured outfield. His high contact rate and low strikeout rate are precisely what this team needs, and he brings a professional approach to the plate every time he steps in.
Matt Duffy, Player of the Week ??

?? .333 batting average
?? Game-Tying hit Wednesday
?? Game-Winning hit Saturday@dunkindonuts pic.twitter.com/FYofcNYepZ

— Marquee Sports Network (@WatchMarquee) May 10, 2021
Sogard was alternating starts with David Bote to start the season until Nico Hoerner was ready to go. Since then, he has primarily been a pinch hitter who gets one start a week, but even that hasn't been an issue. Sogard is exactly what Tommy LaStella was for this team and is starting to create an excellent role for himself. These two have been huge for the Cubs this season.
.@EricSogard's first #Cubs home run!#CubTogether pic.twitter.com/nQLkLhgERL

— Chicago Cubs (@Cubs) May 11, 2021
What a streak for Bieber
It's hard to fathom what Bieber has done in his last 20 starts, especially when you look at the Cubs rotation. Counting his eight-strikeout performance, he now has 20 consecutive starts with at least eight strikeouts or more, extending his major league record. Put that into context, and the Cubs have only had three starts this season where their starter has registered eight strikeouts.
Sometimes you must give a pitcher credit, and Bieber deserves a ton of credit. He was a late bloomer in reaching his potential but now is one of the best pitchers in the game, and no one would argue that. You also must give Alzolay credit for going up against him and acting like it was just another game.
That is two starts in a row for the kid against two Cy Young winners, and he has done more than hold his own. It seems like the better the pitcher and the better Alzolay pitches as he is out to prove something to the fans this season. Alzolay certainly has done that and is looking like the future ace of this staff. He has all the stuff in the world to be the guy who could strike out eight batters consistently. Hopefully, he continues to put it together this season.
Shane Bieber, Nasty 85mph Knuckle Curve. ?? pic.twitter.com/UKPAnUvjCi

— Rob Friedman (@PitchingNinja) May 11, 2021